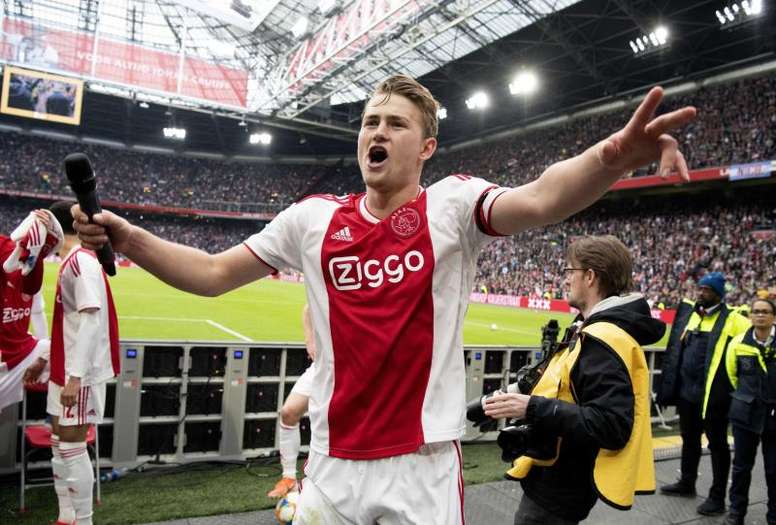 Raiola is in Paris to negotiate De Ligt's signing
Matthijs de Ligt's future could be decided this Wednesday. The man who has unwittingly become one of the summer's hottest signings could come to an agreement to leave Ajax and switch to PSG in the coming hours.
His agent, Mino Raiola, according to sources in Italy, Mino Raiola is in Paris and is taking advantage of his close relationship with Maxwell, his former employer and now an important man at PSG, to advance the Dutch international's transfer from Ajax.
Mino is doing his job very well. The unruly agent has kept the young player on the front pages of newspapers all over Europe, and has made sure the player has loads of open doors in some of the world's biggest clubs.
Although it seemed that Barcelona would be the ultimate destination due to the relationship shared with Ajax, in recent hours the defender has disassociated himself from this option, with the Catalans tired of waiting for more signals.
Raiola, who has not yet been fully reconciled with Barça after Ibrahimovic or Toure, would like to place De Ligt in PSG and that is what, according to Gianluca Di Marzio, would be happening on Wednesday.
The Parisians, who need younger blood, would pay the 75 million that Ajax want and would also offer a gold contract to one of the most promising defenders of the last decade.
Meanwhile, Barcelona are now coming to terms with the fact that their agreement with De Ligt is falling through due to the player's indecisiveness and the agent's reluctance with the club.