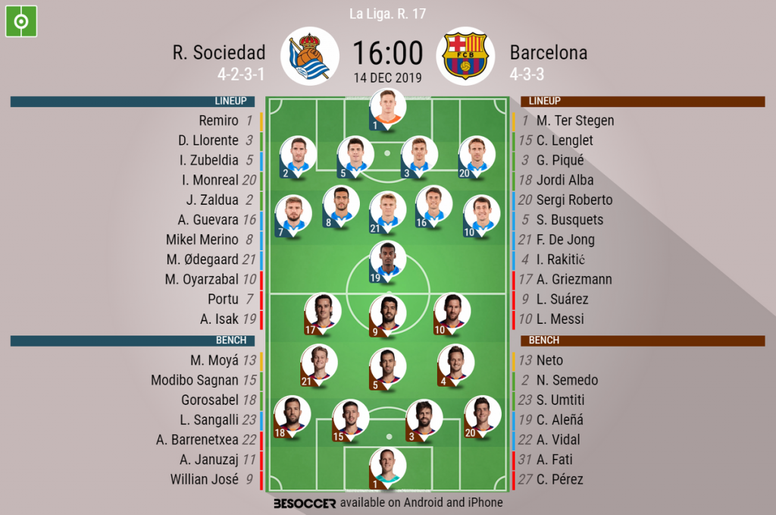 R. Sociedad v Barcelona - as it happened
R. Sociedad

Barcelona

90'
FULL TIME! What an exciting game that was to watch. Real Sociedad really did give Barcelona a game and goals from Suarez and Isak in the second half meant the game finished 2-2. Is this be a point gained or two points dropped for Barcelona in the context of their season as a whole? The Aneota is a difficult place to come and La Real are a good side. This is also crucial in their title race as it means Real Madrid may have a chance to go clear at the top if they win tommorow.
85'
Five minutes left to play at the Anoeta and this match is still up for grabs. Barcelona seem to be quite happy to sit deep, but they aren't really offering much on the counter attack.
84'
Before the corner is taken Oyarzabal is taken off for Barrenetxea. The corner is dealt with easily.
83'
Corner for Real. Merino's cross into the box is cleared out by Semedo
80'
The match could go either way at this stage. Barcelona once again struggling and Real Sociedad have come back fighting.
78'
Rakitic has a long distance shot but it goes just wide! This is his last touch of the game as he is replaced by Arturo Vidal
74'
Jordi Alba also comes off and is replaced by Nelson Semedo
72'
Barca's first change, Sergio Busquets off, Alena on. They now have a corner
70'
Real Sociedad showing some fire and fight now, as they have had a well good shots at goal, it has been all them recently. The latest shot came from Willian Jose, but his shot went wide
68'
Real Sociedad fighting for the win now! Odegaard has a shot but it goes just over the bar! You can see how frustrated he is that he missed that
65'
This has been a strange, strange game. Barcelona equalised when Real Sociedad looked to be in control and Real Sociedad equalised just at the point Barcelona looked to be in control.
64'
Goalscorer Isak comes off and Willian Jose enters the pitch
61'
AND JUST LIKE THAT, SOCIEDAD ARE BACK IN THE GAME!!! Real Sociedad showed some goof fight, as Monreal crossed the ball into the box and the keeper saved his effort, but Isak was there for the deflection and just slotted it into the back of the net! 2-2!
60'
The hosts need a fresh pair of legs soon, as they have lost the flair they had in the first half. Surely we will see some changes soon
58'
Before the goal the home side made their first change, Portu game off for Januzaj
58'
Now a corner at the other end for Sociedad, but it is cleared out!
57'
Barca have a corner! The keeper punches it away but it is hit back in and Pique's chance is just cleared off the line! Great defending from Zubeldia to stop anymore goals from Barca
54'
This scoreline is rather harsh on Real Sociedad. They have played really well for the majority of the match, but they now find themselves behind. Barca have done well to respond.
51'
Barca have come out a lot better side than the first! They are full of confidence now they are in the lead. Griezmann has a shot at Remiro, but he just gets a hand to it and it goes out for a corner
48'
Luis Suarez puts Barca in the lead early on in the second half, after great link up play from him and Messi sees them get past the defenders and receive the ball from Messi in the box, he then just puts it past the keeper and into the back of the net! Great start to the half!!
45'
Real Sociedad get the second half underway as both team's will be looking for a winner!
45'
HALF TIME! What an exciting first half that was. Real Sociedad completely dominated the game and played some simply joyous football. Their early penalty put them, deservedly in the lead, but even though Barca were second best throughout the half, a bit of breakthrough play by Griezmann saw them equalise late on! What a second half we have to come! 1-1!
40'
Replay shows Llorent with pretty bad misjudgement of the ball near the half-way line, letting it reach Suarez who could turn and play the ball to Griezmann who finishes it off
37'
Barcelona equalise after a great run down the pitch with the ball sees Griezmann beat the home defence and just confidently chip the ball past the keeper and in to the net at the far post. A great bit of play and a great goal to give Barca the confidence they needed! 1-1!
37'
This has been a really strong performance from Real Sociedad and it has been a joy to watch their lively football in the first half!
32'
Another corner for the home side as they look more and more dangerous on the attack, all Barca seem to be doing is defending well. The corner is played short and nothing comes of it. It feels like Barca are just waiting for half time so they can regroup
30'
Griezmann is brought down and Barca have a corner in the middle of their attacking half, but it comes to nothing as nobody can get anything on it.
27'
Another corner for Sociedad! It is sent too far across the box by Odegaard and nobody gets to it. Real Sociedad really dominating. Barcelona just haven't been able to get into this game so far. Real Sociedad are up for this and are in control both in terms of possession and also in the chances being created.
25'
Real Sociedad are playing some great football today. Odegaard dribbles past two or three Barca players and there has been some lovely touches from Merino and Oyarzabal. Barca still unconvincing ahead of goal
21'
Barcelona have responded relatively well since going a goal behind, but they are still struggling to create much in the final third of the pitch. Messi has been pretty quiet so far.
18'
Sociedad are all over Barca! Odegaard has a shot from the edge of the box, but it goes just wide of the far post! Very dangerous at the moment
16'
That's eight home games in a row this season that Real Sociedad have scored in. They have been the better team in the opening 10 minutes or so of this match. They deserve to be ahead.
15'
Barcelona waking up a little now, as they put a but of pressure on in the box. Luis Suarez has a shot from range, but the keeper makes a good save to deny him the goal. Rakitic is there for the rebound but nothing comes of it either.
11'
Oyarzabal steps up to take the penalty and he does not miss! A calm, cool finish to put the home side in the lead early on as he sent the keeper the wrong way. They have looked the better of the two sides!
9'
That was risky! The keeper came out to try and clear the corner but doesn't catch the ball and there is a scuffle to get it away. The keeper has now pointed to the spot due to Busquets pulling Llorente to the ground in the box during this play! VAR confirms the decision
9'
Real Sociedad corner as Odegaard's shot is cleared by Pique
8'
Today's game is Rakitic's fifth start in a row! He was discarded at the start of the season but has now proved himself and seems to be a regular in the team!
5'
Oyarzabal has another shot from just outside the box, but it goes wide. Sociedad looking very dangerous at the minute!
3'
Corner for Sociedad as their shot into the box is blocked out! The corner is headed away
1'
Real Sociedad put a bit of pressure on Barca early on, as Oyarzabal crosses the ball into the box in the hope that somebody can get to it, but it is a wasted chance and it goes out.
Prev.
Barcelona get today's game underway!
Prev.
Jordio Alba returns to the Barca squad as Junior Firpo is dropped after some inconsistent performances.
Prev.
Antoine Griezmann is back at Real Sociedad, where he started his professional career and spent five seasons before joining Atletico Madrid in 2014.
Prev.
Real Sociedad have had a good start to the season and will fancy their chances, especially as they are fourth in the table. Barcelona are looking for an eighth straight win in all competitions.
Prev.
Who will come away victorious in today's battle between two top sides?
Prev.
Barcelona: Ter Stegen (GK); Lenglet, Pique, Jordi Alba, Sergi Roberto; Busquets, De Jong, Rakitic; Griezmann, Suarez, Messi
Prev.
Real Sociedad: Remiro (GK); Llorente, Zubeldia, Monreal, Zaldua; Guevara, Mikel Merino, Odegaard, Oyarzabal, Portu; Isak
Prev.
The line ups are follows:
Prev.
Join us for live commentary as Real Sociedad take on Barcelona at Anoeta. This La Liga game is sure to be exciting as Sociedad are fourth in the table and will likely give Barca a game today!