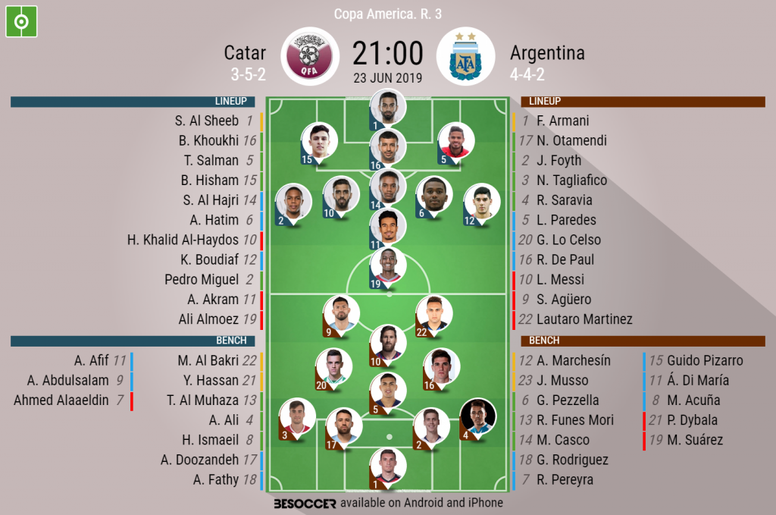 Qatar v Argentina - as it happened
90'
FT: Qatar 0-2 Argentina. Argentina's efforts finally granted them their wanted goals, but not without large periods of struggle and lack of chemistry. Argentina are through to the next round!
87'
Qatar can be pleased with their efforts in South America over the last week or so, but their campaign is about to come to an end...
83'
That surely does it now for Argentina. He runs from deep and strikes across the keeper into the side of the net. Lovely finish from el Kun Aguero!
82'
GOAAAAALLLLL!!!!!!!! Aguero makes it 2-0!!!!!!
80'
Dybala is unable to pick out the target from what was pretty much his first touch of the ball... The Juventus star has not been having a good performance this Copa America.
76'
The ball is pulled back to Messi on the penalty spot but the ball bobbles just as he hits it and ends high in the stands - a shocker of an attempt from the world's best player.
70'
Foyth with a mistake and the attacker shoots wide!
66'
After another shot from Aguero, Qatar somehow deflect again and remain hopeful for a goal.
64'
After a long while of nor finding chemistry, Argentina dominating the last few minutes and looked very close to doubling their lead.
62'
What a shot! Paredes picks out Messi, who creates some space for himself before shifting the ball to Aguero. The striker's first touch is good and he manages to get a shot away, but it is deflected...
59'
Argentina has not provided the expected pressure in the attack or the midfield....
56'
Acuna is on for Lo Celso in Argentina's first change of the match.
54'
Messi, who never quite looks the same player at international level, drives towards goal but is taken down.
50'
Aguero drives forward and has men either side of him. Pass into De Paul's path and he sends a weak shot towards Al Sheeb... Qatar is more dangerous than Argentina at the moment...
47'
Qatar the first team to attack in the second half!
45'
HT: Qatar 0-1 Argentina. A good ten first minutes for Argentina and a scared off Qatar allowed them to provide their only goal for now, but Argentina will have to find that chemistry again if they want to secure their victory, while Qatar could easily surprise them.
45'
Armani saves it! Or was did it hit post? it is not clear, but it's not a goal and ultimately, that's what matters.
45'
Free kick for Qatar... Hopefully, Argentina's abysmal defense is up to the task.
42'
Lo Celso whistled for a foul on Boudiaf as he tries to get to the ball.
41'
Argentina have had too many missed chances and they will no doubt be kicking themselves for it during half time...
39'
Otamendi sends the header wide at the front post!
35'
Meanwhile at the Fonta Nova Arena, Colombia is beating Paraguay 1-0!
31'
Argentina has now lost the ball and they have not managed to come back from it. The possession enjoyed in the first few minutes is now gone. Very dangerous for Argentina.
27'
Qatar is slowly but surely gaining some possession in this game. An actual equal competition might be about to start...
24'
Argentina applying pressure again! Cross sent in after a short corner and Otamendi can't reach it.
21'
Huge chance for Aguero, who shoots too wide after an assist from Messi! What a chance that was! Argentina clearly looking for the goal.
20'
Tagliafico taken out of it. Al Haydos not the man with the foul but he has a serious word with the referee.
18'
Qatar's first chance. And it's a really good one. Offside in the end (replay show it was onside) as Al Haydos tries to kick it over an on-rushing Armani.
15'
Aguero is playing good football, and he is clearly desperate to provide some goals. Corner for Argentina!
12'
Qatar have finally managed to calm down from the initial nerves and they are starting to become more of a part of this game.
9'
Aguero is unable to bring the ball under control in the box and what could have been a good chance for Argentina.
7'
Argentina got the goal they needed in order to calm the nerves and are now playing the offensive football they are known for.
4'
A HUGE mistake from Qatar allowed Lautano to score the much-wanted goal for his team!!
Prev.
Anthems are in full swing! This is all about to begin!
Prev.
5 min to kick off! Messi will really be looking for a victory, at least as a 32nd birthday gift...
Prev.
15 min to kick off! Stay tuned.
Prev.
The teams will be greeted by a hot sunny day in the Arena Do Gremio of Porto Alegre, with a current temperature of 27 degrees Celcius!
Prev.
Avoiding defeat against Argentina may not be enough to earn a spot in the quarter-finals, but such a result would be yet another boost to a country who want to justify being provided with the privilege of hosting the next World Cup...
Prev.
The Asia Cup champions head into their final fixture in Group B with the opportunity to cause one of the biggest surprises on the international stage in recent years by eliminating Argentina.
Prev.
Meanwhile, Qatar's performance has exceeded expectations - no matter how low they were. A guest to the Copa America, the Arab team has surprised many with their performance, which has been better than expected as they have managed to not suffer huge losses.
Prev.
Messi's Albiceleste suffered a shock 2-0 loss to Colombia, with then only managing to draw against Paraguay.
Prev.
Lionel Scaloni's side sit bottom of Group B, but a win on Sunday would mean they are guaranteed a place in the quarter-finals as one of the top-two third-placed teams.
Prev.
Argentina look to secure their first win of the Copa America against Qatar after disappointing performances in their opening two fixtures.
Prev.
Argentina starting XI: Armani; Saravia, Otamendi, Foyth, Tagliafico; De Paul, Paredes, Lo Celso; Messi; Aguero, Martinez
Prev.
Qatar starting XI: Al Sheeb; Correia, Al Rawi, Khoukhi, Tarek Salman, Al Hajri; Hatem, Boudiaf, Al Haydos; Afif, Almoez Ali
Prev.
40 min to go in Porto Alegre! Let's look at the line-ups...
Prev.
Good evening and welcome to our live coverage of Argentina's crucial Copa America clash against Qatar!!