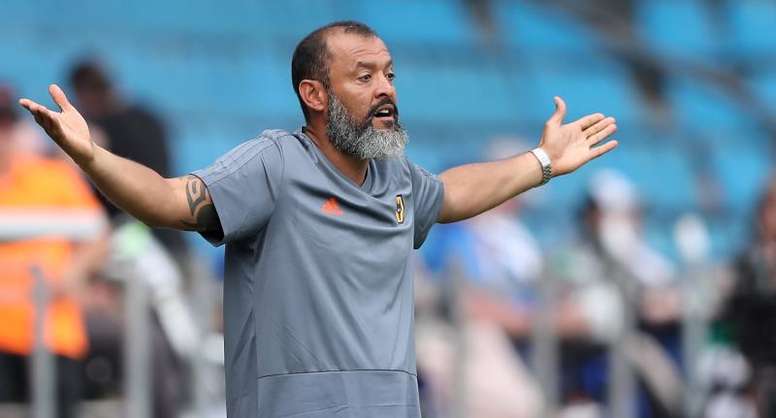 'Plenty for Wolves to improve despite win'
Second-half goals from Raul Jimenez and Diogo Jota saw Wanderers end their six-game winless run and get back on track after Ruben Loftus-Cheek has opened the scoring for the visitors.
Whilst Santo was understandably delighted with his side's first win in two months, he insisted there was still a long way for them to go.
"I think everybody enjoyed it," he said following the game. "Everybody from Wolves that is. I thought it was a good performance, honestly. Even though, in the first half we were behind the result, the way we stayed organised and compact.
"Chelsea have very good players and the idea that [Maurizio] Sarri has with possession of the ball, it is very hard. It requires a lot of effort and running and balancing but the boys did everything to stay in the game even though at the beginning of the second half Chelsea had two chances to score.
"I think at that moment the team was thinking about going forward in a rush, disorganised and unbalanced. But when we got the draw I felt, and not only me, I think Molineux felt, we were back in the game. That was totally a credit for the boys, the way they work, and the fans, the way they became so noisy and pushed the team.
"We got the result but we have a long way to go."
18-year-old Morgan Gibbs-White was handed his first Premier League start in the game, with the youngster's impressive performance leading to himbeing singled out for praise by his boss.
"He did very well," Nuno said. "I think he is getting in the games, bringing the energy, staying focused and staying humble.
"He has a lot to improve and he has a lot to give to us and us to him. Together we are going to try and do something.
"He is one of the best generations of English players for a long time. If you think about Phil Foden [and so on].
"He is a world champion. So he is not an example, he is a reality of the fantastic job that the national teams of England are doing. It is amazing what they are producing."