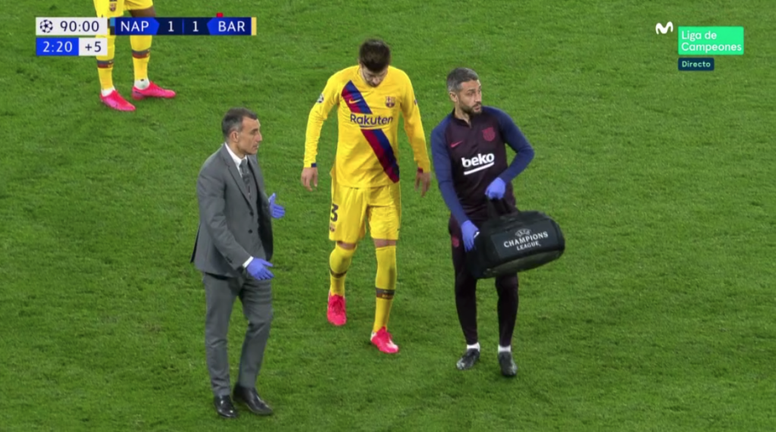 Piqué lands awkwardly, is subbed and could be in doubt for El Clasico
Napoli-Barcelona, which was presented as an attractive match for the spectator and with Diego Maradona and Leo Messi in the atmosphere, ended up becoming a slow and stale clash for both teams.
Gattuso's team took the lead with a great shot from record-breaking goalscorer Mertens, who now equals Hamsik as top goalscorer for Napoli, which Griezmann cancelled out after a brilliant move by Busquets to Semedo. The worst, with a mishap suffered by Gerard Pique, would come at the end.
The 1-1 draw seemed to satisfy both sides,who were looking for a second goal with little energy, mostly concerned about not conceding.
However, the final moments of the match got heated. Arturo Vidal was sent off after seeing two yellow cards in the same minute for an ugly tackle to Mário Rui.
In the middle of the added time, the alarms went off. Gerard Piqué went to the floor and asked for the change. It seemed like a strategy to waste some time, but the centre-back left with an obvious limp as the replays made everything clearer: the defender fell on his ankle after clearing a ball and the images showed he clearly twisted his ankle.
With the 'Clásico' five days away, the presence of the defender, who left by his own foot but clearly limping, could be in doubt, but Pique himself asked for the change to be stopped, which suggested that his problem was not serious.
February 25, 2020