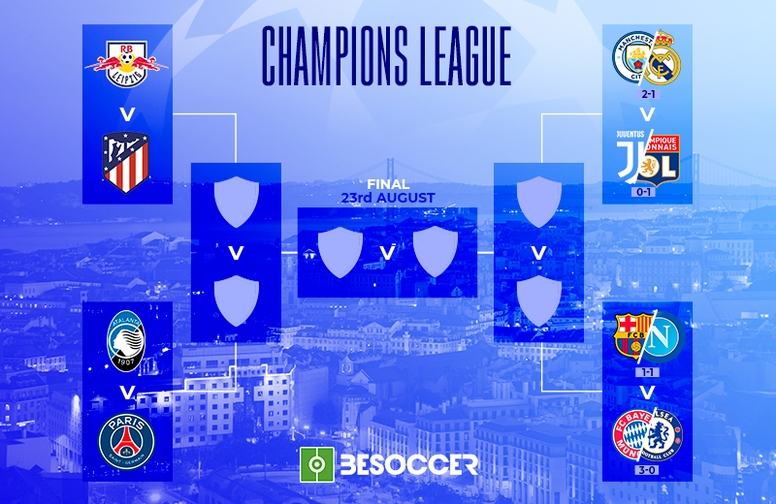 OFFICIAL: These are the confirmed ties for the UCL 2019-20 quarter-finals
The draw, attended virtually by all teams involved despite some technical difficulties, went ahead as planned on Friday 10th of July.
Here are the results for the quarter-finals, which will be played August 12-15 (Lisbon)
Man City/Real Madrid vs Juventus vs Lyon
RB Leipzig vs Atletico Madrid
Barcelona/Napoli vs Bayern Munich/Chelsea
Atalanta vs PSG
The semi-finals:
Champions League semi-finals to be played August 18-19 (Lisbon)
Man City/Real Madrid or Juventus/Lyon vs Barcelona/Napoli or Bayern Munich/Chelsea
RB Leipzig/Atletico Madrid vs Atalanta/PSG
The final therefore looks like this:
Man City/Real Madrid/ Lyon/ Juventus/ Napoli/ Barcelona/ Chelsea/ Bayern VS Leipzig/ Atletico/ Atalanta/ PSG
A possible meeting between Real Madrid and Cristiano?
A possible clash between Cristiano Ronaldo and his former team could become one of the main attractions for the quarter-finals. If Los Blancos beat Guardiola's team and the Italians do the same against the French, CR7 will meet his old team again.
Possible Madrid-Barça in semis!
If Zidane's team wins the first match and Setién's team wins the second, we could enjoy a thrilling 'Clásico' between Real Madrid and Barcelona in the Champions League semifinals.