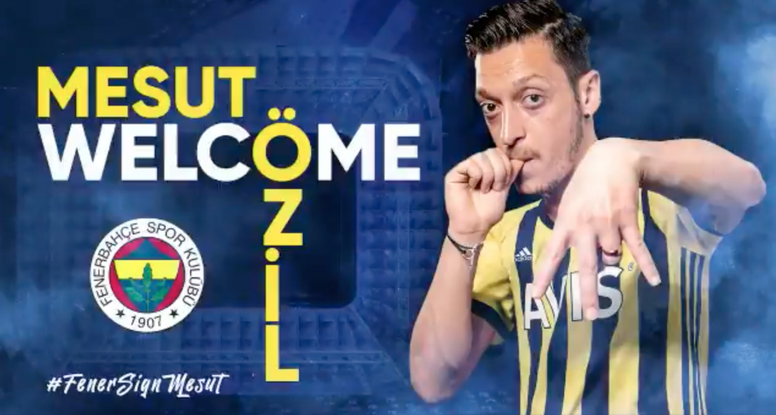 OFFICIAL: Özil signs for Fenerbahçe
Özil is now no longer an Arsenal player. The German international has completed a deal to boyhood club Fenerbahçe.
The deal had been talked about for weeks but both clubs confirmed the deal on Sunday.
The Turkish outfit confirmed the deal with a very short statement. "An agreement has been reached with Arsenal Football Club for the transfer of professional footballer Mesut Özil to our club", it said.
January 24, 2021
Arsenal, meanwhile, thanked Mesut for his time at the club although this season he wasn't named in Arteta's squad for either the Premier League or Europa League despite being the highest paid player.
"Mesut's achievements at Arsenal are undisputed. It was a privilege to play alongside him and, more recently, coach him. His creativity and vision led to many goals during his time in the Arsenal shirt. Mesut was at the heart of many great moments for this club over the years, including those three FA Cup final wins. These successes will always be part of our history. We thank Mesut and wish him all the best with Fenerbahce", Arsenal manager Mikel Arteta said.
Ozil hadn't played for the Gunners since 7th March 2020 against West Ham and hasn't scored since a 4-0 win over Newcastle in February 2020. He played 254 times for Arsenal and managed 44 goals and 71 assists.
"Mesut became our record signing when he joined us at the end of the 2013 transfer window from Real Madrid. He was soon to make an impact, claiming his first assist on his debut and ended his first season with the dramatic FA Cup final win over Hull City. Two more FA Cups followed in the next three seasons and Mesut was also named Arsenal Player of the Season in 2015/16", Arsenal added.
The club finished by wishing him the best of luck in the future. His replacement at the Gunners looks most likely to be Real Madrid midfielder Martin Odegaard on loan until the end of the season.
January 24, 2021