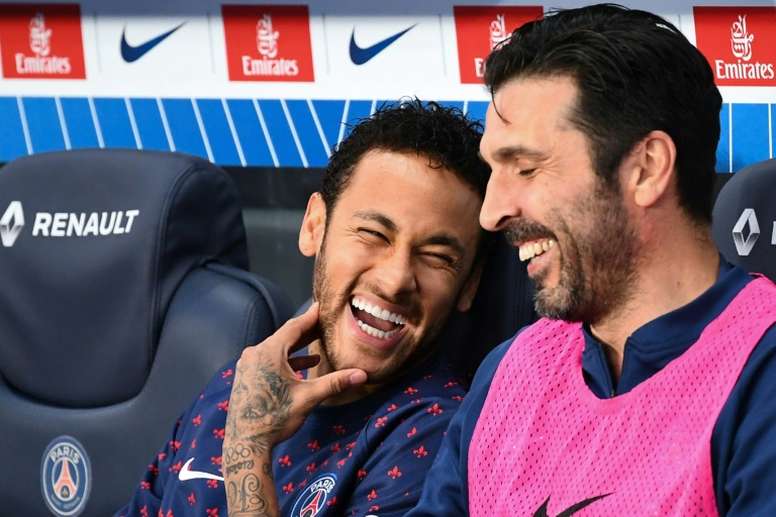 "Neymar and Mbappe are two amazing talents and future Ballon D'or winners"
He lasted just one season at the Parc des Princes, but it seems like Gianluigi Buffon's time at PSG will stay with him for a long time.
The Juventus keeper spoke about various topics at the Festival of Sport in Trento and he spoke about lots of things.
Firstly, his conversation with Cristiano Ronaldo about his overhead kick was brilliant. But that was not it. He also spoke two ex-teammates in Kylian Mbappe and Neymar.
Buffon praised both stars and praised their individual quality. He even said that the two will win the Ballon D'or in the future.
"During my season at PSG, I had the opportunity to play with two future Ballon D'or winners. I am talking about Neymar and Kylian Mbappe. These two players are two extraordinary talents," the Italian keeper said.
The Juventus keeper continued taking about Neymar: He has a technique, a talent and a class which I have never seen before. I often speak to him and tell him it's unbelievable he still hasn't won a Ballon D'or, even with Messi and Cristiano being there."
"I said to him: 'You don't have to wait for them to retire because you are as good as them. In the next five years you should win three! Three for you and two for Kylian," Buffon continued.
The veteran goalkeeper, who has already praised the duo in January, recalled that the two players were one of the main reasons he decided to go to PSG.
To conclude, he praised Mbappe: "He must say to himself: 'I must win five Ballon D'ors in 10 years.' If he does that, he wil get them."