New doubts over Sancho for Manchester United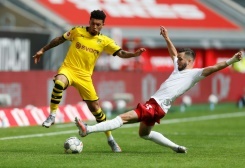 According to British sources, if Jadon Sancho wants to pack his bags and try out for the Premiership, he will have no choice but to put pressure on Borussia Dortmund.
Ed Woodward is clear that, after the crisis because of the pandemic, United will not face such an outlay. Ad 'Mirror' reports, the 'red devils' would have enough to sign Jadon Sancho, but believe that if they put it on the table of Borussia Dortmund, the team will have a hard time recovering.
Manchester United are still thinking about signing Jadon Sancho, but his price and the current financial situation have become serious roadblocks.