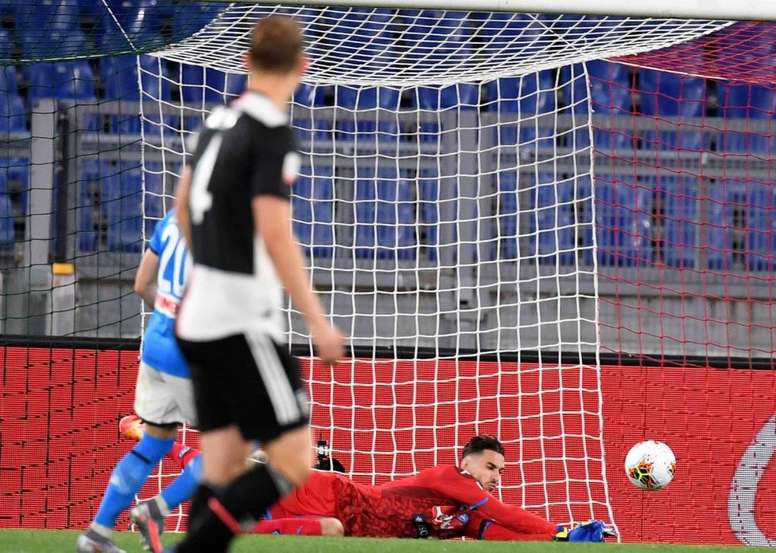 Napoli win Coppa Italia final without Cristiano getting chance to take penalty
Napoli deservedly won the Coppa Italia against Juventus 4-2 on penalties after a 90 minutes which finished 0-0. Despite Juventus being on top in the first half without having many top chances, Napoli were clearly the better side in the second period and without Buffon, Juventus would not have reached penalties. Just like in Portugal's Euro 2012 semi-final with Spain, Cristiano was reserved as the fifth penalty taker and the gamble backfired.
It was a quiet start to the game, but Ronaldo could have scored after five minutes when Dybala intercepted Callejon's poor pass. However, Cristiano's effort was well saved by stand in keeper Meret. Despite Juventus having plenty of possession and territory, they were restricted to chances from distance and Napoli were comfortable in defence. In fact, it was actually Gennaro Gattuso's men who looked the more dangerous at the empty Stadio Olimpico.
With 24 minutes on the clock, Napoli won a free-kick and Lorenzo Insigne struck Buffon's right hand upright. That was a warning sign for Sarri's men and despite Sandro heading wide and decent build up play, Juve offered little going forward and would have been behind at the interval had it not been for Buffon.
In the 41st minute, Insigne saw an effort cleared off the line by Sandro and then Demme tried to beat Buffon at the near post, but the goalie was up to the task. Then, seconds later, Napoli won a corner, it was half cleared and Insigne's powerful strike from distance forced Buffon into a brilliant save to his right. It was goalless at the break and after the interval, the game opened up.
June 17, 2020
Juventus had a good 10 minute spell at the start of the second period. The closest they came to scoring was when Cristiano Ronaldo attacked down the far side and Bentancur fired over the square pass. After that, it was Napoli who looked the more dangerous. Fabian had an opportunity just after the hour mark from Zielinski's pass, but it went well over the goal.
Dybala then hit over for Juve and Bonucci also had a chance for the Turin based side, while Milik had a brilliant opportunity at the other end. However, neither goalkeeper was under serious threat. Then, Napoli picked up in the final 10 minutes.
Politano headed at Buffon before Insigne hit an effort wide of the corner, but the clearest chance came seconds before full time after Bernardeschi gave away a corner. Politano's delivery was headed by Insigne, it was saved by Buffon and then Elmas hit the post from the rebound. Juve had ridden their luck, but in the penalty shootout, Napoli came out on top.
Dybala saw his effort well saved by Meret before Danilo fired high over the crossbar. Despite Bonucci and Ramsey scoring for the 'Bianconeri', Insigne, Politano, Maksimovic and Milik's successful penalties meant Ronaldo did not get the chance to take one. Napoli won 4-2 penalties to win their sixth Coppa Italia and Cristiano was crying after the game. It is still the only domestic competition he has yet to win at either Juve, Real Madrid or Man Utd, but the truth is that Napoli fully deserved it.