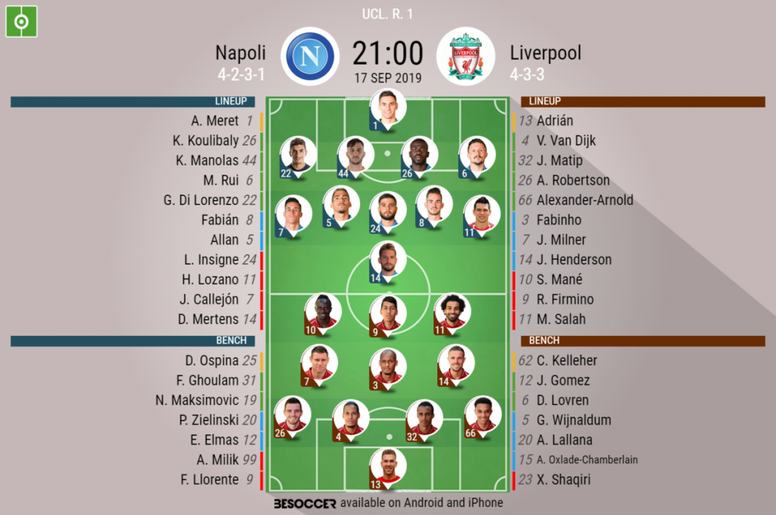 Napoli v Liverpool -as it happened
95'
FT: Napoli 2-0 Liverpool!!! Full time in Naples as two late goals from Mertens and Llorente see Napoli claim the three points. Both keepers made a great save and it looked to be heading for a 0-0 draw, but Mertens scored a pen after Callejon dived to win it and then Llorente took advantage of a Van Dijk error to kill off the game. Thanks for joining us and see you again soon!
95'
Napoli take the ball to the corner and the ref blows for full-time!
94'
Napoli passing the ball around now and Liverpool know the game's up.
92'
Llorente scores!!!! Napol gets his revenge on Liverpool! The away side make a terrible error in defence after Robertson passes to Van Dijk, he then loses it and Llorente hits home from inside the box.
90'
Llorente nearly gets on the end of the cross!
90'
Llorente is carded for a foul in midfield.
89'
Napoli look fairly comfortable now to be honest.
87'
Liverpool sub: Shaqiri on for Henderson.
86'
They then get another one and Henderson's cross is headed wide by Fabinho.
85'
Liverpool win a corner now.
84'
Liverpool are unlucky to fall behind as a draw would be a fair result.
83'
Adrian makes a great effort and very nearly saves it, but how have Bastian Dankert and Marco Fritz as VARs confirmed that? Dankert is the main man and Fritz has got plenty of previous. Let's put it that way.
82'
The VAR checks it and confirms the penalty!!! Astonishing. And Mertens makes no mistake from the spot!!! Adrian dives to his right and gets his hand to it, but it goes in.
80'
Penalty to Napoli!!!!! Mertens passes to Callejon inside and then Robertson goes in and brings him down! For me, Callejon dives quite clearly. Contact is between none and minimal.
79'
Mane is a whisker away from reaching Alexander-Arnold cross at the back stick.
78'
Llorente has a foul given against him for the pull back.
75'
Napoli sub: Elmas replaces Allan who was struggling a few minutes back.
74'
Mane is denied by Meret just now in a rare Liverpool chance.
72'
Allan is down injured with what looks like cramp or he may have pulled something in his leg.
70'
Twenty minutes to go and the game is still very even. Both keepers have had to make one great save.
68'
Napoli sub: Lozano off and Fernando Llorente on.
67'
Napoli sub: Zielinski on for Insigne.
66'
Liverpool sub: Milner goes off and Wijnaldum comes on.
65'
Fabulous save by Meret to deny Salah after Manolas completely miscues the ball in his own half!
64'
Still no goals here and Liverpool have weathered Napoli's 10-15 minute storm.
61'
Milner is booked for a foul on Callejon.
58'
Fabinho commits a foul on Allan. Nothing comes of the free-kick though.
57'
Robertson sees the first card of the game because he pulls back Callejon.
56'
Napoli have started the second half excellently.
55'
Liverpool counter from the corner through Mane's 50 yard sprint which ends when his pass to Salah is dreadful.
54'
Insigne wants a handball as the ball goes out for a corner. It hits Alexander-Arnold on the arm as he jumps, but it's the one by his side so not a pen.
52'
Lozano is given offside and he wasn't!!!
51'
Di Lorenzo manages to dispossess Mane in the Napoli box.
50'
It's well worth seeing that save again later.
49'
What a save by Adrian!!!! Callejon sends a cross field pass to Insigne and then Rui crosses to Mertens at the far post. He thinks he's scored as he raises his boot to knock in from three yards, but Adrian incredibly manages to dive and tip it over the bar! Stunning save.
46'
Lozano is pushed from behind by Fabinho and has got injured as he fell awkwardly on his lower back.
46'
Insigne is flagged offside after just 20 seconds.
46'
Welcome back everyone!!! Napoli get us going again here.
45'
HT: Napoli 0-0 Liverpool!!! Brych blows for HT right on 45 minutes. Liverpool have been a bit better than their opponents in a game which has seen the teams take it turns to put pressure on the other team's goal. Napoli had a goal chalked off for offside early on while Mane and Firmino have come the closest for Klopp's men. The defences also look solid. Join us in 10 minutes for the rest of this one.
44'
Firmino heads wide!!!! Liverpool take it short and the Brazilian can't find the target from Milner's ball in.
43'
Rui!!! Good stuff by the Napoli man as Milner decides to square for Salah and Rui knocks it out for a corner. Could have gone for goal himself.
42'
Allan wins a corner off Van Dijk.
41'
Mane is caught in the face by Koulibaly, Not deliberate.
40'
Lozano!! He's so close to getting on the end of Rui's ball into the box.
37'
Mane spots Salah on the far side, the Egyptian then cuts inside and fires wide from just outside the box.
33'
Napoli play patiently and then Callejon, Lozano and Insigne combine, but Liverpool manage to clear. Both defences look very good.
31'
Mario Rui crosses from the far side and Matip clears. Napoli coming back into this.
29'
Firmino runs down the middle in Napoli's and when he reaches the D, he sees his strike blocked by Koulibaly. He then scuffs it straight to the goalie at the second time of asking.
28'
Mertens goes down screaming for a penalty, but Brych gives a foul against the Napoli man as Alexander-Arnold came to defend.
27'
Mane is fouled by Fabian.
25'
Great defence!! Mertens gets on the end of a long pass and Matip diverts his centre behind for a corner. It was a great intervention and Lozano was ready to score.
21'
And Liverpool threaten again!!! Salah beats Koulibaly on the far side, cuts inside, Manolas blocks his shot and then Milner fires over.
20'
Save by Meret at his near post to deny Mane after Fabinho wins the ball off Insigne. It was a terrible error by Insigne.
18'
Liverpool keep possession for around a minute before Henderson's pass to Salah is overhit.
16'
Liverpool are the better team now here.
14'
The corner comes to nothing. Seconds later though, Callejon crosses from Liverpool's left for Fabian. His shot then goes across goal not towards it.
14'
Napoli get another corner.
13'
Koulibaly again!!!! Fantastic play by Fabinho which ends with Salah bearing down on goal, but Koulibaly stops him.
12'
Firmino tries to thread a pass through the Napoli defence for Mane!!! Koulibaly gets there first though. Liverpool picking up now.
11'
Allan sends it forward for Insigne, whose control is poor.
9'
Both teams attacking earlier, but Liverpool have done so far mainly on the counter.
7'
Napoli score through Lozano, but it's disallowed. Rui thumps it forward for Insigne, he gives it to Fabian who hits it from outside the box. Adrian saves and it goes back to Fabian, he is denied again before Lozano heads home from an offside position.
5'
Liverpool counter from the corner through Salah and Allan has to get back to clear it for a throw-in.
4'
Mertens' cross from the near side is knocked behind by Van Dijk for a corner.
3'
Van Dijk's flick on from the set piece sees Firmino caught offside.
3'
Salah gets the first corner of the game after Henderson plays a great pass and the Egyptian runs into the box.
1'
Liverpool get us going from right to left!
Prev.
He went over to the bench, but now we are ready for play.
Prev.
Both teams are in their usual kits, but Brych is putting his finger to his ear.
Prev.
Henderson and Insigne shake hands with the officials!
Prev.
The players are out here in Naples!
Prev.
This game comes from Group E and Genk and Salzburg are the other two teams in the group.
Prev.
It's 23 degrees and dry tonight in Naples.
Prev.
Milner and Henderson replace Wijnaldum and the Ox from the win over Newcastle last Saturday.
Prev.
Napoli make three changes from their 2-0 win v Sampdoria. Insigne returns as do Manolas and Allan while Maksimovic, Elmas and Zielinski drop to the bench.
Prev.
We have German officials tonight. Felix Brych is the ref and Bastian Dankert the main VAR.
Prev.
Liverpool team: Adrian (GK); Robertson, Van Dijk, Matip, Alexander-Arnold; Milner, Fabinho, Henderson; Mane, Firmino and Salah.
Prev.
The teams are in! Napoli XI: Meret (GK); Rui, Koulibaly, Manolas, Di Lorenzo; Lozano, Fabian, Insigne, Allan, Callejon; Mertens.
Prev.
Hello and good evening to our live coverage of the Champions League clash between Napoli and Liverpool from the Stadio San Paolo from Naples. These two teams met in last season's group stage as well and it should be a cracker.