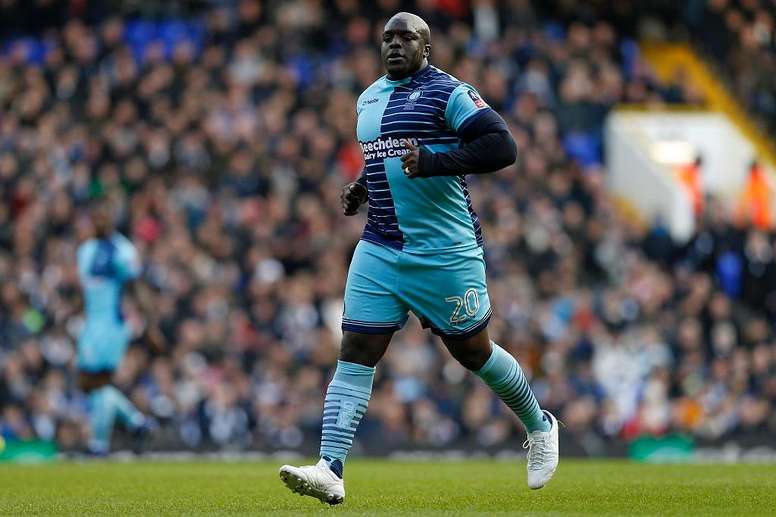 "My inspiration is the fear of not being able to feed my children"
Adebayo Akinfenwa is one of the most charismatic guys in football. His unique physique has served him well as a marketing tool, but it has also made him unique as a footballer. He has been a goalscorer at the lower levels in England for 20 years and is thinking of going for more.
In his fifth season with Wycombe, the striker is starting to take on a more secondary role. Against Tottenham in the FA Cup he came off the bench and after the game, he revealed in words picked up by 'AS' that his weight is already hard on his joints.
"I have to treat my knee every game and sometimes the day after I play I think I'm going to retire," said Akinfenwa. Even so, at 38, he still sees himself with room for a few more seasons.
"I want to play until I'm 40, which means I'd have to play one more season, but it will be at the end of the season when I'll make the decision. The other day I was on the exercise bike asking myself questions and thinking 'this is killing me', but everyone has a purpose in life," he explained.
In the end, economics will play a very large part in his decision: "My inspiration is the fear of not being able to feed my children. If I won the lottery, I would probably sit on the beach. But I have to persevere in what I do".
As much as Akinfenwa may be a media player, he belongs on the pitch: "There is a perception that when you have been a professional footballer for several years you are financially stable, but the reality is that you are not. A very small percentage of footballers earn a lot of money and when they turn 35 they don't have to work any more, while lower division players just go from contract to contract".
What will he do when he retires: "I have some projects with Netflix and Amazon. I don't think the dugout is for me but I like the mentoring part of the sport that is often overlooked".
Whatever happens, Akinfenwa is proud of his career: "People told me I was too big to be a professional footballer and here I am, 38 years old, after two decades as a player having scored over 200 goals".