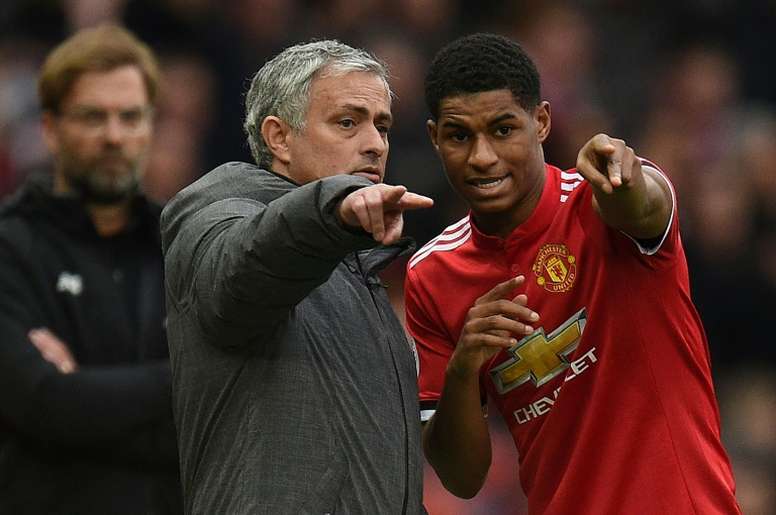 Mourinho defends Rashford treatment and brands pundits 'compulsive liars'
Pundits have previously claimed that Rashford, who scored twice for England over the international break, does not see enough game-time at Old Trafford under the Portuguese coach.
"I can expect that on Sunday I'm going to be highly criticised for not playing him at Watford tomorrow because some of the boys are really obsessed with me," Mourinho said, playing on the fact that Rashford is suspended for tomorrow's clash with the 'Hornets'.
"Some of them have a problem with some compulsive lies, so I can expect some of them will wake up on Sunday, and always the thing that comes to their mind is Jose Mourinho.
"Some of the people everybody knows have double salaries, they work also for the clubs and of course they are not independent and they conduct things in the direction they want."
Mourinho then brought out a piece of paper, and explained to the waiting journalists the statistics behind Rashford.
"In the season 2016/17, Marcus Rashford played 32 Premier League matches, 11 Europa League matches including the final, three FA Cup matches, six League Cup matches including the final, 53 appearances," he began.
"If you want to take the minutes of play, he played 3,068 minutes. If you want to divide that by 90 minutes of the matches, he played 34.2 matches of 90 minutes.
"In the 2017/18 season, he played 35 Premier League matches, eight in the Champions League, five in the FA Cup including the final, three League Cup matches and the European Super Cup final. He played a total of 52 matches with 2, 676 minutes. If you divide that by 90 it gives 29.7 matches.
"So with me in two seasons, he had 105 appearances, 5, 744 minutes, 63.7 matches of 90 minutes including five finals so the people that are speaking about his minutes I think they are a bit confused.
14 September 2018
He went on to appeal to the fans to trust him: "Marcus Rashford was selected for every single match. He was never one day out of selection because of my decision. He knows and that is the most important thing.
"But again, media is very important and I think it is very important that Manchester United supporters know the truth.
"That is why I am going so specific about these numbers."