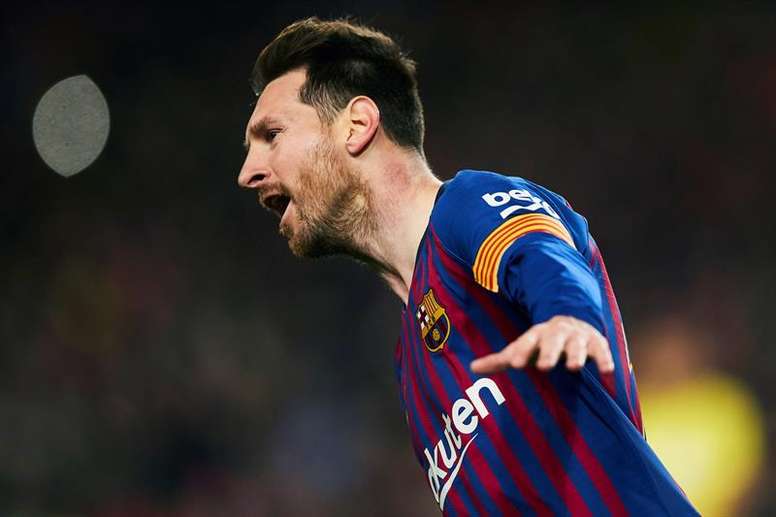 Messi masterclass sends Barça into last 4
Messi scored in the 16th and 20th minutes, with the first goal being a special, vintage Lionel Messi goal, cutting inside three players before slotting home in the bottom left corner. The second just minutes later, is one that David De Gea will be hoping to forget as soon as possible, as he made a calamitous error. Philippe Coutinho finished the tie with a classic Coutinho goal, arcing into the top right corner.
Manchester United started the game very brightly, with Marcus Rashford hitting the cross bar after just 37 seconds, before Scott McTominay had a decent chance a couple of minutes later. That was about as good as it got for the away side, who in the end endured a miserbale afternoon in front of a humongous 96,000 at the ever impressive Camp Nou.
Barça were given a penalty in the 11th minute, after Rakitic was felled, but this was overturned by VAR and the Croatian somehow escaped a booking for what was a clear dive. United still had an edge on the counter and it looked like an open game was on the cards, but Barça have quality, and especially a certain Argentinian.
Messi gathered the ball far out on the right hand side of the pitch after Ashley Young slipped, before cutting inside Phil Jones, Fred and Chris Smalling and slotting it bottom right. It was a sublime goal by Messi, who once again delivered on the big night, as he has done so many times in his illustrious career.
That goal actually didn't mean that much in the grand scheme of things, United had to score 2 goals to qualify, and they had to score 2 after Messi's magic. However, just 4 minutes after the first goal went in, Messi hit the killer goal. The build up play was decent and Messi glided inside Smalling, who endured a torrid evening, shooting straight at De Gea, who somehow managed to dive over it and Messi had his second already.
That goal killed the tie, United needed 3 goals then, and didn't look like scoring from the 5th minute onwards.
De Gea made a phenomenal save just before half time, denying Sergi Roberto from all of about 2 yards out, but the tie was gone, United looked absolutley shell shocked.
Messi very nearly capped off a superb European evening with a hat trick on 48 minutes, when his curling effort sailed wide after a deflection from Ashley Young, who once again highlighted the need for United to sign a new left back. Philippe Coutinho then joined the party with a lovely curling effort in the 61st minute, cutting inside in classic Coutinho fashion and putting it in the top right corner. That left United needing 4 goals, which would have topped the outrageous comeback in Paris.
If Messi's effort in the 64th minute had sailed in then it would have been the best hat-trick in quite some time, he went for the audacious overhead kick, and it was inches away from sailing in to the top left corner.
Marc-Andre Ter Stegen made a fantastic save to deny Alexis Sanchez in the 90th minute for what would have been a nice moment for the Chilean, scoring at his old club. In the end United were simply outclassed in every facet of the game, Barça were too good defensively, in midfield and in attack, even the goalkeeping was better from Barça. This was a humbling night for Solskjaer and his men, and one which they must remember to learn from in the future.
United will be looking to spend big this summer to try to reach these big nights again, whilst Barça will face either Porto or Liverpool in the Semi-Finals, and you wouldn't doubt the Spanish club going and progressing through to the Champions League final, or in fact, for Messi to be lifting the trophy on the 1st June in Madrid.