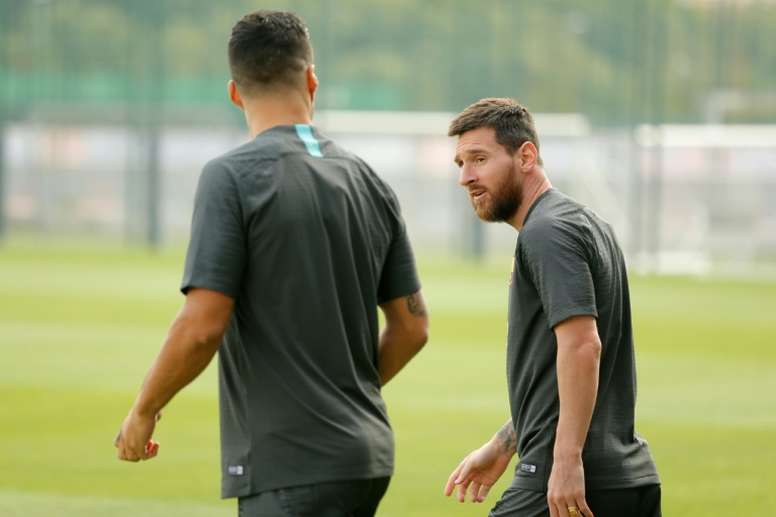 Messi discharged: will he be a starter or substitute in Dortmund?
The latest signals invite optimism in light of Leo Messi's return. Or rather, the Argentine is still yet to star this season, as he has not yet even played a minute, but the medical services give us some good news.
Messu was included in the call-up for the Dortmund game, but it included 22 players, so the option of not playing is still there, even though Messi has trained with the group.
115 days after playing in the Copa del Rey final against Valencia, it is the star's turn to put on his boots once again.
The announcement of his medical discharge is the start up for his return. Now, the only doubt will be if he is involved in the game at Signal Iduna Parl, or, if he remains on the bench waiting for his opportunity in the second half.
Despite Ernesto Valverde's latest statements where he could not be sure if Messi would make his season's debut in the Champions League, the striker's recovery and discharge brings hope to everyone at Barcelona.
Barcelona have solved their absences at Camp Nou, without really missing anyone. A 5-2 win against Betis and Valencia allowed the team to show they can perform without their stars. But the first game of the Champions League is away from home and on one of the most difficult pitches, hence his return is vital. At the moment, their record away from home is not the best: defeat in San Mames (1-0) and a draw in Pamplona (2-2).
The way the club have used social media to communicate Messi's availability is another thermometer to measure that he is more spoken about for his goals and not for his injuries.
September 16, 2019
All of Barcelona were also waiting for the news that Neto has also recovered. The Brazilian goalkeeper, who broke the scaphoid bone in his hand after the last preseason friendly, has been recovering very well and could equally star in the match against Borussia Dortmund.
Last Saturday, the former Valencia player surprised everybody by undergoing training with everyone else in the group, hence his trip to Dortmund and the coach's confirmation of his fitness in his call-up.
September 16, 2019