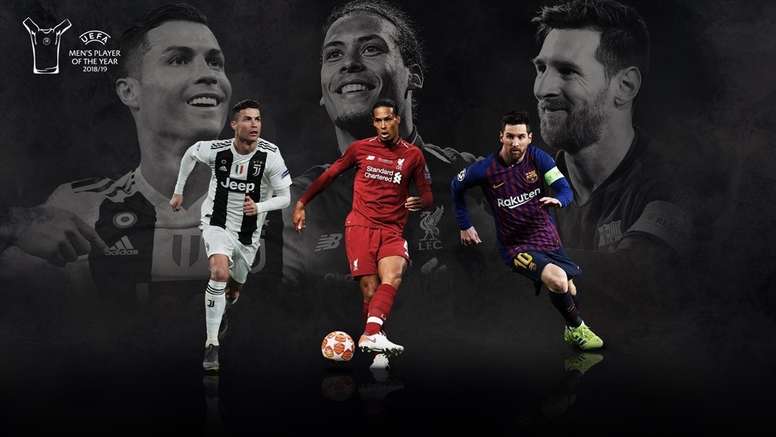 Messi, Cristiano and Van Dijk on shortlist for UEFA Men's Player of the Year
In an official statement on their website, UEFA announced the three-player shortlist for the 'Player of the Year' award. Leo Messi, Cristiano Ronaldo, and Virgil Van Dijk have all been judged for their performances last season, both on the European stage, with their national teams, and on their respective local leagues, La Liga, Serie A and the Premier League.
Leo Messi, the top scorer in the last edition of the Champions League with 12 goals in ten games, added another Golden Shoe to his record with 36 goals and won his tenth league with FC Barcelona. Aditionally, the free-kick goal that the Argentine scored against Liverpool in the semifinals was voted the 'Goal of the Season'.
Cristiano Ronaldo did not manage to bring the Champions League to Turin, but he did become even more of a legendary player by conquering Serie A and the Italian Super Cup. With the Portuguese national team, the striker presumes to be the first champion of the League of Nations, being the top scorer of the final phase.
Virgil van Dijk, is the most complete defender in world football at the moment, and he can claim to have been the bastion of Jürgen Klopp's Liverpool that lifted the Champions League last May at the Wanda Metropolitano. The Dutchman was also the League of Nations and the Premier League runner up, and won the 'Player of the Year' in England.
After the three finalists, seven other stars complete UEFA's 'Top 10': Alisson Becker (57 points), Sadio Mané (51 points), Mohamed Salah (49 points), Eden Hazard (38 points), Matthijs de Ligt (27 points), Frenkie de Jong (27 points) and Raheem Sterling (12 points).
The players are selected by a jury made up of the 80 coaches who participated in the group stage of the Champions League and the Europa League, together with 55 journalists chosen by European Sports Group (ESM), which represents each of the UEFA member federations.
Goalkeeper of the season: Alisson Becker, Hugo Lloris, Marc-André ter Stegen

Defender of the season: Trent Alexander-Arnold, Matthijs de Ligt, Virgil van Dijk

Midfielder of the season: Frenkie de Jong, Christian Eriksen, Jordan Henderson

Forward of the season: Sadio Mané, Lionel Messi, Cristiano Ronaldo

Women's Player of the Year: Lucy Bronze, Ada Hegerberg, Amandine Henry

Europa League Player of the Season: Olivier Giroud, Eden Hazard, Luka Jović
August 15, 2019