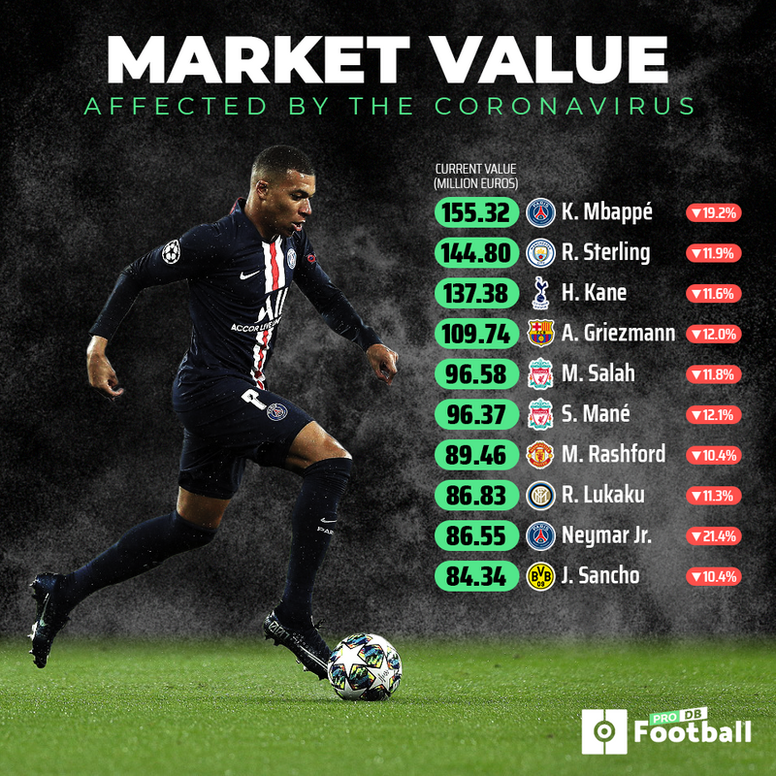 Market value in football before and after COVID-19
There are more and more transfer stories these days and they are all about swap deals rather than multi-million euro signings due to the coronavirus crisis. Clubs have less money, but the players are also less valuable and at ProFootballDB we have decided to measure it.
We have done so by using an algorithm which takes into account factors to do with each club, footballer and league. Our algorithm takes into account a player's age, the length and type of his contract, whether his league is still going on or has been cancelled, whether the player has COVID-19 or not and even external factors to do with the economic situation of a country.
Kylian Mbappé (192.26M), Raheem Sterling (164.45M) and Harry Kane (155.48M) are still the top three like before, but they have lost a lot of value. 19.2% the Frenchman, 11.9% the Citry man and 11.6% the Spurs man. Inside the top ten, Jadon Sancho (84.34M) has gone ahead of Roberto Firmino (84.15M).
In addition, there are changes in positions. Neymar (86.55M) drops from fifth to sixth position, Mane (96.37M) from sixth to seventh, Rashford (89.46M), from eighth to to ninth and Lukaku (86.83M) from ninth to tenth.
Salah (96.58M) is the only one who goes up. He moves from seventh to fifth. Griezmann (109.74M) remains in fourth.
The average loss of value for the top ten is 13.2%, and all have lost at least 10%. Only Mbappe, Sterling, Kane and Griezmann have a market value over 100 million euros. Salah, Neymar and Mane no longer do.
The Brazilian for PSG is the most devalued player of all the important ones. He has lost 21.4% of his value. That is largely due to Ligue 1's season being terminated and the fact many clubs can no longer afford him. The second most affected is Mbappe (19.2%) reduction.
Erling Haaland is at the other end of the scale. He has only lost 7.6% (33.9M to 31.34M). His youth and the fact the Bundesliga has restarted has had a lot to do with that. De Ligt has also been saved by his youth (9.5% loss), a loss of 8.8 million euros. Jadon Sancho (9.79%) has also lost less than 10%.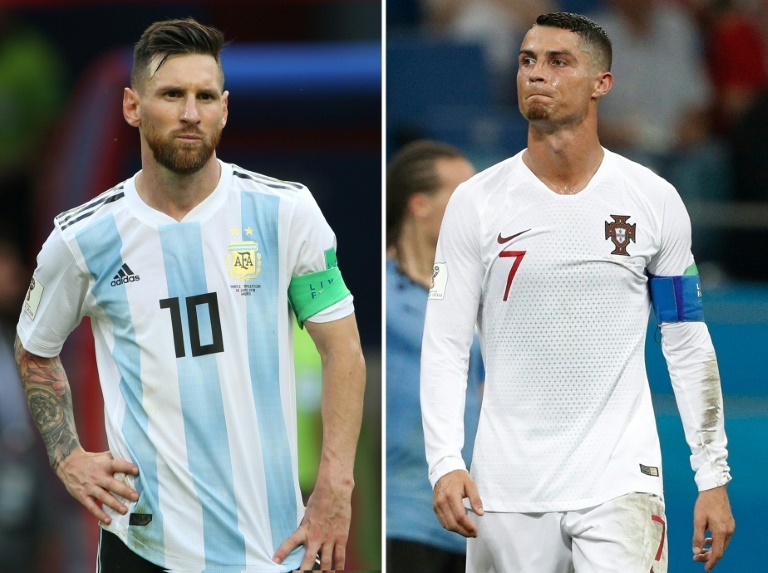 How do Messi and Cristiano Ronaldo compare? Leo Messi has an advantage as he is younger (33) and his market value is 49.71 million euros, three times less than Mbappe's. Cristiano, who has just turned 35, has seen his value drop to 37.01 million after the coronavirus pandemic.