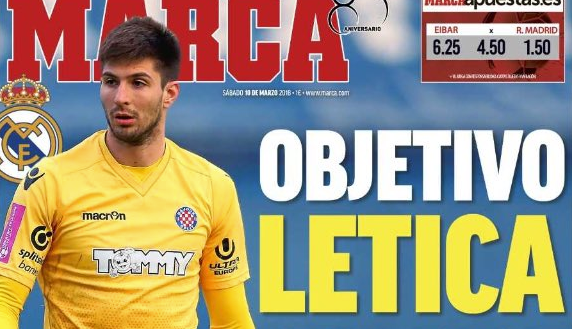 'Marca': Madrid set sights on Letica
Real Madrid are keeping tabs on several goalkeepers in a bid to replace Keylor Navas. According to 'Marca', their head has been turned by 21-year-old Croatian star, Karlo Letica alongside David De Gea and Thibaut Courtois.
With neither United nor Chelsea looking to sell, and both keepers potentially fetching world record fees, 'Los Blancos' have identified Letica as a more economical solution after a run of excellent performances.
De Gea is widely acknowledged by notable members of the football community as the best in the world. Despite being a very difficult acquisition for Real Madrid, the keeper's contract is due to end in 16 months and the 27-year-old is aiming to renegotiate the wages of his current contract with Manchester United.
Keylor Navas is the current keeper, but the club is looking to bolster the position after a discouraging domestic campaign. At one point, Kepa Arrizabalaga of Athletic Bilbao was rumoured to make the move to Madrid, but with management interest currently focused on Letica, the Spaniard seems unlikely to be selected.