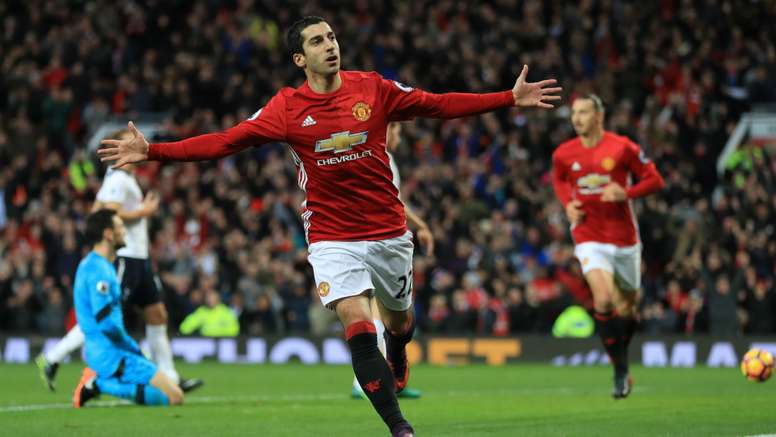 Manchester United take to the wings as Mkhitaryan shoots down Tottenham
Manchester United were a side in need of a spark and Henrikh Mkhitaryan provided them with just that as they defeated Tottenham 1-0 at Old Trafford on Sunday.
The Armenia international had not scored a Premier League goal prior to his burst into the box after 29 minutes, which finished with him lifting an unstoppable finish over Hugo Lloris to secure three points for Jose Mourinho's men and maintain an interest in the race for a top-four spot.
And it was a victory that was broadly deserved by United.
Spurs dominated virtually every statistical category, yet when it came to the punch, they misfired. The visitors dominated possession impressively, as they controlled 60 per cent of the ball and attempted 429 passes to their opponents 286 – doing so with far greater accuracy than their opponents mustered.
These numbers should have added up to something tangible for Mauricio Pochettino's side, but instead they managed only eight shots on goal over the course of the entire fixture. What is most damning about that statistic, however, is that only one of these came from inside their hosts' penalty box. Spurs might have had the ball, but they did precious little with it.
Given that Harry Kane came into the game with seven goals in his previous six Premier League outings, this was an achievement worthy of note.
In contrast, Mourinho's men were a good deal more purposeful when in possession. With 20% less of the ball, they attempted nearly 50% more shots on goal than their rivals. Not only that, they did so from far more promising positions; seven times they had shots from inside the Tottenham penalty box and on five of these occasions they hit the target.
It was telling that United's attacks largely emanated from the wide areas, as they looked to get in behind Tottenham's offensively minded full-backs. In order to do this, they sacrificed accuracy, dropping down to completing only 69% of their passes against a season average of 84% in the Premier League.
Only 16% of the home side's forward forays came from central areas, with a staggering 53% going down the left wing of Anthony Martial.
It was through Mkhitaryan that they were most potent, however, so with the Armenian sidelined for a fortnight due to an ankle injury picked up late in the game, Mourinho will have to find another solution in his side's two forthcoming Premier League matches – trips to Crystal Palace and West Brom.