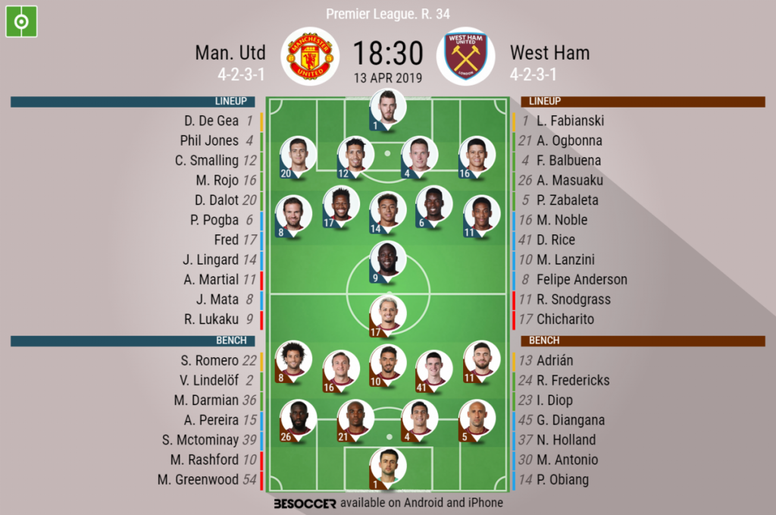 Man Utd v West Ham - as it happened
Manchester United FC

West Ham United

96'
FT: Man Utd 2-1 West Ham!! Man U win in very unconvincing fashion thanks to a Pogba double from the pen spot. The first penalty was controversial and West Ham had a legal goal disallowed. Anderson levelled things up just after HT and could have easily gone in front. Pogba made it 2-1 when the Red Devils were on the back front. A draw would have been fair, but the victory is huge for United. Thanks for joining us and see you again next time.
96'
It was cleared and it's all over!! Man U have got out of jail there.
95'
Foul by Smalling and West Ham will launch this into the box. Last chance.
94'
West Ham have a throw here. They quickly attack and De Gea has to send it for a throw in as Antonio was bearing down on him.
91'
In the penalty incident, the TV are checking if Martial was offside when Rashford flicked it on. It was very, very close. I think just onside.
89'
Ogbonna heads back for Fabianski. Martial tries to put pressure on.
88'
Jones is getting black tape put around his wound at the moment.
87'
Jones is bleeding heavily from his face after Rice catches him with his arm. Just above his right eyebrow.
86'
Fredericks forces a corner now. They deserve an equaliser
84'
Diangana and Antonio get in each other's way as the former was about to try and hit the target! This is far from over.
83'
Same type of corner again with Anderson at the near post and it nearly pays off! Man U are playing awful. Anderson's flick on hit Pereira's body.
81'
Pogba scores again! He goes to the goalie's right, Fabianski did as well, but it was right in the corner. Top penalty. Solskjaer's face says it all. He looks really angry. His side are getting out of jail.
80'
Fredericks was also carded.
79'
Penalty to United!!! Fredericks brings down Martial after Rashford feeds him. No doubt about this one.
78'
Ah, De Gea!!! What a save!! A cross is put in for Diangana at the far post, he heads into the ground and as it looks to be going in, De Gea bats it away. Stunning. West Ham on top.
76'
Antonio hits the bar after a fantastic run going one way and then the other! He left De Gea for dead. On the rebound, Anderson shot at De Gea. This could go either way.
76'
W Ham sub: Zabaleta off and roundly booed and Fredericks comes on. The crowd haven't forgotten Zabaleta's time at Man City.
75'
Man U sub: Lukaku been taken off and 17 year-old Greenwood enters the fray.
74'
Lukaku puts the ball into the box, but it comes to nothing. Man U struggling to find a second. Lukaku sends another ball in, but Balbuena heads it away.
72'
West Ham sub: Chicharito leaves shaking his head and Antonio comes on.
72'
Phil Jones has to throw himself at the ball to clear otherwise it could have been 1-2! United poor at set-pieces.
71'
The corner is cleared for another one.
70'
Diangana forces a corner out of Lingard.
70'
Rice shot is blocked now! West Ham attacking. Noble puts the ball in and Rojo heads away.
68'
Rojo heads out for a corner at the other end. It comes to nothing.
67'
Rojo hits a powerful strike from outside the box which is saved by Fabianski. This was after Lukaku put in two poor crosses.
65'
Man Utd picked up since Rashford's introduction and West Ham are having to defend.
62'
Rashford heads over the bar and was offside, but not given.
62'
Diangana on for Lanzini for the Hammers after the Argentine picked up a groin injury.
59'
Fabianski has to force a save out of Rashford after a brilliant run into the area!
57'
62% possession for the visitors since HT
55'
Man U sub: Rashford replaces Mata.
54'
Zabaleta has a pop now from the edge of the area! The Spanish gk saves easily.
52'
West Ham much stronger now since the goal. Man U in trouble and may have to bring Rashford on. Exactly what Solskjaer didn't want.
49'
De Gea catches a cross easily. His throw out is poor and Anderson punishes him!!! 1-1. De Gea's errant throw went straight to a West Ham player. Noble started the move and it ended with a cross by Lanzini to Anderson at the far post who slid in to beat the goalie.
47'
West Ham ball into area for Chicharito who is pulled back by Jones in the box. The flag rightly goes up though.
46'
Welcome back!! No changes here as we are back underway! Man U have just had a good move into the box, which was cleared.
45'
HT: Man Utd 1-0 West Ham!! An even game which is being decided by two controversial decisions. Anderson saw his goal disallowed for offside when he looked in line and then Pogba scored from the pen spot after Mata was fouled. It wasn't a clear foul and looked to be just outside, but it was given. Even contest without too many goal scoring opportunities. Join us in 10!
44'
De Gea saves with his foot to deny Anderson after good build-up play. He is playing well just like on Monday night. Anderson just ran the far side into the box and tried to beat the goalie at his near post.
43'
Anderson shoots wide from inside the box! A draw would be fair, but two controversial incidents are deciding this game so far.
42'
Shots: 8-5, on target: 1-0
40'
Lukaku gets a corner after Lanzini played a terrible pass
40'
Less clear cut chances in the last 10 minutes. Man Utd on top now. That said, both are trying and the goals are not being threatened.
39'
Fred fires miles over from 25 yards!
38'
Lingard goes into the box and falls after being dispossessed by Ogbonna. He thought Lingard was diving and was unhappy with him. He puts his finger on the United players face.
36'
Mata sends a long ball in for Martial at the far stick, but the Frenchman reaches too late and just turns it over the goal.
34'
Awful challenge on Mata who slides in on Noble and doesn't get the ball. The card is justified.
33'
Fred is penalised for a challenge on Anderson. Now W Ham get a corner. Martial chested it out.
31'
Masuaku is looking dangerous for the Hammers! He crosses and Noble finally is unable to find a teammate. They haven't given up.
28'
Lukaku finds joy down West Ham's right again, the Belgian finds Dalot. His shot though is poor.
26'
Lingard caught offside! Lukaku lays it off for Pogba in the D who takes a touch instead of striking first time and that gives time for the defenders to close him down.
24'
What a chance! Anderson and Balbuena almost got their heads to Snodgrass' delivery, it hits Dalot and goes for another corner. From the second one, Anderson heads towards goal and just goes past the post.
24'
It hits the wall and goes over for a corner.
22'
Free kick here for West Ham just outside the box after Snodgrass got kicked. Lanzini to take.
21'
And West Ham felt they should have scored earlier remember.
20'
Snodgrass and Pellegrini are convinced it was outside. I think it was just outside and it just looks like a coming together and an accidental clash. Not even sure it's a foul. Very, very debatable.
19'
Pogba to take... and he scores!!! He hits it down the middle after Fabianski dived to his left.
17'
Penalty to United!! Snodgrass can't believe it! Mata is brought down by Snodgrass after Martial played the ball to him. I think the foul was just outside the area...
16'
Nice move by United! Lukaku plays in Lingard who puts a dangerous ball which goes across the face of goal. There looks to be goals in this one.
14'
This is a good even contest this one.
13'
Noble was the man who headed for Anderson. They have just shown it again and it is extremely tight. Looks level according to the virtual line.
12'
Lukaku crosses looking for a teammate at the far post, but it beats everybody.
10'
Anderson scores, but disallowed! Masuaku puts the ball into the box, it was headed to Anderson who hit home. The linesman disallowed it. Will need to see it again, but Dalot may have been playing him on at the bottom. Controversial.
10'
Quietish start here. Neither side are dominating.
9'
Smalling brings down Chicharito now. Pogba lost a glove while trying to attack a minute back.
7'
Zabaleta is fouled by Martial at midfield.
5'
Fred hits a powerful strike from the edge of the box which is blocked.
4'
Lukaku passes to Dalot down the right and his cross is deflected for a corner. Fabianski caught it when the ball had already gone out.
2'
Masuaku has the first shot from outside the area after dispossessing Mata. His effort with his left foot went well wide.
2'
First free-kick for West Ham, but it's poorly executed.
1'
West Ham get us underway in the white!
Prev.
The players are out on the pitch! Good atmosphere.
Prev.
United are 5 points off 4th place so they need a win today. West Ham are in 11th and 5 points off a possible Europa League spot. The Hammers have picked up just one point in their last seven away games.
Prev.
West Ham lost 2-0 at Chelsea on Monday because of Eden Hazard. Fredericks drops to the bench, Cresswell drops out of the 18, Snodgrass replaces Arnautovic. Masuaku and Zabaleta start in defence.
Prev.
As expected, Man Utd field a much changed line-up with Tuesday's night return leg at Barca in mind. Rashford, Lindelof and McTominay drop to the bench, no Luke Shaw or Ashley Young either who are suspended. Mata, Rojo, Lingard and Jones all start.
Prev.
The referee for today's fixture is Graham Scott.
Prev.
The away side is the following: Fabianski (GK); Masuaku, Ogbonna, Balbuena, Zabaleta; Anderson, Noble, Lanzini, Rice, Snodgrass; Chicharito
Prev.
The line-ups are in so let's get cracking. The hosts' XI: De Gea (GK); Rojo, Jones, Smalling, Dalot; Martial, Pogba, Lingard, Fred, Mata; Lukaku
Prev.
Good afternoon and welcome to our live coverage of the Premier League clash between Manchester United and West Ham from Old Trafford. Will the hosts get three crucial points in their hunt for the top 4 or will W Ham keep their slim EL hopes alive? Stay here and you'll find out.