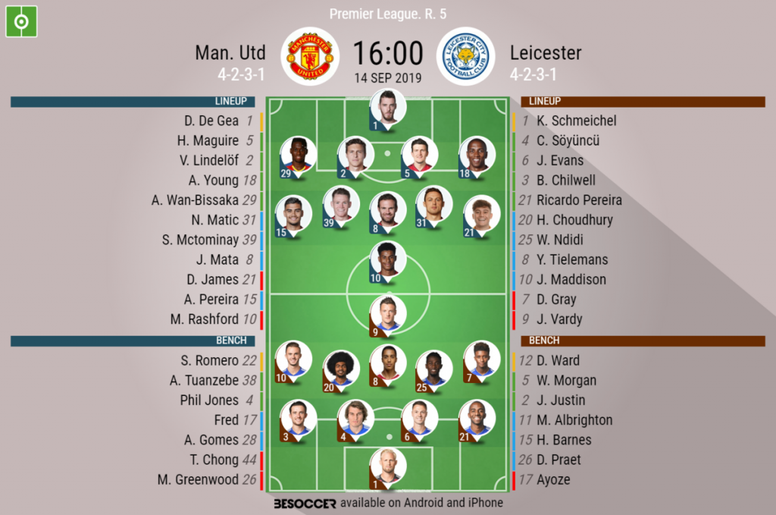 Man Utd v Leicester - as it happened
Manchester United FC

Leicester City FC

95'
FT: Man U 1-0 Leicester! Seconds after the throw-in, the whistle goes!! Man Utd scored an early penalty and then put in a brilliant defensive display. De Gea had to make two great saves in the first half, but was rather untroubled in the second. In fact, Rashford struck the woodwork late on. Thanks for your company and see you again soon!
95'
Chilwell is carded although McTominay is lucky to avoid a card as well.
95'
Flashpoint here by the corner flag! McTominay goes to the corner to waste time, Leicester get a throw in, but the United man lies on the ball to prevent Leicester taking it quickly.
94'
McTominay thumps it forward. Rashford lets it bounce before trying to beat Tielemans with showboating. The Lieicester man doesn't get fooled.
93'
1-0 is always a dangerous scoreline.
92'
McTominay can't clear the cross and Ndidi volleys the rebound just wide!!
91'
Schmeichel goes up, but Leicester take it short!
90'
Man U sub: James goes off to a standing ovation and Tuanzebe comes on to waste time.
89'
R Pereira's centre is easily caught by De Gea.
88'
Chong, Rashford and Pereira combine and Pereira goes for goal. It was easy pickings for Schmeichel though.
87'
The corner touches Fred's head and that's why Perez can't control at the back stick. Atkinson gives a goal kick when it should have been another corner.
86'
Barnes tries to play a one-two with Vardy, but the return ball is knocked out for a corner.
84'
James is carded for a foul on Maddison.
83'
Rashford is denied by the junction!!!!!!!! It was a lovely free-kick, it went over the wall and hit the point where post and bar meet.
82'
McTominay runs into space and Ndidi brings him down 30 yards from goal. Frustration for the away side.
79'
58% possession for Leicester in the second half, but not been able to do too much with it. United seem content with 1-0.
78'
Long pass sent forward to Vardy who can't get there as Lindelof stands firm.
75'
Maddison makes a really poor challenge on McTominay near the halfway line and is deservedly booked.
72'
R Pereira is muscled off the ball by Fred, he then passes to A Pereira, whose touch is poor, and James smacks over.
70'
Man Utd sub: Mata leaves immediately and Chong is on.
69'
Ndidi catches Mata in the throat. Was nasty, but no foul called.
68'
Leicester sub: Gray off and Barnes is on.
67'
Man U sub: Matic leaves the park and Fred joins us.
66'
Maddison's ball in is knocked out for a corner.
64'
R Pereira goes down in the box under Maguire's challenge, but nothing given.
63'
Leicester are starting to pen the home side in their own half now.
63'
Soyuncu is penalised after Tieleman's great delivery is won by Maguire.
62'
Corner for Leicester after Young gets the final touch to the ball.
61'
Gray tries to work something, plays back to Tielemans after running into traffic and his hit fails to find the target.
59'
Man U look to have this under control, but at 1-0 you never know and Maddison looks to be Leicester's biggest threat.
58'
Leicester sub: Choudhury off and Ayoze Perez.
57'
Maguire heads a corner at Schmeichel.
56'
Maddison!!! What a hit! It just goes wide of the goal. In fact, it brushed the side netting.
55'
Free-kick to Leicester just outside the D after McTominay makes a foul.
51'
Mata!!!! He is played in by Wan-Bissaka and his shot is saved by Schmeichel before the rebound is fired over by Pereira.
50'
James cuts inside to leave R Pereira on the floor and his shot from outside the area goes over the bar!
49'
Maguire is caught sleeping on the ball and Vardy nips in there, but his cross finds no one.
48'
Long ball forward for Maddison, but he just can't reach it and De Gea comes out to claim.
46'
United get us going again!
45'
HT: Man U 1-0 Leicester! Half-time at OT and Utd are in front thanks to Rashford's early spot kick after De Gea denied Maddison a few minutes earlier. United then started to take charge of the game for 15 minutes or so before Leicester came back into it and tested De Gea again. United better, but Leicester aren't out of this. See you in a bit!
45'
Maddison has the ball on the edge of the box and nutmegs Young before being halted by Matic. Maddison seems to been caught accidentally in the face afterwards.
45'
Choudhury's shot is scuffed and saved by De Gea after a defender had deflected Gray's initial effort.
45'
Daniel James goes down the far side, but nothing comes of it.
42'
Leicester have a corner, Soyuncu gets on the end of Maddison's ball and the Turk's shot goes straight to De Gea.
39'
Tielemans passes to Gray and his cross is miscued for a goal kick.
38'
The natives are starting to get annoyed as Leicester have grown into this match.
35'
Still 1-0 here at Old Trafford, but no major chances in the last few minutes.
31'
Pereira makes a vital intervention to only concede a corner.
30'
Top save by David de Gea!!! Maguire heads out the corner to Chilwell on the edge of the box, who takes a touch before firing a thunderbolt with his left. De Gea tips it over brilliantly.
29'
Choudhury gets into the area and wins a corner off McTominay.
28'
James goes down under the challenge of Ndidi and the home side wanted a foul.
25'
McTominay and Chilwell both getting treatment after the Scot slid in on the Leicester man. Not deliberate.
23'
Brilliant football by Rashford in midfield. Nice skills on display.
22'
Demarai Gray makes a charging run down the near side, but is stopped in his tracks by Lindelof.
19'
Young's ball in is headed out by Evans at the far stick for a corner.
18'
Wan-Bissaka isn't easy to step as Leicester have just found out. He's won a free-kick from a home team.
15'
Man U are in control of this now after a shaky start.
13'
McTominay slips and then fouls Maddison just inside United's half.
11'
Man U attack again and the ball goes across the face of the area.
9'
Leicester go on the attack straight from the kick-off and there are claims for a penalty. for handball. Half-hearted though.
8'
And he scores!!! He sends Schmeichel the wrong way!!! The Gk went to his right, the ball to his left. Good pen.
8'
There is contact, but Rashford makes the most of it. Rashford to take.
7'
Penalty to United!!! Soyuncu is adjudged to have brought down Rashford with his leg. Looks questionable, but I don't think it will be overturned.
6'
Soyuncu clears a dangerous Man U attack for a throw.
5'
Nothing comes of the corner.
4'
De Gea!!!! A long punt forward sees Maddison beat Lindelof to the ball and his shot is saved by De Gea's leg for the corner. Lindelof was poor v Palace as well.
3'
Pereira goes for goal and Schmeichel tips it round his near post!
2'
James is brought down by R Pereira on the edge of the box!
1'
Underway here at Old Trafford! Both teams in their usual kits. Leicester shooting from right to left.
Prev.
The players make their way out here at OT!
Prev.
No Pogba remember as he is out injured.
Prev.
United have EL this Thursday at home to Astana remember.
Prev.
20 degrees in Manchester this afternoon.
Prev.
Martin Atkinson is the ref with Stuart Attwell the VAR.
Prev.
Leciester team: Schmeichel (GK); Chilwell, Soyuncu, Evans, R Pereira; Maddison, Choudhury, Tielemans, Ndidi, Gray; Vardy.
Prev.
Man U team: De Gea (GK); Young, Maguire, Lindelof, Wan-Bissaka; James, Matic, Mata, McTominay, Pereira; Rashford.
Prev.
Good afternoon and welcome to live coverage of the PL clash between Man U and Leicester from Old Trafford! Will Man U return to winning ways or will Leicester continue their brilliant start to the season? Stay with us to find out.