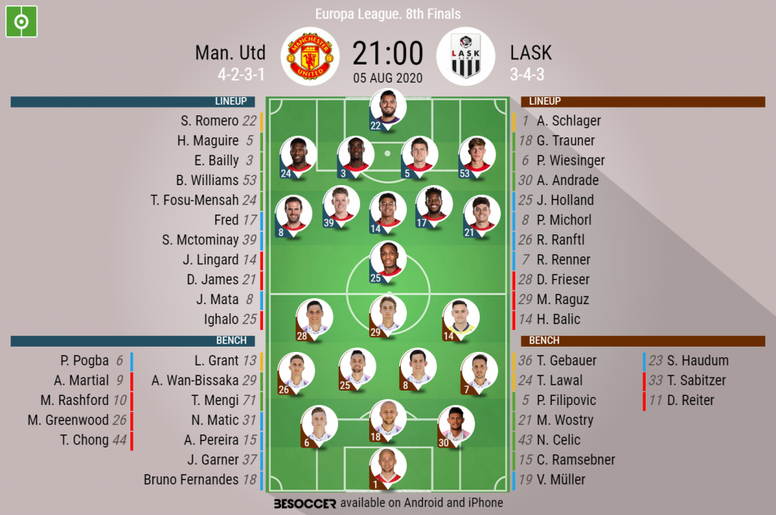 Man. Utd v LASK - as it happened
Post.
Thanks for joining me here tonight. See you on Friday for the return of the Champions League.
90'
FT: Manchester United 2-1 LASK Linz. Not the best of games by any stretch of the imagination but United have won the game and are through to face Copenhagen in five days.
90'
Martial is played through but his shot is saved by Schlager's leg.
89'
LASK have a shot that goes wide.
88'
And just as I say that Martial scores. He has a shot from inside the box that almost hits the keeper's heel and goes in.
87'
Well, it's not been a classic but United have done what they had to do.
85'
United sub: Mengi on for Fosu-Mensah.
85'
United sub: Martial on for James.
84'
McTominay has a shot from the edge of the box that goes wide.
80'
LASK sub: Flipovic on for Andrade.
77'
United should be in the next round. LASK need five goals to go through.
74'
LASK sub: Wiesinger off for Sabitzer.
73'
United sub: Chong on for Williams.
72'
Reiter has a shot that is saved by Romero's thigh.
68'
In the other match, Inter are beating Getafe, which means that they will be going through to face Bayer or Rangers.
66'
LASK sub: Reiter on for Balic.
63'
United sub: Perreira on for Fred.
63'
United sub: Lingard off for Pogba.
62'
Fosu-Mensah has a shot from just inside the box that goes over the bar.
57'
Lingard is played through and is one on one with the keeper and nutmegs the keeper. 1-1.
57'
LASK have another effort that goes just wide. Almost 2-0.
56'
What a goal. Wiesinger has a curling effort from about 25 yards out that goes into the top corner. Beauty.
51'
United are wearing their new kit tonight and it is very nice.
50'
Ighalo has a shot from just inside the box straight at the keeper.
49'
I do hope this half is better than the first half.
45'
HT: Manchester United 0-0 LASK Linz. A very dull game so far. Hoping for better in the second half.
44'
It's been a pretty dull game so far.
39'
McTominay is booked for a foul on Balic.
38'
If United play like this in future rounds I don't see them winning the Europa League. They do have several first team players that aren't involved.
35'
Michori is booked for a foul on Fred.
34'
The next round takes place in just five days.
31'
Another chance for LASK but Romero gets down and saves.
28'
Balic has a header that goes over the bar.
27'
This game hasn't been a classic. United are probably resting players for the next round (yes, they are probably that confident).
23'
As time goes by it's getting harder and harder for LASK to go through.
17'
Wiesinger has another shot that goes well over the bar. Imagine if LASK get a couple of goals before half-time...
11'
From the same passage of play Wiesinger hits it just inches wide.
10'
Decent chance for LASK with Andrade hitting the bar.
8'
LASK will just be aiming for pride here. You can't write any teams off but I do not see them winning 5-0 at Old Trafford.
5'
Second chance of the match. The corner comes in and Maguire heads over the bar.
4'
Michorl has a chance that goes wide.
4'
As you might expect, United have started the better side.
Prev.
Hendriati_62 thinks United will win 3-0, and thomas_37560 also thinks United will win. I think you will both be right,
Prev.
The winners will play Copenhagen in the next round after they beat Istanbul.
Prev.
Just over five minutes until kick-off.
Prev.
This is United's first home game against an Austrian side since 2000-01 when they beat Sturm Graz 3-0.
Prev.
This is the second time that LASK have played in the UK. The last time was in 1984-85 when they lost 5-1 to Dundee United.
Prev.
United won 5-0 in the first leg so LASK quite frankly need a miracle to go through.
Prev.
LASK XI: Schlager; Wiesinger, Trauner, Anrade; Ranftl, Holland, Michorl, Renner; Frieser, Balic; Raguz.
Prev.
United XI: Romero; Fosu-Mensah, Bailly, Maguire, Williams; McTominay, Fred; James, Mata, Lingard; Ighalo.
Prev.
Hello and welcome to Old Trafford for this Europa League match between Manchester United and Lask Linz. United won 5-0 in the first leg. Team news to come.