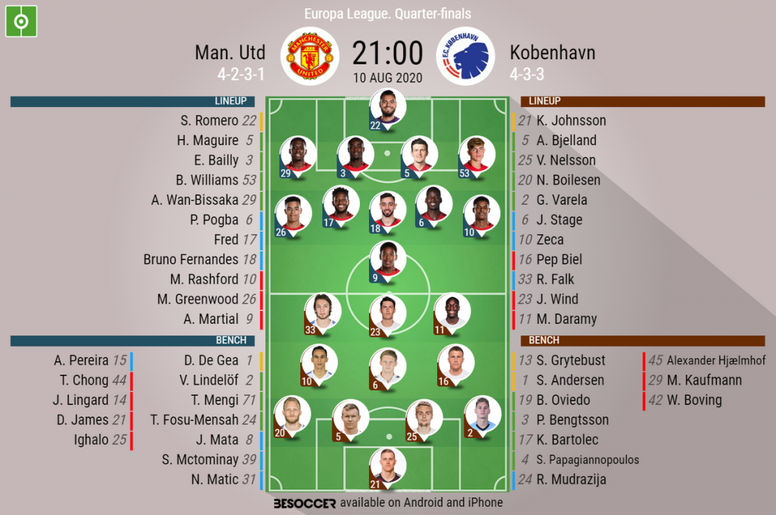 Man Utd v Kobenhavn - as it happened
122'
AET: Man Utd 1-0 Copenhagen! The game took time to get going, but a 95th minute Bruno Fernandes penalty was the difference between the two sides. United are through to the semis while Copenhagen were beaten, but definitely not disgraced. Thanks for joining us and see you again soon!
122'
Copenhagen rush forward, Bengtsson launches it into the area, United header away and it's all over!! B Fernandes goes down with cramp.
122'
United try and keep the ball, but the ball goes out of play. 25 seconds left.
121'
Man Utd sub: Martial is replaced by McTominay. Two added minutes.
120'
Copenhagen continue to threaten and Bengtsson's ball in is cut out by the defence.
119'
The free-kick is taken short and United read it.
118'
Boving goes again down this near side and Matic brings him down. This is in a dangerous area.
116'
Good move by Boving and the cut back sees Williams knock it out for a corner. Nothing comes of the set piece.
115'
Nelsson's cross in from the far side is overhit and it's a throw in. United fairly comfortable, to be honest.
113'
Man U sub: Rashford is replaced by Lingard.
112'
Copenhagen desperate to win the ball back in United's area and Williams is fouled.
111'
Copenhagen sub: Boving on for Falk.
110'
B Fernandes looks to play a through ball for Martial, but it's too strong. By the way, the handball was just outside the box.
108'
Copenhagen shout for handball in the United box. but not given. Could be just outside.
106'
Second period of ET started!
105'
HT in ET: Man Utd 1-0 Copenhagen!
105'
Double chance for Utd!! Mata sees his strike saved by the GK and then Lindelof hits the post with the rebound.
105'
Zeca sees yellow for arguing.
105'
Mata passes to Fernandes and it's a great save by the GK!! There was a clear foul, but the ref missed it.
105'
Copenhagen double sub: Bartolec is on for Varela while Stage is replaced by Mudrazija.
103'
Mata hits over the goal from close range! All United here.
102'
Wind is penalised for a foul.
100'
Rashford sees his shot saved, but the flag is up.
99'
United are in control of this one now.
98'
Martial slaloms past several players in the area, he then gives it to Mata, the GK saves and then B Fernandes' tame header finds Johnsson as well.
95'
B Fernandes scores!! Johnsson goes the right way, but it's in the corner. Martial went down easily under contact from Bjelland, but the on field call prevailed.
94'
Penalty to Man Utd after Martial goes down. His first shot is saved, United get the ball again and Mata's pass to Martial sees him brought down.
92'
Martial has an effort which is saved by the GK!
90'
Man Utd sub: Mata on for Greenwood.
90'
FT: Man Utd 0-0 Copenhagen! Off to extra-time! It certainly livened up in the last 30 minutes! United hit the post twice and Copenhagen had clear chances as well!
90'
Stage goes for goal from distance and it flies over!
90'
Martial!!! He makes a lovely run inside the box and Nelsson slides in to dispossess him just as he is about to shoot. He should have shot earlier.
89'
United continue to attack and Wan-Bissaka's cross beats everyone. Throw-in.
88'
It looks we will have extra-time he unless someone scores very soon.
84'
What a one handed save by Johnsson to deny Martial with a curling effort from 20 yards!
83'
Rashford fires well over the bar from distance.
82'
Varela is definitely looking for that. Williams does little wrong.
81'
Varela goes down wanting a penalty after a coming together with Williams, but the ref says no to Varela's penalty claims.
78'
Stage is cautioned now for a foul on Rashford.
77'
Varela puts the ball into the area again, but there's no teammate there.
75'
Kaufmann brings down Williams from behind and is deservedly booked.
73'
Oviedo has the ball on the far side in United's half, but he takes too long and his indecision means his strike is blocked.
70'
United double sub: Matic and Lindelof on for Fred and Bailly and drinks.
68'
B Fernandes stings Johnsson's fingers from distance and then Williams passes to Pogba who is also denied by the GK.
65'
Copenhagen again!!! How did that not go in? Falk runs and then backheels the back to get past a couple of defenders, he feeds Wind who should shoot, but he passes for Oviedo and the shot is blocked! Glorious opportunity!
64'
Bailly sees yellow for an arm in Wind's face which breaks down the counter.
63'
B Fernandes strikes the post!! His effort from 20 yards bounces and then hits Johnsson's right hand post!
62'
The Danes go again and Williams makes a last gasp challenge on Varela on the box!!
61'
Maguire is booked for a foul off the ball on Kaufmann.
61'
Copenhagen counter and Wind's scuffed shot nearly deceives Romero!
61'
Lovely scooped pass by Fernandes for Rashford, but he scuffs the volley.
60'
Bruno Fernandes gets United a corner.
58'
Copenhagen double sub: Oviedo and Kaufmann on for Biel and Daramy.
57'
Rashford passes for Greenwood, his shot strikes the far post and falls straight to Rashford who taps in from an offside position. The flag was up straight away.
54'
Fred shoots from just outside the D and it's easy for the GK. Fred played a pass for Martial seconds before that which ended up finding B Fernandes. The Portuguese couldn't get a shot off.
51'
United threaten again, but Williams runs out of pitch. Goal kick.
49'
Good play by United sees Rashford get into the box, he cuts back for B Fernandes and then Pogba hits a curling effort wide.
47'
Copenhagen win a free-kick on the far side.
46'
Copenhagen get us going again!
45'
HT: Man Utd 0-0 Copenhagen!! The free-kick in beats everyone and it's HT! HT in Cologne after a quiet first half which saw Copenhagen play well. United looked dangerous in two 10 minute spells when they were on top and Greenwood thought he had scored, but the VAR took it away for offside. Copenhagen's double chance after 17 minutes is the closest they have come, but they've threatened on several occasions. Back for more in bit!
45'
United having some possession and it's a free-kick for the PL side to end the half.
45'
Now 5 added minutes after the VAR call. Two minutes left.
45'
VAR takes away the goal for offside! Clear offside and it's still 0-0. 4 added minutes.
45'
Greenwood makes it 1-0, but it looks offside!!! A GK clearance is won by Maguire, Rashford heads to Greenwood who collects and then shoots in off the far post. Greenwood looks offside though.
44'
Rashford goes for goal from distance and Johnsson saves!
43'
Martial goes down in the box after receiving B Fernandes' pass, but no penalty is given. Good defence.
41'
This match has been a typical 0-0 game apart from that double opportunity for Copenhagen early on.
37'
Varela puts onto into the box from the far side for Daramy and United concede the corner.
33'
Greenwood shoots from inside the area and the ball is headed behind by Bjelland.
32'
United continue to attack, but Copenhagen keep them out.
30'
United send the ball into the box and Martial can't quite reach it at the far post.
28'
B Fernandes hits the free-kick over the bar!
28'
Free-kick to United after Greenwood is brought down.
23'
Zeca gets into the box for Copenhagen, but he takes a poor touch and the ball goes out for a goal kick.
22'
The ref was going to give a penalty, but the linesman saw the offside.
21'
Pen to Man U, but the flag's up!!! The ball into the box finds Maguire who heads and then Nelsson brings down Martial, but the flag is up. Well spotted by the linesman.
20'
Pep Biel concedes a corner.
19'
A United free-kick comes to nothing and Copenhagen are playing much better.
17'
Double chance for Copenhagen!! Wind passes to Daramy after a defensive error, Daramy gets past Bailly, the first shot is blocked and then Stage has the second effort which Pogba stops.
16'
Copenhagen again!! Stage flicks on a corner at the near post and a defender gets there just before Nelsson.
15'
Copenhagen sub: Boilesen has picked up a knock and Bengtsson is on for him.
14'
Wan-Bissaka is down injured after getting hit in the face with the ball.
13'
Copenhagen!!! Dangerous chance! Biel puts a cross into the box and Daramy can't get a shot off. Daramy should have stretched his leg a bit more there.
11'
Quiet start here so far, but United a bit better.
9'
Chance for United! United threaten, Martial backheels inside the box for Greenwood whose effort is easily saved.
8'
Rashford hits the free-kick low and wide of the goal.
8'
Free-kick to Man U 30 yards from goal.
7'
Maguire is penalised for a foul on Bjelland at the back stick.
6'
Fred sends a cross to the byline and B Fernandes heads back into play. The move carries on and United get a corner.
4'
The ball is acrobatically passed to Greenwood on this near side and Boilesen dives in to concede the throw-in.
3'
Nelsson concedes a corner. United have a corner which comes to nothing.
2'
Wind passes to Karamy, but United cut out. Some good early possession for the Danes.
1'
Man U get us going from left to right in the red! Copenhagen in white.
Prev.
Maguire and Zeca are with the ref for the coin toss.
Prev.
The players make their way out here!
Prev.
Copenhagen ended the Danish League season in second, 9 points behind champions Midtjylland.
Prev.
Copenhagen beat Istanbul Baseksehir 3-0 in their last 16 second leg match to go through 3-1 on aggregate. Wind scored two while Falk got the other. They make two alterations from that one. Mudrazija and Kaufmann are out while Stage and Daramy come in.
Prev.
Compared to the Leicester game, there are three changes. Romero in for De Gea, Bailly in for Lindelof and Fred in for Matic.
Prev.
Six changes from that match. Fosu-Mensah, McTominay, Mata, Lingard, James and Ighalo out, Wan-Bisaka, Pogba, B Fernandes, Rashford, Greenwood and Martial in.
Prev.
Man U's last game was a 2-1 win over LASK Linz to go through 7-1 on aggregate. That was a much changed team because of the 5-0 scoreline from the first leg.
Prev.
We have French officials for tonight's game. Clement Turpin is the ref while Francois Letexier is the VAR. 32 degrees is the temperature.
Prev.
A reminder that this is a one-legged tie and the match is taking place in Cologne.
Prev.
This could have been Man Utd v Celtic, but the Danes knocked Celtic out in the last 32.
Prev.
Copenhagen XI: Johnsson (GK); Boilesen, Bjelland, Nelsson, Varela; Zeca, Stage, Pep Biel; Falk, Wind and Daramy.
Prev.
Man Utd XI: Romero (GK); Williams, Maguire, Bailly, Wan-Bissaka; Rashford, Pogba, B Fernandes, Fred, Greenwood; Martial.
Prev.
Good evening and welcome to our live coverage of the Europa League quarter-final between Man Utd and Copenhagen.