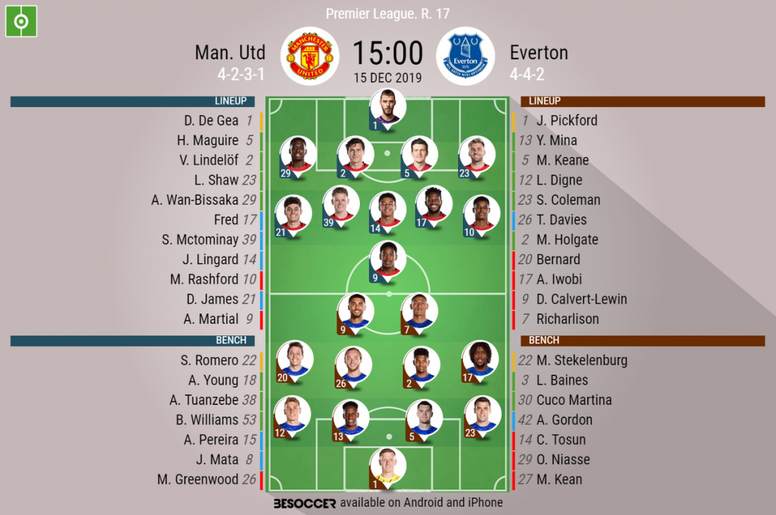 Man Utd v Everton - as it happened
Manchester United FC

Everton FC

95'
FT: Man Utd 1-1 Everton! It's all over at OT!!! Duncan Ferguson is delighted with the draw and they deserved it. Greenwood levelled for the hosts 13 minutes from time. Despite United being the better team, I don't think they did enough to win it. Thanks for joining us and see you again very soon for Arsenal v Man City!
94'
Everton have a throw-in right by the corner flag with seconds left.
92'
Rashford makes a brilliant move past Coleman, but it is all for nothing as the move breaks down later on.
91'
Rashford hits from the edge of the area and it is comfortably saved by Pickford.
89'
Everton sub: Moise Kean is taken off and Niasse comes on. Kean came on in the 70th minute and is subbed 19 minutes later despite not being injured! Kean doesn't even look at Ferguson.
87'
Free-kick to Everton. Baines fires it over the bar though.
86'
Man U sub: Mata on for James.
84'
De Gea!!! What a great save to his left to prevent Iwobi making it 1-2. Corner.
83'
Once again Wan-Bissaka makes a superb sliding challenge to dispossess Richarlison.
82'
Man U are looking for a winner and Everton are under pressure now.
81'
Davies passes for Calvert-Lewin and his cross goes straight to De Gea.
79'
Rashford again causes Pickford problems from a free-kick! The former Sunderland GK has to bat it away again.
77'
Greenwood scores!!!!! James gets the ball and runs before passing to Greenwood on the edge of the box and he puts it to Pickford's bottom left hand corner! That was a brilliant goal and fully deserved.
76'
Bit of a scramble in the Everton box from the free-kick and Pickford makes a no nonsense punch!
75'
What a fantastic challenge! Richarlison was inside the box looking to shoot and Wan-Bissaka made a splendid challenge right at the vital moment. Brilliant defending!
72'
United win another corner, but Everton clear and Shaw makes a vital intervention to prevent Everton scoring on the counter!!!
70'
Everton sub: Kean on for Bernard.
70'
Lindelof hits over the bar from the corner! What a chance! It wasn't far away.
67'
Martial goes down in the Everton box, but it was a clean challenge by Baines. Then, Coleman makes a vital interception to prevent Rashford having a clean run on goal.
66'
Lindelof heads and kicks Calvert-Lewin in the chest while going for the ball. Clear booking for the Swede.
65'
Man U sub: Lingard is replaced by Greenwood.
63'
Everton go up the other end, but Calvert-Lewin scuffs his effort wide.
63'
Man U clearly don't deserve to be losing.
62'
Luke Shaw sees his shot saved after a lovely run and then James smacks the ball straight into Lingard's face on the rebound!!
59'
Man U get a corner and then Maguire's header takes a deflection and goes for another one.
58'
Richarlison miscontrols the ball and then boots it into the crowd after the ball has already gone out. He deservedly gets booked.
57'
The visitors are shouting for a penalty and not is given. Mina is limpingafter Maguire makes contact with him. Not enough for me.
57'
Everton have won a free-kick.
55'
Davies is down injured after his knee twisted nastily when challenging for the ball.
54'
Martial is flagged offside!!! He was through on goal and the ref didn't wait for the move to play out. The Frenchman was just off.
52'
Maguire is inches away from getting on the end of it at the back post.
52'
United win a free-kick for a foul by Baines on Martial. Baines looks perplexed, but I think he knew what he was doing there.
51'
Rashford miscues one from distance!
50'
Andre Gomes is in the stands. Nice to see him after that terrible injury.
49'
Wan-Bissaka's cross his headed by Keane to Fred on the edge of the box and the Brazilian fails to hit the target.
47'
Calvert-Lewin makes a 50 yard run into the box, but has no support so he has to look for Bernard and his pass back comes to nothing. What a waste.
46'
Everton gets us going again!
45'
HT: Man Utd 0-1 Everton! Half-time at OT! United trail in a rather even game! Everton were better in the first 10 minutes and the final 15 with United on top in the middle period. De Gea protests to Oliver as he leaves the pitch as he was clearly fouled in Lindelof's own goal. The VAR inexplicably didn't overturn it and Everton lead at the break. Back for more in 10 minutes!
45'
Lingard gives it Rashford inside the box, Mina's half clearance goes straight to Shaw whose shot is easily saved by Pickford.
44'
Man Utd win a corner, but Everton clear it.
41'
United have yet to do anything of note since falling behind.
39'
Craig Pawson is the VAR for this one and I think he should have told Oliver to overturn that. That's a terrible call.
37'
The goal has been given!! That's rather surprising to be honest. De Gea came out to get it and it looked like Mina pushed Calvert-Lewin into De Gea. His arm went straight into De Gea's face. Poor decision.
36'
It's an own goal by Lindelof! Can you believe it?? Baines' ball in beats De Gea and the ball hits Lindelof and it goes in. This could be reversed as Mina pushes Calvert-Lewin into De Gea.
36'
What a vital header by Lindelof!!! He had to head away Iwobi's cross or Richarlison would have tapped home.
34'
Free-kick to Everton as Richarlison is brought down on this near side.
33'
United make a mess of clearing the corner as Martial's clearance goes straight back to an opponent, but it comes to nothing in the end.
32'
Richarlison plays the ball off McTominay to earn a corner for the Toffees.
30'
Calvert-Lewin smashes it from distance and De Gea catches.
29'
Everton attack again and Coleman just goes too early. Ferguson's team are starting to go forward again in the pouring Manchester rain.
27'
Richarlison is caught offside.
26'
Piiiiickford!!!! What a save!!!! The free kick from Rashford has swerve on it and Pickford bats the ball away with his left hand.
25'
Free-kick for Man Utd for a foul just outside the area by Davies. McTominay was brought down and the Everton man needs to be careful as he's already been booked.
24'
Baines has quickly got his tracksuit off and he has replaced Digne for Everton.
23'
Lucas Digne is in trouble. He has a groin issue and he has asked for the change. Baines is warming up on the touchline.
19'
Richarlison is limping after stretching for a ball with Fred.
17'
Martial wants a foul on the edge of the box!!! Nothing is given even though it was a clear foul by Keane.
15'
Lingard slides in on Keane and is penalised for a foul. Not much contact, but his boot was up.
14'
United definitely on top now. Lovely link up play between Martial and Rashford ends up with the ball in Pickford's hands.
12'
Davies passes for Calvert-Lewin. Offside is called though.
11'
James!!! McTominay finds James on the flank and his strikes across goal passes narrowly wide of the far post! This is very exciting.
10'
Rashford!!!! He receives a lovely long pass and the England international hits wide!
9'
Everton's free-kick into the box is wasted as they commit a foul on the edge of the box.
7'
Holgate tries his luck from 25 yards and De Gea catches!
5'
Davies makes a late challenge on McTominay and the Everton man is carded.
3'
Calvert-Lewin gets on the end of the set piece, it is blocked and then Bernard smashes over!
3'
From the resulting corner, Digne wins another one off Martial. What a fast start here!
2'
Holgate!!!! He crosses it in and De Gea has to backpeddle to tip it over the bar! The goalie wasn't expecting that and De Gea is limping.
1'
What a chance for United after 17 seconds!!! The ball is flicked on to Martial, he gives it to Fred, he beats defenders in the box before Lingard fires wide of the post!
1'
Man Utd get us going from left to right! Both teams in their usual kits!
Prev.
The teams make their way out here at OT!
Prev.
It's just 5 degrees in Manchester this afternoon. Remember there is also Wolves v Tottenham going on at the same time as this on.
Prev.
Man U are unchanged from the victory in Manchester derby last weekend.
Prev.
Everton make four changes from the 3-1 win over Chelsea. Coleman, Mina, Davies and Bernard all come in. Sidibe, Sigurdsson, Schneiderlin and Walcott miss out.
Prev.
6th v 16th. 24pts v 17pts. Ref: Michael Oliver, VAR: Craig Pawson.
Prev.
Everton XI: Pickford (GK); Digne, Mina, Keane, Coleman; Bernard, Davies, Holgate, Iwobi; Calvert-Lewin and Richarlison.
Prev.
Man Utd XI: De Gea (GK); Shaw, Maguire, Lindelof, Wan-Bissaka; Rashford, Fred, Lingard, McTominay, James; Martial.
Prev.
Good afternoon and welcome to our live coverage of the Premier League clash between Man U and Everton from Old Trafford. Will United move to within 2 points of the top 4? Stick around to find out!