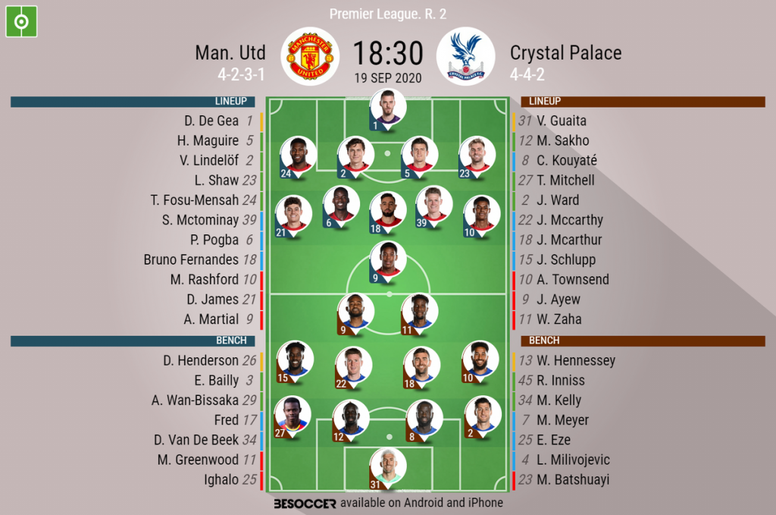 Man Utd v Crystal Palace - as it happened
Man. Utd

Crystal Palace

96'
That's all from us. Thanks for joining us and see you again soon!
96'
FT: Man Utd 1-3 Palace!! All over at Old Trafford and Palace claim a shock win, but they played really well. Townsend put Palace ahead early on and United struggled to break the visitors down. It went 0-2 after Zaha scored a VAR pen which was retaken after De Gea came off his line early. Van de Beek came on for his United debut and pulled one back, but Zaha's second ended United's hopes of fighting back.
96'
United win another corner, but nothing comes of it and that's it!
95'
United win a corner and Palace head it clear.
93'
United send a ball forward which doesn't find a teammate. Palace have played really well, but United have been off colour today. The two goals by Zaha were the two key moments in this clash.
90'
Batshuayi has a shot which flies over the goal!
89'
Palace are keeping the ball and enjoying themselves now.
86'
Four Palace goals this season, three scored by Zaha, one by Townsend.
85'
Zaha gets his second! This is extraordinary! The ball is passed to Zaha, who gets there ahead of Lindelof, he fends off the defender and shoots to the keeper's right. Game over!
84'
United putting the pressure on and all of a sudden, Palace are looking nervous.
82'
Palace are caught offside.
81'
Man Utd sub: Ighalo on for Fosu-Mensah.
81'
Palace sub: Ayew is replaced by Batshuayi,
80'
And just as I say that, United pull one back!!! A ball into the box by Fosu-Mensah is not dealt with by two Palace defenders, Van de Beek can't believe his luck and fires home. Game on!
79'
That goal has knocked the stuffing out of United. The hosts are trying, but there has been little of note in the last few minutes.
76'
You could argue it's harsh as he was only very slightly off his line. He wasn't miles off, but the rule is clear.
75'
Palace sub: Eze replaces Schlupp.
74'
Zaha will take it this time. Zaha scores it this time and De Gea is now sarcastically clapping the officials. He needs to be careful. The penalty is hit high and down the middle. Even though De Gea gets a hand to it, it still goes in.
73'
But it will be retaken as De Gea had both feet off his line!! It was very close, but it was just off the line. No card this year.
72'
De Gea makes a fine save after a poor pen by Ayew!! The ball goes to his right hand side and it's saved.
71'
Penalty to Palace!!! Atkinson gives it! It hits is hand. It's from close range, but you can't have your hand up there.
70'
VAR is checking for a possible penalty to Palace ad Ayew's shot hits Lindelof's arm. It's a definite pen and Atkinson has gone to the monitor.
69'
Palace break through Ayew and he has a great chance, but then makes a mess of it and it's nothing shot which ends up being deflected. Rashford then hits wide at the other end.
68'
United win a corner, Van de Beek flicks on the header and then Lindelof sends the ball over the bar.
67'
Man Utd sub: Van de Beek comes on for his United debut!! Pogba is the man replaced.
66'
Zaha finds the back of the net after being played in by Ayew, but the flag's up. Was miles off.
65'
Van de Beek is getting ready to come on.
64'
Maguire is booked for a foul on Zaha.
63'
Lovely play by Palace, the ball goes to Schlupp, his shot is blocked and then he fouls the defender.
60'
Chance for Greenwood!! Fosu-Mensah sends a lovely ball into the area and Greenwood heads wide at the back post. He should've hit the target.
58'
Fosu-Mensah is booked for a challenge on Mitchell.
56'
Palace threaten once again through Zaha, but the end product is missing.
55'
Ward sees yellow for a cynical pull back on Greenwood.
54'
Palace cut through the United defence again too easily!! Schlupp makes a great run, the ball is played to Zaha who loses his footing and then Townsend sees his shot deflected over.
52'
Zaha!! He has an opportunity which is blocked at the last moment! Palace are having the more dangerous chances here.
51'
Pogba has a go from distance which is straight forward for Guaita.
50'
Shaw looks to find a teammate with his cross which is easily cut out.
49'
Ayew is through on goal, but his effort from outside the box is tame and easyu for De Gea.
48'
Fosu-Mensah looks to find Greenwood, but Schlupp reads his intentions and intercepts the pass.
46'
United get us going again!!
45'
Man Utd HT sub: Greenwoos replaces James at the interval.
45'
HT: Man Utd 0-1 C Palace!! Half-time at Old Trafford!! Palace lead here at it's no fluke. They started the brighter and Andros Townsend put the Eagles ahead after seven minutes when he hit home a Schlupp pass. United have had some chances, but have been far from the best and they could have been two down had De Gea not made a brilliant stop to deny Ayew in stoppage time. Join us shortly for the second half!
45'
Zaha has a go now which goes just wide of De Gea's post.
45'
What a save by De Gea!! Palace counter through Zaha, the move stops, but doesn't break down completely, Ayew is then played in and his shot from inside the box is brilliantly tipped over by the Spaniard!
45'
Four added minutes. Fosu-Mensah's ball in causes problems for the Palace defence but they clear it.
45'
United passing the ball around, but Palace are keeping them out of the box.
41'
No penalty is given. Fernandes' free-kick is deflected off the wall for a corner.
40'
The referee gives United a free-kick for a foul on Fernandes on the edge of the box and then Pogba goes down in the box. VAR is checking for a possible pen on Martial. This may be a penalty even though McCarthy's trip on Pogba is accidental. Difficult one.
36'
Chance for United!! Fosu-Mensah's square pass into the box is played straight into James' path and his goalbound shot is blocked. There is then an offside after that.
34'
71% possession for the hosts,, but no real chances for them.
34'
United attack and Rashford's strike is blocked.
31'
Rashford is down injured here! United counter and a sliced Guaita clearance sees Ward catch Rashford as he clears the ball.
30'
Zaha makes a fine run down field for the visitors and Lindelof has to concede the corner.
29'
We're back after that injury stoppage.
27'
McCarthy is down injured after colliding with Martial when challenging for the ball.
26'
Bruno Fernandes tests Guiata after picking up a loose ball, but the deflection off Kouyate is kind for the GK.
25'
United lose the ball stupidly after a poor pass by Fosu-Mensah, Palace break and Townsend fires over.
23'
United go up the other end and win a corner.
23'
Schlupp makes a fine run down the middle before being dispossessed by McTominay.
22'
McTominay!!! That wasn't far away!!! He hits once which goes narrowly wide of the goal.
20'
Pogba!!! The Frenchman has a go from just outside the D and Guaita makes a fine stop down to his right.
19'
Pogba fouls Zaha around 30 yards from goal. This could be dangerous.
17'
Fernandes is down injured after McCarthy accidentally steps on his right foot.
15'
Palace attack through Schlupp and his cross into the area is headed away by United.
14'
Once again De Gea gets himself into difficulty and nearly has his pocket picked by Zaha! Although this time it was Lindelof's fault. The header back to his goalie was severely underweighted.
13'
Fosu-Mensah's long range effort is deflected behind for a corner.
11'
Townsend has a pop from distance which goes well wide of De Gea's left hand post.
10'
United have yet to get going here so far.
8'
We weren't expecting this! Will history repeat itself?
7'
Townsend puts Palace ahead!!! Mitchell finds Schlupp on his near side, he plays a pass to Townsend at the back post who gets there before Shaw and hits the ball into the other corner!
6'
De Gea plays a poor pass out from goal which goes straight to an opponent, but United get out of jail.
5'
Palace have made a positive start here.
2'
Palace make a good run and win a free-kick on the far side. The ball goes into the box and it's cleared.
1'
United commit the first foul of the game.
1'
Palace get us going here!!
Prev.
The players are out here!
Prev.
United make four changes from the EL loss to Sevilla. Williams, Wan-Bissaka, Fred and Greenwood are replaced by Shaw, Fosu-Mensah, McTominay and James.
Prev.
Palace make one change from the Southampton win. Mamadou Sakho is in for Scott Dann.
Prev.
Palace got a shock 1-2 victory last season when the two teams met. A 93rd minute Patrick Van Aanholt goal was the difference.
Prev.
Martin Atkinson is the referee while Jonathan Moss is the VAR.
Prev.
19 degrees and sunny in Manchester this evening.
Prev.
There's no Mason Greenwood in the starting XI for United this evening. Solskjaer wanted him to rest instead of playing for England. In the end, the teenager was sent home after the Iceland match after breaking coronavirus protocol.
Prev.
This is United's first Premier League game of the season due to their Europa League campaign which ended in a semi-final defeat last month while Palace beat Southampton 1-0 in their first match thanks to a Wilfried Zaha goal,
Prev.
Jeffrey Schlupp makes his 100th Palace appearance today. Well done!
Prev.
Palace XI: Guaita (GK); Mitchell, Sakho, Kouyate, Ward; Schlupp, McCarthy, McArthur, Townsend; Ayew and Zaha.
Prev.
United XI: De Gea (GK); Shaw, Maguire, Lindelof, Fosu-Mensah; Rashford, McTominay, Fernandes, Pogba, James; Martial.
Prev.
Good evening and welcome to our coverage of the Premier League clash between Man Utd and Crystal Palace from Old Trafford in United's league opener!