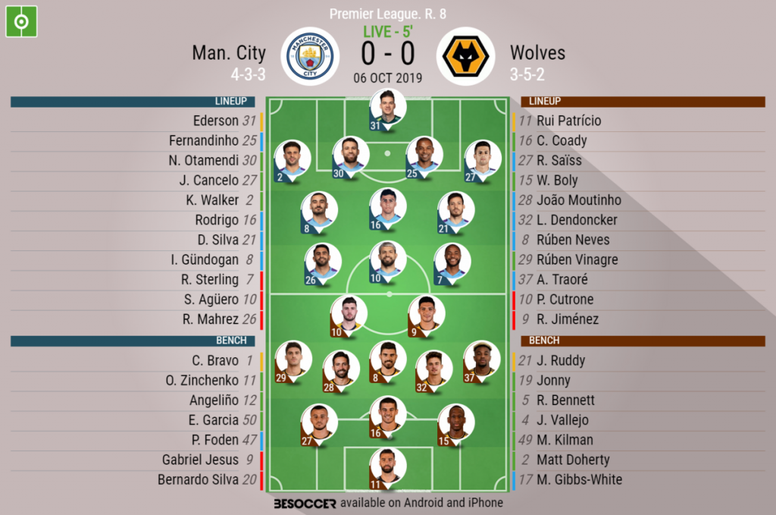 Man. City v Wolves - as it happened
Manchester City FC

Wolverhampton Wanderers

Post.
Thank you watching! Join us for the game between Manchester United and Newcastle at St James Park!
95'
Full Time! Wolves go away from the Etihad with the three points after a surprise win over Manchester City! City looked shaky at times and could not find the net when it mattered. Wolves defended well and waited it out to secure goals from the counter. A well-deserved win. City are now eight points behind league leaders Liverpool going into the International break!
95'
Wolves have secured the three points now as City lose the ball and Traore receives it, a very similar goal to the last one, as Jiminez passes Traore the ball, who makes the run past the defenders and slots the ball in the bottom right corner! This is nothing more than Wolves deserve, they have been outstanding today!
94'
WOLVES FINISH OFF THE GAME!!!
93'
Aguero has a shot after the ball is crossed in for him and frustratingly places it well wide of the target!
91'
Corner for City!! As they quickly and shortly take it! Fernandinho's header goes wide and they have yet again failed to find the net.
90'
5 minutes added time at the Etihad as Manchester City will try and salvage something out of this game!
90'
Only added time to go, are City going to be eight points behind Liverpool going into the international break? They look frustrated and are doing everything to try not to be. Guardiola looks stressed.
85'
Moutinho goes in the book as he gives away a free kick for a foul on Bernardo Silva. Neves also picked up a card earlier for his foul on Sterling, which also resulted in a free kick
81'
Sterling is fouled and City get a free kick, with Wolves doing everything they can defensively to ensure the ball does not go in the back of their net.
80'
Rui Patricio forced to make a great save as City try to look for at least a point as the ball goes flying in the net towards him. He saves it for a corner
79'
Wolves take the lead after some excellent play. Jiminez makes a great run from one end of the pitch to the other and crosses the ball through the City defenders to Traore just outside the box, who beats the keeper and slots the ball in the back of the net. 0-1!
79'
THERE IS A GOAL AT THE ETIHAD!!!!
75'
Yellow card for Fernandinho as he makes a very bad challenge
75'
What a chance for City as the ball is crossed in to Gabriel and Cancelo, who has a shot at the goal, the keeper saves it but can't keep hold of it and there is a scuffle on the line as Wolves defenders try to clear it away.
74'
City make their final change as David Silva comes off and Gabriel Jesus comes on in the hope of making an impact for the blues
73'
That was Vinagre's last touch as he comes off for Wolves and is replaced by Jonny!
72'
Another corner for City, but it goes too far out, Sterling manages to reach it and crosses it into the box, but is cleared by Vinagre
70'
Gundogan goes into the book for a bad challenge! Three cards now for City as they are struggling to find something in this game
68'
Wolves make a change - Matt Doherty replaces Patrick Cutrone. On the face of it a defender for a forward is a defensive switch, but Adama Traore will move further forward.
65'
Free kick for City just outside the box as a foul is committed, a dangerous place to give away a free kick! The free kick is excellent and hits the angle of post and crossbar. So close .City still press in the box and have shot after shot after this, but nothing comes of it
62'
A very high and closed Wolves corner sees the ball headed well wide and over the net.
61'
Manchester City clutching at straws a bit here as they are committing foul after foul on Wolves players! It is like they don't know what else to do to stop them. Keeper, Ederson also goes into the book for protesting about the corner given
59'
Manchester City make their second change as they desperately try to look for a win here! Bernardo Silva is brought on for Mahrez
54'
Fernandinho runs into Cutrone and brings him down. Free kick for Wolves in their half.
51'
The free kick came to nothing, but Wolves tried their luck and had a few shots after, only for City to clear them away.
49'
The corner comes to nothingManchester City's Rodri and Joao Cancelo both go into the book. City have a corner, with Wolves then breaking at pace. Cancelo fouls Ruben Neves, but the referee lets play go on and Rodri then fouls Patrick Cutrone. Free kick Wolves.
49'
Corner for Man City as the ball is headed out by a Wolves defennder
46'
Interesting half time change for Guardiola, as Oleksandr Zinchenko is on for Manchester City and it's Kyle Walker - not in this week's England squad - who is replaced. Joao Cancelo goes to right-back
45'
Man City kick off the second half!!
45'
The ref blows the whistle for half time at the Etihad Stadium. Wolves had a surprising first half as they held Manchester City and even looked threatening themselves. Man City took a while to h¡get into the game, but are now looking more solid and putting the pressure on. Surely there will be a goal in the second half!
44'
Rui Patricio had to act quick there as Kyle Walker took a sneaky, on-target shot from outside the box, Rui Patricio dives to make a great save and prevent the ball from going in the bottom left corner! Wolves doing well to hold City at the moment
40'
Manchester City are coming into the game a lot more now, as they are pressing a lot more and look a lot more threatening, not much action has taken place in Wolves attacking end recently
38'
The free kick pass into the box was too long and nobody could really get to it.
38'
Rodri is fouled and a free kick is given 30 yards out of the box
35'
Aguero crosses the ball in the box to Sterling, who is waiting on the far post, but some excellent defending from Wolves means that Sterling doesn't get chance to receive the ball as they clear the ball away for a throw-in
33'
A bit of good play for Man City sees Patricio forced to make a save, as Cancelo has a powerful shot on target and Rui Patricio has to get to it, and does
31'
Jiminez fouls Rodrigo and a free kick is given!
28'
Gundogan takes the free kick and wastes an opportunity! His curling effort goes very wide and everyone in Wolves can relax again
28'
Dendoncker fouls Sterling just outside the box and Man City are awarded a free kick in a dangerous position!
26'
Big chance for Wolves! Vinagre receives the ball at the edge of the box and tries to slot it into the bottom corner, but Cutrone gets in the way, as he tries to get his foot on it, but can't control it right and it goes out wide! Surprising start for Wolves
24'
Aguero tries his luck in the box as he tries to get passed Coady, but Coady manages frighten him and Aguero puts the ball out for a goal kick
21'
Jiminez is one-on-one with the keeper as he makes a run up the pìtch and the defenders are chasing behind him. The keeper gets in his way and he falls to the ground, the ball goes out and there is shouts for a penalty, but nothing is given. Wolves looking impressive here, City very uncertain.
20'
Nothing comes of the corner as it is cleared away by the solid Wolves defenders
20'
Corner for Man City as Traore tackles Sterling and the ball just goes out.
18'
Fernandinho saves City there as Wolves go on the counter and it is Jiminez who is one on one with the defender and has a shot, but the keeper saves it, Cutrone goes for the second shot but Fernandinho clears it away with a great challenge
17'
Mahrez has a shot at goal after the ball was crossed in for him, but it is cleared by Wolves defenders, who are defending very well at the moment
15'
City have a free kick outside the box as Vinagre fouls Mahrez, but it is easily headed away from the box by Wolves
12'
Ryan Bennett is coming on for Saiss as Wolves are forced to make an early change in the game
11'
Saiss is down again and it looks like he may have to come off!
9'
Wolves defender Romain Saiss is hobbling after pulling up while tracking Sergio Aguero. It looks as if he's coming back on after some treatment.
8'
The game has been very backwards and forwards in the first 8 minutes, as Wolves have held their own and given Man City a game!
Prev.
Benjamin Mendy picked up a hamstring injury, which means he is unavailable for today's game, Cancelo comes in for him at left-back
Prev.
Wolves: Rui Patrício (GK), Boly, Coady, Saïss, Traoré, Dendoncker, Neves, João Moutinho, Vinagre, Jiménez, Cutrone
Prev.
Man City: Ederson (GK), Walker, Otamendi, Fernandinho, Cancelo, Gündogan, Rodri, Mahrez, Silva, Sterling, Agüero
Prev.
Join us for live commentary for the Premier League game between Man City and Wolves, who will come away with the 3 points today?