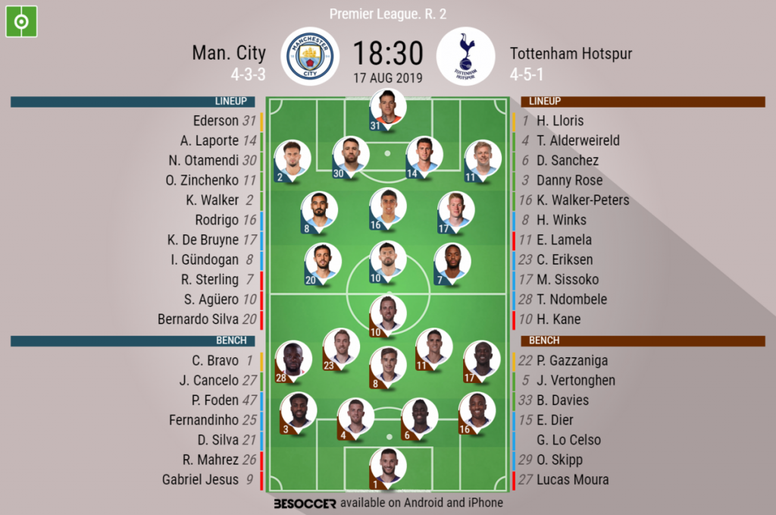 Man City v Tottenham Hotspur - as it happened
Manchester City FC

Tottenham Hotspur FC

96'
FT: Man City 2-2 Tottenham!!!! What an ending to this game! Moura levelled it up seconds after coming on, and despite City constantly attacking, they couldn't find a way through. Jesus thought he had won it right at the death, but the VAR chalked it off because of a handball by Laporte. That's all from us, thanks for your company and hope to see you again soon!
96'
Otamendi wants a pen at the end and then City hit over!!! Jesus is furious with the referee and the whistle goes, but he has nothing to do with it. Graham Scott, the VAR, just gave the decision. It's the right decision with the new rules.
96'
Sterling is in the area, tries to find a way through and it's a corner.
94'
City again have a late goal v Spurs at home denied by VAR. Pochettino and Guardiola are talking to each other on the touchline.
93'
VAR checking for a possible handball. It touches Laporte's arm and even though it's not deliberate, it influences the move and the goal is taken away!
92'
Gabriel Jesus does it for City!!! What will Aguero be saying now?? The ball hits Laporte from the corner and ball fortuitously breaks for Jesus who takes a touch and then fires home!
92'
De Bruyne gets City a corner!
91'
Spurs sub: Eriksen goes off and Skipp comes on. Just four extra minutes. A bit surprised.
90'
City put a cross in and they are penalised for a foul.
90'
Spurs are keeping City well away from the box.
87'
Vital block by Otamendi to stop Moura charging on the counter.
86'
Zinchenko is carrying on, but is struggling.
85'
Spurs sub: Lo Celso on for Lamela.
83'
Zinchenko looks to be injured and City have just made their 3rd change.
82'
Moura starts a counter for Spurs, he passes to Lamela, but he takes too long over it and the chance goes.
80'
Man C sub: B Silva off and Mahrez on.
80'
Yet again City send a superb cross across the face of the box!!!
79'
Gabriel heads wide of the goal!
78'
Man C sub: D Silva on for Rodrigo.
76'
What defence by Otamendi!!!! Moura beats Zinchenko for pace and his cross for Kane is cleared out for a corner.
76'
The home side are running out of time to find a winner here. They are trying, but Spurs are holding firm.
72'
Jesus again!!! He controls an aerial ball with his best and then Alderweireld intervenes.
70'
Sterling sends in a cross, but Otamendi collides with Lloris and is penalised.
69'
Jesus is inside the box,, stuck in traffic and he manages to scramble a corner for Guardiola's men.
67'
De Bruyne gets a corner for the home side, but it comes to nothing.
66'
Aguero is furious with Guardiola and is having a mass argument with the Spaniard! They have to be separated.
65'
Man City sub: Aguero makes way and Jesus joins us.
63'
Otamendi heads powerfully towards goal and Rose clears off the line!
62'
Bernardo finds the side netting now, but it was deflected. Corner.
61'
Off the bar!!! Lloris came out and didn't get it as Aguero got there first, the ball broked to B Silva and his looping shot with the outside of his foot struck the bar.
60'
What a save by Lloris to deny Rodrigo!!!! It was from outside the box and the goalie was called into action.
58'
Kane tries to beat Ederson from the halfway line like he did against Juventus, but it doesn't go anywhere near the goal.
56'
And Moura heads home from Lamela's corner!!!! That's what you call an instant impact! You can't score any quicker than that.
56'
Spurs sub: Moura on for Winks
53'
Aguero fires over the crossbar after being played in by Sterling.
51'
De Bruyne hits wide of the target now!
50'
Laporte is claiming a penalty, but the ref isn't interested. Sissoko pulls his arm a little, but not really much there.
48'
De Bruyne makes a fabulous move from midfield and wins a corner and then from the resulting set-piece, Lloris is forced into a great save by De Bruyne! It was actually deflected by Aguero.
46'
Walker makes a run down the far side and Lloris catches.
46'
We are back for the second half! Spurs get us going!
45'
HT: Man City 2-1 Tottenham!!! Half-time at the interval in a high tempo first period in which Guardiola's have been far better than their opponents. Sterling gave Man C the lead before Lamela equalised out of the blue shortly afterwards. Aguero restored the home side's lead in the 35th minute and De Bruyne has been amazing. See you in a bit for the rest of this one!
45'
What's Lloris doing??? He's almost dispossessed by De Bruyne! A bit like Ings and Adrian earlier.
45'
Incredible showboating by B Silva on this near touchline!!! Brilliant to watch.
44'
Now Zinchenko has a shot!!! Sterling feeds the Ukrainian and his shot is straight at Lloris.
43'
Once again De Bruyne!!!! Bernardo Silva gives it to De Bruyne and Gundogan is unable to find the target from his cross.
40'
Rose is fouled and he takes a free-kick quickly trying to find Kane. However, Ederson anticipates it and comes out to get the ball before Kane can reach it.
37'
Attempts: 10-1, on target: 4-1.
36'
De Bruyne again!!!! He makes Sanchez look useless before firing off target! Once again it was the B Silva and De Bruyne combination.
35'
Sergio Aguero!!!!!! It's 2-1 to the home side!!! B Silva starts it, he plays a one-two before passing to De Bruyne and his cross is turned in by Kun. 2-1 City and Spurs will have to do it again. De Bruyne's passes have been top notch.
33'
City continuing to attack. Not as dominant as they were 0-0, but still definitely on top.
32'
City attack through Gundogan and his ball in is cleared by D Sanchez.
30'
Tottenham attack again, but it comes to nothing.
27'
City swing in a free-kick and Lloris claims.
26'
Sterling is booked for a clear foul on Winks.
25'
Sanchez clears Sterling's square ball for a corner.
24'
Was just going to say it will be interesting to see how Spurs respond. Couldn't have been a better one!
23'
Lamela scores!!!! Unbelievable!!!! Ndombele finds Lamela from midfield and the Argentine hits it to Ederson's right from outside the box and into the corner. That has come out of the blue.
20'
Raheem Sterling scores for Man City!!! B Silva passes for De Bruyne and the Belgian puts a fabulous cross straight for Sterling at the far post. He heads across Lloris and into the far corner. It was coming.
19'
Spurs try to create something again and Ndombele gets himself offside.
16'
First chance for Spurs! Sissoko attacks for the away side and Lamela gets a weak header at the far post. It doesn't even reach the keeper.
14'
Guardiola's side are continuing to attack the away side under plenty of pressure, but they are holding on for now.
11'
Man C want a pen as a home player looked like he was pushed. Rodrigo goes down after being challenged with Lamela and the Spurs man has his hands on him, but the Spaniard was also looking to go to ground.
10'
Corner for the home side. They win another one off that.
9'
Sterling has another go now and Aguero gets in the way!
8'
De Bruyne tries his luck from outside the box and Lloris saves easily.
7'
What a chance for City!!! A brilliant flick on by a City man goes to Kyle Walker, he charges down this near flank and then squares to Sterling whose shot is deflected by Walker-Peters.
6'
Sterling is the recipient of a brilliant long ball, but he's offside.
4'
City doing all the pressing early on. The ball has only been in Spurs' half at the moment. Kyle Walker has seen his cross in headed away.
2'
This is going to a thrilling match-up between two of the best sides in the league.
1'
De Bruyne sees his cross in cleared by the Spurs defence! Fast start by the home side.
1'
Man City get us underway in their usual kits and shooting from left to right! Spurs in the black.
Prev.
The players are out on the pitch here!
Prev.
Michael Oliver is the ref and Graham Scott the VAR.
Prev.
It's 20 degrees and dry in Manchester this evening.
Prev.
Both teams won their opening league game. Man City won 0-5 at West Ham while Spurs beat Villa 3-1.
Prev.
Tottenham side: Lloris (GK); Rose, Alderweireld, Sanchez, Walker-Peters; Ndombele, Eriksen, Winks, Lamela, Sissoko and Kane.
Prev.
The teams are in!!! Man City XI: Ederson (GK); Zinchenko, Laporte, Otamendi, Walker; De Bruyne, Rodrigo, Gundogan; Sterling, Aguero and B Silva.
Prev.
Good evening and welcome to our live coverage of Man City v Tottenham from the Etihad in the Premier League. This should be an absolute cracker!