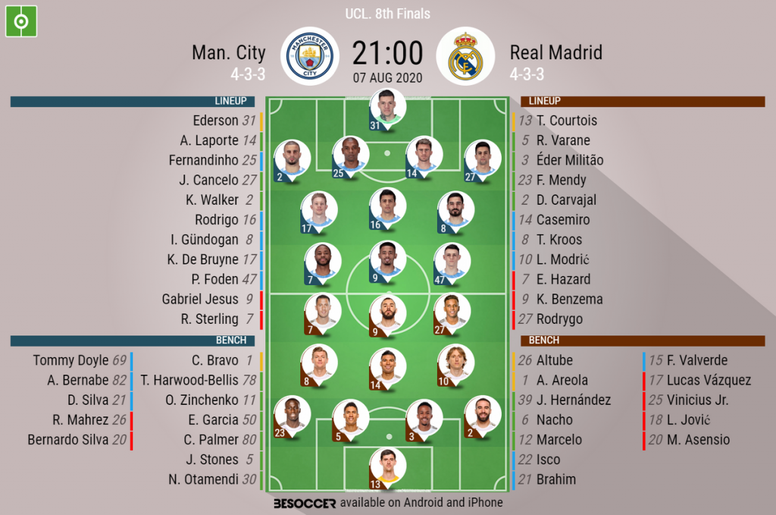 Man City v Real Madrid - as it happened
Man. City

Real Madrid

94'
FT: Man City 2-1 R Madrid (agg 4-2)!! RM are out of the CL thanks to two shocking errors by Varane. Sterling and Jesus scored those goals either side of Benzema's leveller. We don't like criticising players, but Varane was terrible tonight as were most of the RM back line. Man C were the better team and should have even won by more. Man C are in the QFs in Portugal. That's all from us, thanks for joining us and see you again soon!
93'
Man C take the ball to the corner to waste time through KDB.
88'
Rodri is down. He seems to have some cramp.
86'
D Silva hits the free-kick over the bar!
85'
Kroos brings down KDB just outside the box.
83'
RM double sub: Lucas Vazquez and Jovic on for Carvajal and Hazard.
82'
Carvajal with the blunder this time and D Silva gets a shot on goal!
81'
Man C sub: D Silva on for Sterling.
81'
Modric is booked for a foul on KDB. He'll miss the next game, but he won't make it anyway.
80'
Man C are comfortable here now.
76'
Jesus hits one over the goal from 25 yards!
75'
Now Carvajal sends a very under weighted pass back and Courtois clears in the nick of time. Circus defending by RM tonight. Like in the olden days!
73'
Walker shoots from distance and Courtois makes a fine save! Carvajal definitely took a chance with the barge on Sterling a few minutes back.
72'
Sterling's shouting for a penalty, but nothing is given.
71'
Varane makes another howler at the back from a long punt forward and Man C win a corner. Militao got in the way of B Silva's shot. What's Zidane waiting for to take him off??
69'
Man C + Varane 2-1 Real Madrid. RM need 3 more goals now and Varane has been clearly at fault again.
68'
It's 2-1 Man C after a Varane calamity!! Jesus makes it 2-1!!! A long punt forward sees Varane let the ball bounce and then he sends a weak header back towards his goal, Courtois comes out, but it's a terrible head back by Varane, Jesus gets there first and beats the Belgian.
67'
Man C sub: Foden is replaced by B Silva.
66'
Save by Courtois to deny Jesus now from close range after a lovely turn by the Brazilian! Lovely play by KDB and Gundogan in the build up.
64'
Benzema!!! Asensio has the ball up field, he controls and gives it to Benzema whose shot is easily saved by Ederson.
63'
Laporte makes a shocking error in his own half, RM attack and Benzema wins a corner!
62'
RM sub: Asensio on for Rodrygo.
61'
City have let RM off the hook several times here. RM could make them pay for it. City should have scored 2 or 3 more goals by now.
60'
City dangerous again!!! Foden finds KDB and the Belgian's cross goes across the face of goal.
58'
Rodri's header from the corner hits Militao on the head.
57'
De Bruyne has the ball in RM's box and Carvajal slides in to concede the corner.
55'
Benzema gets the ball on the far touchline, he runs inside and then hits over the goal!
55'
Another error by RM!!! Casemiro gives the ball straight to Foden, he passes to Gundogan who gives it to Sterling and Courtois saves the day for RM.
54'
RM having some more possession now, but City are comfortable.
51'
Carvajal sends a ball into the box and Man C head away.
50'
Modric has the ball on the near side and Cancelo knocks it out for a throw.
48'
City get two corners and the second has to be cleared by Courtois.
47'
Sterling!!! De Bruyne sends a brilliant pass for Sterling who controls and then Courtois knocks it wide.
46'
Man C come out attacking, Sterling makes a lovely move into the area, he finds Cancelo, but the cutback is cut out.
46'
Man C get us going again!
45'
HT: Man C 1-1 R Madrid! (Agg 3-2). Half-time at the Etihad! Man C were the better team and took the lead through Sterling after a Varane howler. Man C continued to threaten in the first 20 minutes before RM picked up and Benzema made it 1-1 with a header. Man C then picked up again and RM continued to look shaky at the back. RM need 1 for ET. Back for more in a bit!
45'
Man C continue attacking through De Bruyne and Sterling, but Sterling takes too many turns in the box and is dispossessed.
45'
De Bruyne's corner is sneaking in and Courtois makes a fine stop!
45'
Corner for Man C. One added minute.
44'
Benzema shoots at Ederson after a cross from Rodrygo, but the flag is up.
43'
De Bruyne runs for Man C into RM's half, he gives for Sterling, but the pass inside the box is intercepted by Carvajal.
42'
Courtois!!! What's he doing? Courtois passes the ball straight to De Bruyne, he passes to Foden who fires wide from inside the D! Poor keeping.
39'
De Bruyne makes a fine run and goes down just outside the box, but no foul is given. It was a clear foul. He pulled his shorts!
37'
Courtois!!! Cancelo shoots and the RM GK makes a fine save!
35'
Benzema is caught offside.
33'
Walker goes for goal from 25 yards and it goes well wide of the goal!
31'
Man C attack, Cancelo crosses from the far side and it beats everyone.
29'
Looks plenty more goals in this one!
28'
RM level through Benzema!! Benzema gives it to Rodrygo, he passes the ball through Rodri's legs before cutting the ball back from the byline to Benzema who heads in from about 10 yards! RM only need one more.
27'
Man C threat through Rodri, but the pass finds the GK.
24'
Free-kick for RM after Jesus fouls Rodrygo.
22'
The corner is taken short and Hazard's powerful effort is well held by Ederson.
21'
Benzema!!!! The pass by Hazard finds Benzema in the D and the shot is well saved by Ederson for a corner.
19'
Foden attacks, he feeds Sterling who beats Mendy all ends up and Casemiro makes a vital sliding tackle as Sterling is about to pull the trigger.
17'
RM send a ball into the box and Ederson claims.
15'
Sterling!!!! He has a pop from 20 yards and it just goes narrowly over. It hits the top of the net, in fact.
14'
Modric has a go from outside the box which goes well over the goal!
14'
What's Militao doing in his own box now? He's messing around playing games in his own box and nearly gets dispossessed by Sterling. A foul is given.
11'
Man C attack again! Foden sees his shot blocked then Gundogan is denied on the rebound and RM finally knock it away! RM need 2 for ET now.
10'
What was Varane doing messing around in his own box? That was stupid!
9'
Sterling scores after a calamitous error by Varane!!! Courtois passes to his defenders, he gives it to Varane to his right, the Frenchman takes an eternity on the ball in his own box! Jesus dispossesses him and squares for Sterling who taps in. Militao's dive on the line is in vain.
7'
Man City counter, De Bruyne is given the ball and the shot from distance is deflected by Militao for a corner.
4'
Carvajal runs down the far side, he finds Benzema in the box who miscontrols and City's clearance hits the ref. City given the drop ball.
3'
RM attack through Hazard on this near side and then some passing, but the move ends with the ball going out of play for a goal kick.
2'
RM having the ball in their own half, but quiet so far.
1'
RM get us going from right to left! RM in pink, Man C in their usual kits.
Prev.
A minute's silence here first.
Prev.
The players are out here at the Etihad!
Prev.
A reminder that Ramos is at the Etihad tonight to support his teammates while Bale is not. Zidane said he asked not to be picked and he was spotted playing golf in Madrid earlier today.
Prev.
RM's last match was a 2-2 draw at Leganes on 19th July. Courtois comes back in goal instead of Areola, Varaen and Carvajal come in for Vazquez and Ramos. Kroos and Modric for Isco and Valverde are the other changes.
Prev.
Man C last played on 26th July when they thrashed Norwich 5-0. Fernandinho comes in for Eric Garcia who has refused to sign a new contract at the club. Phil Foden in for David Silva is the other switch.
Prev.
A reminder that Man City won the first game 1-2 so RM need at least two goals here this evening. Ramos is suspended after seeing red in that match.
Prev.
It's 26 degrees in Manchester this evening.
Prev.
Felix Brych of Germany is the referee for this one while Bastian Dankert is the VAR.
Prev.
Real Madrid XI: Courtois (GK); Mendy, Varane, Militao, Carvajal; Kroos, Casemiro, Modric; Hazard, Benzema and Rodrygo.
Prev.
Man City XI: Ederson (GK); Cancelo, Laporte, Fernandinho, Walker; Gundogan, Rodrigo, De Bruyne; Foden, Jesus and Sterling.
Prev.
Hello and welcome to our live coverage of the Champions League game between Man City and Real Madrid from the Etihad Stadium.