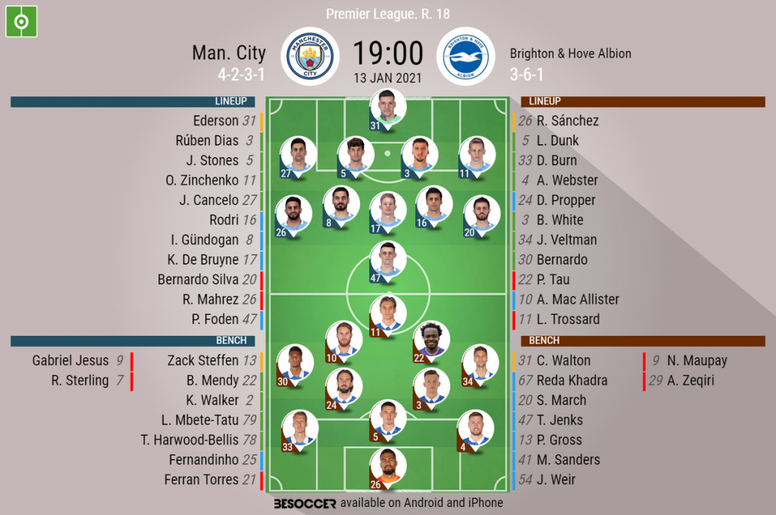 Man. City v Brighton & Hove Albion - as it happened
Post.
FT: Man City 1-0 Brighton! All over at the Etihad and Foden's goal just before half-time was enough. Brighton tried their best to level, but Ederson was hardly threatened in truth. Raheem Sterling had a chance to get on the scoresheet in the closing edges, but he skied a pen won by KDB well over the bar. Thanks for joining us and see you now for Spurs v Fulham!
93'
MacAllister's free-kick is finally dealt with by City and the hosts take home the three points!!
92'
Sterling fires it well over the goal!! That was an awful spot kick. And now Brighton have a free-kick to level! The GK has gone up!
91'
Penalty to Man City after sloppy play at the back. A throw-in by Brighton finds Dunk, his header back to the GK is very underhit, KDB gets there first and Sanchez brings him down. Clear pen.
89'
Khadra goes forward for the visitors! He can't get anything from it though.
88'
The Seagulls get another corner, but it goes out in the air.
87'
Corner for Brighton here. Can they get an equaliser? The delivery is poor though.
85'
Brighton sub: Khadra on for Trossard.
84'
Sterling miscontrols the ball and it's a goal kick. Brighton are not having any major attacks.
82'
Man City sub: Foden is replaced by Sterling.
80'
Free-kick to City after a foul on Gundogan.
78'
Veltman picks out Burn at the back post, he keeps the move going, but he's offside.
77'
Clear yellow for Webster after making a really bad challenge on B Silva seconds after losing the ball. That was close to a red and pure frustration.
75'
City are slowing this game down and even though they should win, at 1-0, Brighton feel they're in win a shout.
72'
Brighton get themselves a free-kick in a dangerous position, but they do nothing with it.
70'
Jesus is fouled and City look in control of this one.
68'
Brighton double sub: March and Maupay are on for Propper and Tau.
67'
Man City sub: Mahrez is replaced by Jesus and the Algerian is far from pleased at being taken off. Pep has a word with him.
67'
Robert Sanchez has made 4-5 quality saves in this match. That's why it's only 1-0.
65'
Sanchez again!! He denies Cancelo from close range after a lovely move and then the 23 year-old denies KDB!
62'
Potter's men are certainly not out of this one.
61'
Propper!!! How did you not reach that?? Bernardo looks for Propper at the back stick and the PSV man can't quite reach it and then Veltman makes a very poor challenge on Foden. He gets a yellow and rightly so.
60'
MacAllister!!! He goes for goal and he hits the stanchion post!
59'
Off the post!!! City attack through Gundogan his effort is saved by Sanchez, B Silva picks up the rebound and smashes the post and then Gundogan slips on the second rebound.
58'
Mahrez!!! A long pass forward by Cancelo finds Mahrez and he hits wide of the far post.
56'
The ball breaks to Propper in the D and the former PSV man's volley is cauight by Ederson.
55'
Brighton go forward and Cancelo has to concede the corner.
54'
Foden goes down in the box under pressure from Veltman, but no pen is given. Not enough for a spot kick for me.
52'
Ederson's clearance hits Stones on the back and the ball goes out for a throw.
50'
City are having a period of good possession now.
49'
Man City get a corner off Burn now.
46'
Brighton attack through Trossart and MacAllister and the latter's shot is saved by Ederson.
46'
Man City get us going again!
45'
HT: Man City 1-0 Brighton! Half-time at the Etihad and the hosts deservedly lead. They didn't have many chances early on despite being the better team, but Sanchez then had to make two fine saves to deny KDB. Just before HT, KDB assisted Foden to put City ahead. Brighton have had few chances, but Trossard has been their most dangerous player. Back soon!
44'
Foden nets for City just before the interval!! It's been coming, to be fair. KDB passes to Foden inside the box, he cuts inside and beats Sanchez down at the near post to his right.
42'
Mahrez combines with Cancelo and Burn makes a clean tackle to win the corner.
40'
Sanchez!!!!! What a save! Trossard's corner is caught by Ederson he throws the ball to KDB and he counters at breakneck speed. After a one-two with Foden, KDB is denied by a fine save by the Spanish GK.
39'
Bernardo's ball in is knocked out for a corner by Rodri.
37'
Claims for handball after the ball hits Dunk in the box, but it looked chest to me.
36'
Another corner for City conceded by Webster.
35'
Superb defending by Bernardo! KDB crosses for Mahrez at the back stick and Bernardo slides in to the concede the corner.
34'
Rodri is offside from KDB's pass.
33'
Corner for the Sky Blues. City get a second one from it.
32'
Lovely counter by Tau to beat ZInchenko all ends up, the move continues and Tau and Trossart combine, but the latter's touch in the box is a heavy one.
32'
Great block by Webster to stop KDB's shot from going on target.
29'
B Silva lays it off to KDB and MacAllister blocks the shot!
28'
Brighton are furious with the award and it's controversial to say the least. The Brighton wall is about 3 yards from the goal.
27'
Backpass given! A long pass forward is touched by a Brighton defender (I think Webster) and Sanchez picks up the ball. It's debatable whether he was deliberately passing it back to the GK or whether he was just trying to cut out the cross.
26'
KDB finds Mahrez at the back post and the Algerian completely cloths the volley into the sidenetting.
24'
Gundogan!!! Mahrez sends a cross from this near side, the German cuts it back at the far post crashing into the net even, but Foden is not alert enough in the box and the Seagulls clear the danger.
23'
Bernardo finds Trossard and he tries to work his magic in the box before being dispossessed.
22'
Brighton attack down this near side again as MacAllister passes to Trossart, but it's well offside.
20'
The corner finds KDB at the far post and the cross-cum shot is easy for the GK.
20'
Mahrez wins the corner off Burn.
19'
Trossart!!! The Belgian is passed the ball again down City's right, he gets into the box and hits a curling shot wide of the far stick!
17'
City have definitely been the better side, but they've only had one clear chance so far.
14'
What a save by Sanchez!!!!! Gundogan plays a lovely through ball for KDB and the Belgian's shot is well saved by Sanchez. The Brighton GK made himself big although KDB should have done better.
12'
Good move by Trossard down City's right, he gets past Stones and then sends a ball to far post where Veltman comes running in but fires wide.
10'
Trossard is getting treatment after receiving a hand in the face. It was accidental.
9'
City attack through Mahrez, he passes to Cancelo and the low cross is cleared.
8'
What did Propper do? Brighton manage to counter, but Propper's pass is terrible and City clear.
7'
Blocked by Brighton!! Foden sends a cross into the box, B Silva goes down wanting a penalty for a shirt pull and a shot on goal is blocked by a yellow shirt.
5'
Man City are having some possession here now.
3'
Man City move the ball now, but Gundogan miscontrols the ball and it goes out for a goal kick.
2'
Brighton have the first attack of the game and City stop them getting into the box.
1'
Brighton get us going in yellow from right to left! City in their usual kits.
Prev.
The players make their way out here!
Prev.
It's hammering it down in Manchester.
Prev.
On the other hand, only four Brighton players started against Newport in the cup.
Prev.
7 of the Man City XI started the FA Cup tie at the weekend.
Prev.
Brighton make four changes from the 3-3 draw with Wolves 11 days back. Bissouma, Match, Maupay and Connolly drop out of the XI and Propper, Bernado, Tau and MacAllister come in. Brighton beat Newport on penalties on Sunday after a 1-1 draw in 120 minutes.
Prev.
City make just the two changes from the 1-3 win over Chelsea in the PL 10 days ago. Ederson replaces Steffen in goal while Mahrez starts ahead of Sterling. The Sky Blues easily beat Birmingham 3-0 in the FA Cup on Sunday.
Prev.
5 degrees in Manchester this evening.
Prev.
6th v 17th. 29pts v 14pts.
Prev.
Darren England is the referee for this one while Mike Dean is the VAR.
Prev.
Brighton XI: Sanchez (GK); Burn, Dunk, Webster; Propper, White; Bernardo, MacAllister, Tau. Veltman; Trossard.
Prev.
Man City XI: Ederson (GK); Zinchenko, Dias, Stones, Cancelo; B Silva, Rodri, KDB, Gundogan, Mahrez; Foden.
Prev.
Hello and welcome to our live coverage of the Premier League clash between Man City and Brighton!