Maldini's surprising self-description: "I'm the biggest loser in history"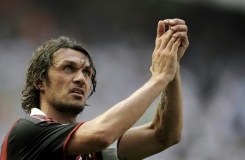 Few players have marked the history of Italian football as much as Paolo Maldini. And yet there are regrets that weigh heavily on one of the European country's greatest players.
In a career that has spanned three decades, all of which have been spent in the Milan shirt, Maldini has won 26 trophies, including five European Cups, and established himself as one of the greatest defenders in the history of the game. This is a source of pride for the current Milan manager, who does not, however, cancel out the memory of missed opportunities to reach even greater heights.
"I'm the biggest loser in history. I explain the reasoning. I won a lot, five European Cups, but I lost three Champions League finals, one European Super Cup, three Intercontinental Cup finals, one World Cup final, one European Championship final, one World Cup semi-final, and I could go on," said Maldini in a live interview with his former team-mate and friend Christian Vieri on Instagram.
"I was lucky enough to win a lot and I saw these lost finals as part of the game, I accepted everything, honestly," continued the 51-year-old former Italian defender.
Maldini, son of former Italy coach and Milan captain Cesare Maldini and father of Daniel, who made his first-team debut this year, also explained his regret at not having crowned his career with a World Cup.

The former Italian player lost the Pasadena final in the 1994 World Cup in the United States on penalties after a 0-0 draw with Brazil, and despite continuing to compete, he was not part of Italy's fourth World Cup winning team at Germany 2006.
"Unfortunately, I had great teams and great chances with the national team, but in the end we lost on penalties. And then in 2006, when I wasn't there, they won on penalties, that's how it is," he said.
"When Lippi called me in 2006, I said no out of respect for Trapattoni, whom I had already said I would leave the national team. When Italy won the final in Berlin against France, I thought I was unlucky," he added.
And if it might seem a paradox to dwell on the defeats suffered by Maldini, one of the most successful players in history, the Italian experienced a number of disappointments in the Milan shirt, including the European Cup final defeats against Marseille in Munich in 1993, Ajax in Vienna in 1995 and Liverpool in Istanbul in 2005 - a match they dominated 3-0 and decided on penalties.
The Italian also surrendered to France on penalties in the 1998 World Cup in his international career, in addition to the controversial elimination against South Korea in the round of 16 of the 2002 edition.
However, if there is one thing that marked Maldini's career, it was his success and his sporting loyalty. His list of honours includes five European Cups (1989, 1990, 1994, 2003 and 2007), seven league titles (1988, 1992, 1993, 1994, 1996, 1999 and 2004), five UEFA Super Cups (1989, 1990, 1994, 2003, 2007), two Intercontinental/World Club Cups (1989, 1990, 2007) and one Coppa Italia (2003).
The Italian also boasts a record number of appearances for Milan (902), Serie A (647), and finished third in the 1994 and 2003 Golden Ball awards.
He retired as a player in 2009, after a 25-year career that made him, far beyond the lost finals, a legend in football.