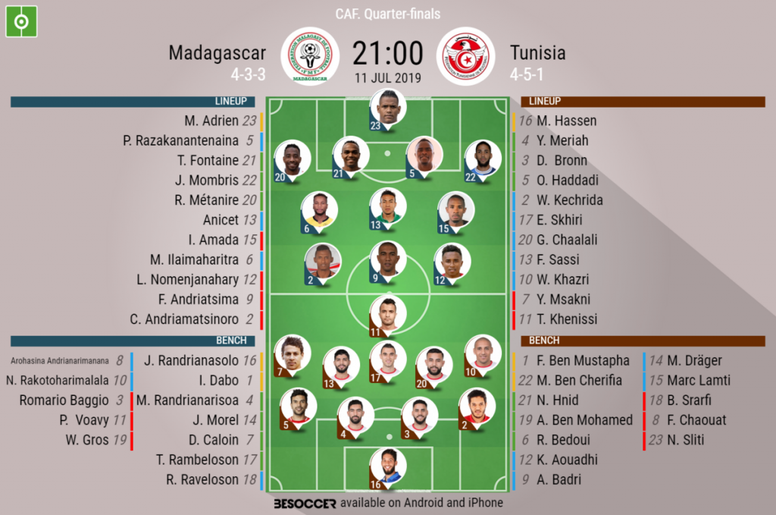 Madagascar v Tunisia - as it happened
Madagascar

Túnez

94'
FT: Madagascar 0-3 Tunisia!!! Madagascar's dream is over and the truth is after the first 35 minutes, they were well and truly outclassed. Sassi, Msakni and Sliti all netted in the second half to give Tunisia a very comfortable win here in Cairo. They will now play Senegal on Sunday. Madagascar should be delighted they got this far, but tonight was too much for them. Sassi is named Man of the Match and that's all from us. Thanks for your company and hope to see you again soon!
94'
And that's it!! It's game over!
93'
Sliti makes it three for Tunisia!!! Madagascar have a corner, it is headed out powerfully by the man at the near post, the ball breaks to Khazri at midfield and he runs with the ball before squaring for Sliti to finish. Quality goal.
93'
Madagascar get a corner, but they wanted a penalty for handball! It hit the defender on the arm, but it was by his side.
92'
This game has been rather dull since the second Tunisia goal.
91'
Sliti fires over the crossbar after Khazri passes him the ball!!
90'
Four added minutes here. Should have been five or six.
89'
Andriamatsinoro delivers a free-kick into the are which is headed away easily.
88'
Khenissi goes down after taking an arm to the face from Mombris. He has made a bit of a meal of it, but it's a foul.
86'
Anicet picks up the first card of the match for a late challenge on Khenissi.
83'
Good move by Madagascar, but Andriamatsinoro's shot goes wayward after a nice move and pass by Rakotoharimalala.
82'
Tunisia sub: Sassi, one of the goalscorers, leaves the park and Aouadhi comes on.
80'
Good pass by Sliti to Haddadi and he sees his effort well saved by Adrien!
79'
Madagascar have a strike from outside the box, but it goes well wide.
77'
Very little going on here in the last five minutes.
77'
Madagascar change: Ilaimahaitra off and Rakotoharimalala on.
75'
Tunisia sub: Chaalali can't continue and Drager replaces him.
71'
Chaalali is down getting treatment here.
70'
A long ball forward fools Meriah and Andriamatsinoro goes down in the area wanting a pen as Meriah got back. Not for me.
68'
The goalie is getting treatment here after doing the splits while diving to save that free-kick I think. Nasty.
67'
Khazri hits the free-kick wide of the keeper's left hand post.
66'
Tunisia sub: Sliti on for Msakni.
66'
I can't see a way back for Madagascar. This has been a step too far them. There were struggling in the last 10 minutes of the first half.
65'
Madagascar double sub: Pascal and Nomenjanhary off, Voavy and Morel on
63'
Madagascar are going to make a double change, but not just yet.
61'
Madagascar haven't had a corner in the match and they have folded after the first 35 minutes.
60'
Tunisia double their lead! Msakni scores!!! Pascal is down injured, but the goal counts. Madagascar were dispossessed in their own half, Khazri shoots from inside the D, Adrien saves and then Msakni is there to hammer home the rebound,
59'
Khazri has a very ambitious effort from 40 yards which goes well wide of the sticks.
57'
Tunisia win a corner after Msakni gets past Anicet and passes for Khenissi.
55'
Madagascar are really struggling.
54'
Chaaaance!!! Khazri goes for it from the side and Adrien punches it clear.
54'
Tunisia have a dangerous free-kick here!
51'
Tunisia score through Sassi!!! Tunisia attack down the far side, Msakni passes to Sassi in the D and the GK is completely wrong footed by the deflection off Fontaine. Very unlucky for Adrien.
50'
What a ball in by Mombris!!! He gets the ball on this near side and Andriatsima almost gets on the end of it.
48'
A Tunisia player goes down injured, but he's up now.
46'
Khazri scores for Tunisia!!! But it's disallowed for offside! A long pass is played forward to Khazri who controls with his foot before hitting home. Miles off.
46'
Tunisia get us back underway here!
45'
Madagascar 0-0 Tunisia!! Half-time in Cairo in which the first 30-35 minutes were dull apart from a Sassi shot wide and a Khazri free-kick which was tipped onto the bar, but Tunisia have really picked up in the last 10 minutes. Madagascar were comfortable in the first half hour and had a few half chances themselves, but they'll be happy now it's half-time. Join us in 10 for the second period!
45'
Msakni and Haddadi play a one-two but Msakni knees the return ball wide.
45'
Msakni has a go from 25 yards out and the keeper catches easily.
44'
Amada shoots at the GK and then Andriatsima is through on goal before Bronn makes a vital intervention!
43'
Meriah heads the corner with his shoulder and it goes wide.
42'
Chaalali!!!!! He has a pop from 30 yards and Adrien flicks it out for a corner. Was going wide anyway, but he wasn't to know that.
41'
Chance for Tunisia!!! They go down the far side through Kechrida, his pass to Khenissi takes a deflection and Khenissi gets a touch to it before it deflects off the defender for a corner. Goal kick given again.
39'
Kechrida claims a corner after his ball across goal clearly touches the keeper's fingertips for a corner. It's inexplicably not given.
38'
The game has livened up in the last five minutes.
36'
Khazri is down getting treatment, but he gets up quickly. Not sure where he picked up the knock.
35'
Msakni wants a penalty for Tunisia! His foot is touched by Pascal, but he goes down theatrically. There is contact, but not for me.
34'
Metanire tries to chip the Tunisia GK from distance and it just touches the top of the net.
33'
The corner doesn't beat the first man.
32'
Khaaazri!!!! What a free-kick! It goes over the wall and is heading for the top corner until Adrien dives to tip it over for a corner. In fact, he tipped it onto the bar!
30'
Free-kick to Tunisia 30 yards out as Msakni is pulled back by Pascal.
29'
Great little attempt at a one-two between Msakni and Khenissi and Adrien anticipates it and gets there before Msakni can get the ball back
27'
Khazri tries to find a teammate in the area, but it is cut out by Pascal.
24'
The game is being played at a very slow tempo so far. The goalies have had very little to do. 52% possession for Tunisia.
22'
Tunisia have had the best chance, but Madagascar have enjoyed some good territory here.
21'
Madagascar make another dangerous run after the referee plays a good advantage. Mombris was fouled and then Andriatsima hit a very tame effort at the GK.
19'
Madagascar aren't playing badly here.
18'
Nomenjanahary makes a long pass to a teammate, but he's offside.
18'
Fontaine's free-kick hits the wall though.
17'
Free-kick to Madagascar here in a dangerous position after Amada was fouled .
14'
Sassi gets the ball from Msakni, takes a touch and turns before firing a curling shot from the edge of the area just wide of the far post!!! The first real chance of the game.
10'
Kechrida wins a corner off Fontaine. Not sure about that decision. I thought it bounced back off the Tunisian. Nothing came of it anyway.
8'
Khenissi goes down in the Madagascar area, but no penalty as Pascal won the ball.
7'
Madagascar make a good run forward, but Nomenjanahary is crowded out by two defenders.
6'
Khazri strikes the referee on the leg with his flick and Tunisia get the ball back.
5'
Chaalali is fouled by Nomenjanahary.
4'
Quiet start here so far. Tunisia the better team, but nothing noteworthy has happened up to now.
2'
Chaalali sees his shot blocked by a defender outside the box.
1'
Madagascar get us underway in the red shooting from left to right!
Prev.
The players are out, the anthems have been played are we are almost ready to begin!
Prev.
Algeria have just beaten Ivory Coast 4-3 on penalties after Ivory Coast's final penalty hit the post! Algeria had a chance to win it and they also found the same upright. The Madagascar game won't be delayed though. We will be starting in seven minutes.
Prev.
It's 34 degrees in Cairo. A very hot evening.
Prev.
The referee for this match is Alioum Alioum from Cameroon while the main VAR is Benoit Millot from France.
Prev.
Madagascar also make one switch from the DR Congo match. Raveloson drops to the bench and Ilaimaharitra gets a start.
Prev.
Tunisia make just one change from the Ghana game. Khazri starts instead of Badri. That's a good move as he was very good v Ghana once he came on.
Prev.
Both teams won penalty shootouts to reach this phase. Madagascar won 4-2 on spot kicks after drawing 2-2 with DR Congo after 120 minutes while Tunisia beat Ghana 5-4 in the shootout. Their match ended 1-1 after 120 minutes.
Prev.
Tunisia XI: Hassen (GK); Haddadi, Meriah, Bronn, Kechrida; Msakni, Sassi, Skhiri, Chaalali, Khazri; Khenissi.
Prev.
Madagascar XI: Adrien (GK); Mombris, Pascal (the number 5), Fontaine, Metanire; Amada, Anicet, Ilaimaharitra; Nomenjanahary, Andriatsima and Andriamatsinoro. Some of these are a bit of a mouthful!
Prev.
The Ivory Coast v Algeria game has just gone to penalties, but the teams are in for this game in Cairo.
Prev.
Good evening and welcome to live coverage of the African Cup of Nations quarter-final between Madagascar and Tunisia. Who will claim a spot in the semis? Stay with us to find out!