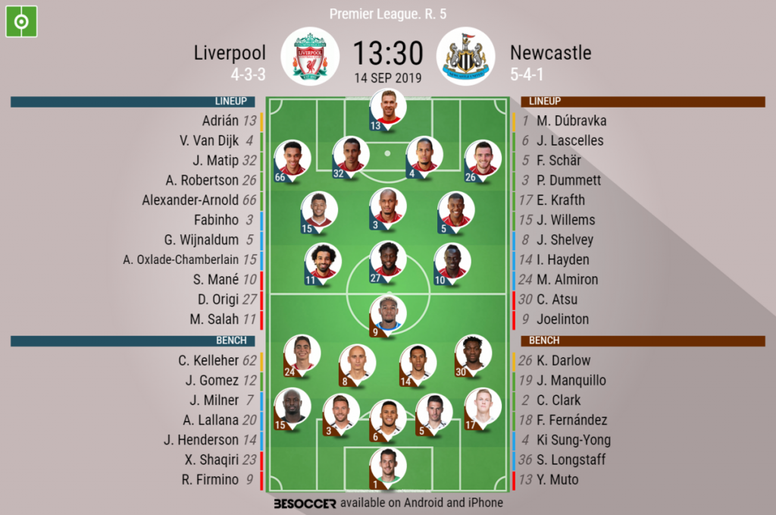 Liverpool v Newcastle - as it happened
Liverpool

Newcastle United FC

90'
Full time sees Liverpool go five points clear at the top!! That is their 14th consecutive win and fifth consecutive win this season to keep up their unbeaten run. Newcastle will be disappointed with the result, as they go away with no points, but they certainly gave it their all and had some brilliant individual performances! 3-1 Liverpool.
87'
Mane is denied the hat trick after he slotted the ball into the back of the net from a Firmino pass, but it was deemed offside.
83'
Final change for Liverpool sees Wijnaldum come off and be replaced by Shaqiri
79'
And it's the Swiss international who has got to come off, being replaced by Fernandez for Newcastle
78'
Schar goes down for no apparent reason after a previous knock during Liverpool's goal when he was receiving treatment.
78'
This may be a pointless game for Newcastle, but it is not damaging, as they have a lot of positives to take away from their performance against the league leaders
74'
Substitution for Liverpool: James Milner on, Alex Oxlade-Chamberlain off.
71'
Firmino cleverly flicks the ball to Salah, who runs wide into the box and slickly and sublimely finishes it off and buries the ball into the far corner. Sensational play from the Reds to make it 3-1. Absolute class.
71'
LIVERPOOL MAKE IT THREE!!!
65'
Newcastle make their first change as Muto comes on for Almiron and Krafth comes off to be replaced by Manquillo
62'
How did that not go in!! Robertson has a shot from the left of the box, but Dubravka somehow manages to clear it!! Good play from Liverpool before the shot.
61'
Alexander-Arnold passes to Firmino in the box, who makes a shot, but it is right to the keeper, who makes a comfortable save.
60'
Nothing much happening at the moment, as it is very backwards and forwards. Liverpool haven't come out their best again this half
55'
Salah makes a pass to Alexander-Arnold, who took the shot on from the right hand side, but Dubravka makes a crucial save for a corner, which comes to nothing.
54'
Chance wasted for Newcastle, Krafth skies the ball. He was in the perfect position in the box and just needed to be calm and controlled. The ball flew well over the net and so it was a wasted opportunity. Proof that Newcastle can create chances when needed.
53'
Steve Bruce made a slight tweak in the squad at half time, with Almiron joining Joelinton up front and moving into a more forward position
50'
Almiron crosses the ball in, but it is well spotted by Adrian, who easily catches it. Straight after, Liverpool counter and it is 4 on 3, but Newcastle get defence back to deal with it.
48'
Wijnaldum has a shot from distance and it could have been the third goal from an outstanding strike, however his ball goes just wide and hits the netting on the top of the net.
46'
Krafth has a shot as Joelinton lays it off to him and Robertson clears for a corner. Virgil Van Dijk flicks the corner away
46'
Second half has started and no changes have been made by either side
45'
Liverpool are unbeaten when leading at Anfield in the first half in their last 94 games!!
45'
Can the Toon hit back in the second half? Or will Liverpool make it five from five this term?
45'
Half time sees Liverpool dominate and lead 2-1, after Newcastle took the lead early on from a stunning Willems strike and just couldn't hold on until half-time. 2-1 Liverpool
45'
Free kick Newcastle as a foul is made. Nothing comes of it.
45'
It's been all Liverpool since the first 15 minutes as they go looking for a third before halftime. We'll have three minutes of extra time.
38'
And the Toon can't hold on as Mane gets his second in quick succession. Firmino's first touch is to slot the ball in behind the Toon defence and into Mane's path. It should be Dubravka's but he makes a mess of it and the ball pops up for Mane to tuck home.
35'
Early substitution for Liverpool as Origi has been down and receiving treatment, he walks off the pitch okay but Klopp obviously doesn't want to risk him. Firmino is his replacement.
35'
That is Mane's fifth goal of this season in all competitions
31'
Newcastle just holding on now, trying to defend and defend as hard as they can to stop any more goals and deny Liverpool of the lead. They need to counter if they are wanting to get another goal
28'
A stunning strike from Mane after a cross from Robertson sees Liverpool equalise, as the powerful shot goes into the top corner. Two great goals see it all level again at Anfield and Liverpool will have more confidence now.
25'
Another corner as Salah's shot is cleared. Matip goes down in the box and there are shouts for a penalty, but nothing is given. Lascelles does look to have contact around his shoulders and it probably should have been a penalty. Liverpool angered.
24'
Solid defending from Dummett stops Alexander-Arnold and gives the Reds a corner as he throws himself into making a clearance
22'
Liverpool looking more of a threat now, as the put pressure on in their box. Origi is crossed the ball and tries to head it into the back of the net, but the ball goes wide.
21'
Joelinton is deemed offside as a ball is crossed to him in the box, Adrian isn't happy and barges into him, but this little anger spurt isn't picked up on
20'
Alex Oxlade-Chamberlain gets in front of Jonjo Shelvey and downs him. Free kick Newcastle
18'
Jonjo Shelvey crosses the ball up the pitch pointlessly from the half way line and the only player in that half is the Liverpool keeper, who easily gets the ball.
15'
Newcastle manage to clear the corner from the boc, but it reaches a Red player, who passes to Oxlade-Chamberlain, who then crosses in to Mane, Mane is in the box and heads the ball towards the goal, but nothing comes of it.
15'
Corner for the Reds after Newcastle clear
14'
After some good, pressuring play outside the box from Liverpool, Oxlade-Chamberlain has the ball and tries his luck, but his shot goes just above the bar. Liverpool waking up now, after being stunned earlier on from Willems goal
11'
Oxlade-Chamberlain lets loose and has a hot from the edge of the box, he is under pressure from the Newcastle defence and his shot goes just wide of the bottom left post.
8'
It is clear Newcastle are sitting back and waiting to play on the counter, it is obviously working for them as they are currently in the lead
7'
What a strike from Willems, in what is his first goal for the club after he has a shot from the edge of the box and strikes it beautifully right into the top right corner! There was no stopping that! Atsu got the assist in this as he passed it cleanly to Willems. Newcastle have the lead
4'
Atsu manages to get through a lot of the Liverpool defence and crosses the ball into the box, but nobody can get there in time and Liverpool easily clear
3'
Origi is back up and running again
3'
Origi is down as it looks like he landed wrong whilst falling with the ball
Prev.
Liverpool kick things off for us today!!
Prev.
Anfield is full again, with an impressive amount of away support too for the Magpies! There is an amazing atmosphere here
Prev.
We kick off in 15 minutes!
Prev.
Steve Bruce suffers a lot of injury problems, as Sean Longstaff injured his anklenin training and so did not travel with the squad today. Andy Carroll, Allan Saint-Maximin, Matt Ritchie and Dwight Gayle are all also sidelined for the Magpies.
Prev.
Today's game will be Alex Oxlade-Chamberlain's 50th game for the Reds! Alex Oxlade-Chamberlain and Divock Origi are restored to the starting line-up in the only alterations made to today's team. Roberto Firmino and Jordan Henderson are the players who make way, with both named on the substitutes' bench.
Prev.
Newcastle United: Dubravka (GK); Lascelles, Schar, Dummett, Krafth, Willems; Shelvey, Hayden, Almiron, Atsu; Joelinton
Prev.
Liverpool: Adrian (GK); Van Dijk, Matip, Robertson, Alexander-Arnold; Fabinho, Wijnaldum, Oxlade-Chamberlain; Mane, Origi, Salah
Prev.
The line-ups are to come very soon!
Prev.
Join us for live coverage of the Premier League game between Liverpool and Newcastle United at Anfield. This is the first game back after the international break. Liverpool will be looking to continue their unbeaten run and perfect form in the Premier League. Newcastle have got off to a shaky start and will be wanting a result out of this game.