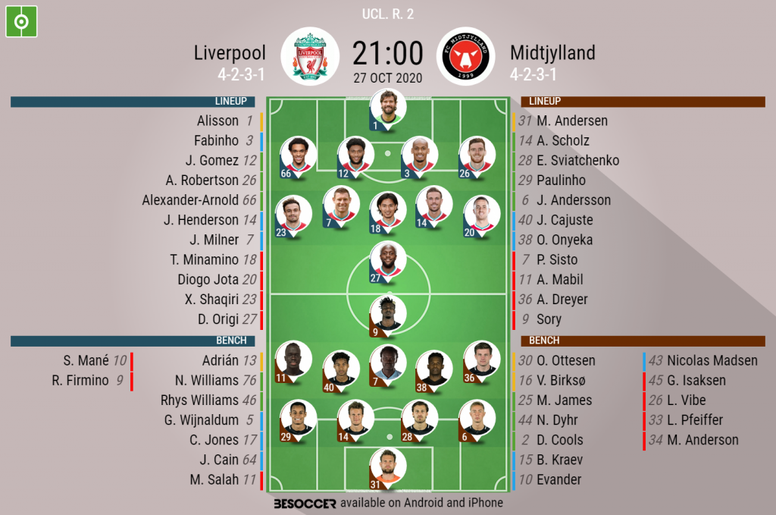 Liverpool v Midtjylland - as it happened
Liverpool

Midtjylland

Post.
Thanks for joining me here tonight. See you tomorrow for the Manchester United match.
94'
FT: Liverpool 2-0 Midtjylland. A good win for the Reds but it could have been different if Dreyer had scored when he was one on one with the keeper.
93'
Salah steps up and sends the keeper the wrong way.
92'
Paulinho brings down Salah in the box and is booked. Clear pen.
89'
SIDE-NETTING!!! Great play from Dreyer to get past Gomez in the box, he is one on one with Alisson and chips it into the side-netting. He should have played it simple and slotted it into the net.
88'
The cross comes in but Firmino skies it. That should have been a goal.
83'
Not long left for the away side to get a goal. They have played well against the English champions.
81'
Midtjylland sub: Pfeiffer on for Kaba.
81'
Midtjylland sub: Cajuste off for Kraev.
81'
Liverpool sub: Firmino on for Jota.
77'
Another chance from Evander but this time it goes just wide. They are getting closer.
76'
Midtjylland have always got a chance as long as this remains 1-0.
74'
Evander has a shot from the edge of the box that goes over the bar.
72'
Midtjylland sub: Sisto off for Evander.
68'
Good skill from Shaqiri to get into the box but he can't get a shot away. It appears he has his foot stood on but no penalty.
66'
Midtjylland sub: Mabil off for Anderson.
63'
It is 2-2 in the match between Ajax and Atalanta.
61'
Klopp obviously wants things to be a little bit more comfortable hence why he has brought on Mané and Salah.
60'
Liverpool sub: Salah on for Minamino.
60'
Liverpool sub: Origi off for Mané.
56'
Alexander-Arnold plays a one-two with Shaqiri, and the full-back crosses for Jota to tap in. 1-0 Liverpool.
53'
Sviatchenko has a header straight at Alisson.
50'
Liverpool have started this one slightly better but still not threatened.
46'
Liverpool sub: Wijnaldum on for Henderson.
45'
HT: Liverpool 0-0 Midtjylland. The visitors have defended well so Klopp will have to change something in the second half.
45'
Minamino has an effort that goes well wide.
45'
Ajax are beating Atalanta 2-0 in the other match.
45'
Klopp does not look happy on the touchline. Wonder if he will introduce Mané, Salah, or Firmino.
44'
Looks like we will be going in at the break level.
40'
Milner has a shot that is deflected behind for a corner.
38'
First chance for Liverpool. Robertson swings in the corner but Jota sidefoots it wide.
37'
A very good performance from the visitors so far.
34'
This is Williams' 4th Liverpool match, and the earlies he has come on in a Champions League game. He was a 90th minute substitute last week against Ajax.
32'
Cajuste is booked for a foul on Henderson.
30'
Liverpool sub: Fabinho off for R. Williams.
28'
Fabinho is down here, could be bad news for Klopp.
25'
Onyeka is booked for a foul.
23'
Liverpool are playing a bit better now.
20'
Schulz is booked for bringning down Jota.
11'
No chances for Liverpool yet. This could be a famous match for the away side... yet Liverpool could bring on one of Salah, Firmino, and Salah.
7'
Sisto tries to catch Alisson off guard with a free-kick but hits it straight at him.
6'
The Danes have started this match very well.
3'
Almost 1-0 to Midtjylland. The ball is played over the top to Dreyer who is onside, but his shot is saved by the knees of Alisson.
2'
Liverpool have started this match strongly.
Prev.
I predict nothing other than a Liverpool win here. Midtjylland were hammered 4-0 by Atalanta last week.
Prev.
Liverpool have played four matches against Danish teams. They have won 2, drew 1, and lost 1.
Prev.
Midtjylland XI: Andersen; Andersson, Sviatchenko, Scholz, Paulinho; Onyeka, Cajuste; Dreyer, Sisto, Mabil; Kaba.
Prev.
Liverpool XI: Alisson; Alexander-Arnold, Fabinho, Gomez, Robertson; Milner, Henderson; Shaqiri, Minamino, Jota; Origi.
Prev.
Hello and welcome to Anfield for this Champions League match. Team news to come.