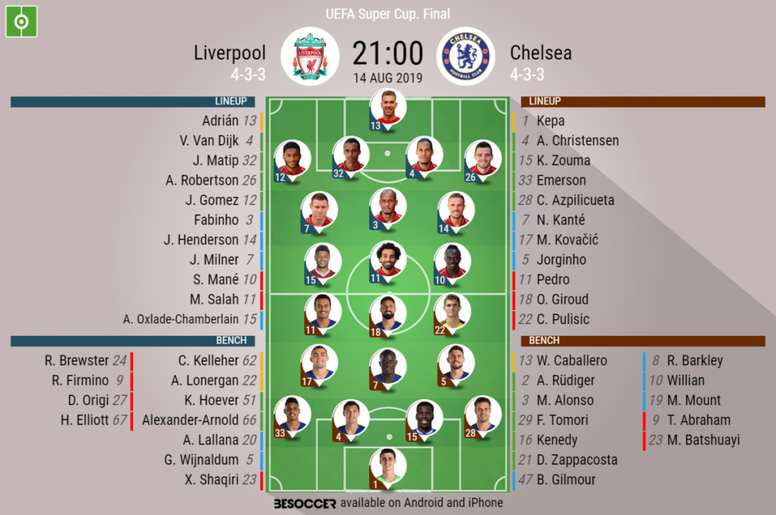 Liverpool v Chelsea - as it happened
121'
FT!!!! Liverpool 2-2 Chelsea (1-1 after 90 minutes, Liverpool win 5-4 on penalties)!!!! What a brilliant game, a game neither side deserved to lose and nine penalties were scored before Abraham had a very poor spot kick saved. Liverpool are champions after a thrilling game. Thanks for joining us and we hope to see you again soon!
121'
Abraham to take it. It's miss and lose. And it's saved!!!! What a terrible penalty!!!!! And Adrian saves it!! He looked nervous and that's the game! 5-4 to Liverpool! Adrian looked slightly off his line, but it was not retaken.
121'
Effective sudden death now. Salah to take for the Reds. Takes a run up and sends Kepa the wrong way. Confident spot kick.
121'
Emerson to take Chelsea's 4th. Down the middle and scores!!!!!! Adrian went to his left.
121'
Alexander-Arnold now. And again!!! Just like Origi!!! Same place and the same outcome! This was tipped onto the post and in.
121'
Mason Mount now. Brilliant pen!!!! Right in the top corner! Adrian guessed right to his right, but it was unstoppable. 3-3.
121'
Origi to step up. It's almost saved!!!! Kepa dives to his right andf gets a firm hand to it, but it still creeps in. He got lucky there.
121'
Barkley now for the Blues. Top pen by Barkley! GK went the right way, but it was in the top corner.
121'
Fabinho to take a pen despite him struggling!!!! And he scores!!!!! Kepa didn't even move.
121'
Jorginho to take for Chelsea. And he scores again!!! Adrian dived to his left and he sent it the other way. 2 pens scored for him.
121'
Firmino to go first. Firmino sends the keeper the wrong way!!! It went to Kepa's right.
121'
Liverpool have won the toss and are going first.
121'
Remember, the goalies will have to have one foot on the line.
120'
While Fabinho is getting treatment, the referee blows the final whistle and it's penalties.
120'
A Chelsea move breaks down and now Fabinho is down with cramp.
118'
Mount sees his effort saved again after it bounces just in front of Adrian and then Abraham is offside from the rebound.
116'
Chelsea offside from the free-kick. Zouma the guilty man I think.
115'
Emerson earns a corner for Chelsea!
114'
Pedro!!!!!!! From the edge of the D, the Spaniard's pop goes narrowly wide of Adrian's left hand post.
113'
Mount is denied by Adrian!!!! Abraham gets the ball and holds it up until support comes in the form of Mount and the ex-Derby man is denied by a diving side.
112'
Just eight minutes away from penalties here.
110'
Emerson is down injured. Both teams are out of changes. However, he has got up.
109'
Liverpool attack through Matip and his pass is miscontrolled by Wijnaldum. Goal kick.
107'
Alexander-Arnold gets booked after pulling at Mason Mount.
105'
Half-time in extra-time!!! What a game this is!
105'
Barkley makes a lovely run down the middle, Abraham is not in a position for him to get the ball and Matip stops the ex-Everton man.
105'
Two added mins as Origi's cross is headed out for a corner by Emerson.
104'
What a chance for Abraham!!!! Barkley starts the move, he plays it to Pedro and Abraham just turns Pedro's cross wide.
102'
Liverpool sub: Mane is off!!!! That's an interesting one. Divock Origi comes on.
101'
Chelsea sub: Barkley on for Kovacic.
100'
Jorginho takes the pen and he beats the goalie!!!! He waits for the keeper to move and then slots it in the goal. It was a poor pen actually. There is a slight contact on Abraham's right foot, but not a pen for me. It certainly wouldn't have been given had it not been given.
99'
Not convinced it's a penalty personally. Very dicey. There's contact, but I think Abraham's looking for it.
99'
And now Abraham goes down in the box in front of the keeper and the ref gives a penalty!!!
98'
Tammy Abraham is through on goal and it's saved by Adrian!!!!
95'
Mane scores!!!!!!! Chelsea wanted offside, but not given!!! Mane passes to Firmino who isn't off and as he is reaching the byline, he cuts it back to Mane to smack home! In off the bar and 2-1 Liverpool!
94'
Liverpool have started extra-time better, but no major chances as of yet.
92'
Joe Gomez has a go from outside the box!!!! It's deflected and goes into the hands of Kepa.
91'
Liverpool begin extra-time! It will be a two-day game in Turkey now.
90'
Liverpool sub: Alexander-Arnold is on for Robertson. Liverpool now have 1 change left, Chelsea 2 as you get four now we have gone to ET.
90'
The free-kick is half cleared and then Salah's effort across goal can't find Firmino and it's extra time!
90'
Emerson fouls Mane who actually loses his boot in the process. Free-kick to Liverpool and the last chance before extra-time.
90'
Zouma heads Mount's delivery over the crossbar!
89'
Looks like Chelsea are wanting to avoid extra time here. Mount's cross in for Abraham is headed away.
87'
Chelsea want a corner, but nothing given.
86'
Abraham goes down wanting a free-kick, but nothing is given and then Mane almost scores at the other end!! The assistant raised her flag and she was right.
85'
Henderson is carded now for a clear pull back on Emerson.
85'
Chelsea sub: Christensen makes way for Tomori.
84'
Chelsea finishing the match strongly.
83'
Mason Mount scores for Chelsea, but the flag is up!!! He controls and then hits home! Was definitely off.
83'
Shots: 18-11, on target: 9-2.
82'
Pedro!!!!!! Kante puts in a lovely pass from the byline for Pedro and his goalbound shot is blocked by Van Dijk!
81'
Salah's free-kick is deflected by a Chelsea head for a corner.
79'
Azpilicueta is booked for a push on Mane on the edge of the box! Azpilicueta can't believe it, but it's a clear push.
78'
Chelsea are hanging on now. Liverpool are pressing.
75'
What a double save!!!! The corner runs through to Wijnaldum, he passes to Salah whose shot is saved by Kepa and then he gets up to dive and tip Van Dijk's rebound onto the post!!!! Unbelievable. They were nearly punished for making subs just before defending a corner.
74'
Chelsea double sub: Giroud and Pulisic make way and Mason Mount and Tammy Abraham come on.
73'
Chelsea have another attack, but Pulisic sees his shot blocked and then Liverpool counter which comes to nothing.
71'
Pulisic is caught offside again.
68'
Mane had one decent run a minute back, but Chelsea have looked more dangerous recently. Extra-time can't be ruled out.
65'
Chelsea in again!!! Giroud passes to Pulisic inside the box and his shot is blocked by Gomez for a corner.
64'
Liverpool sub: Wijnaldum on for Milner.
62'
Pulisic sends in a corner which ends up being cleared.
61'
Giroud is through and his shot was blocked by Van Dijk for a corner. It was offside though.
60'
Pulisic is caught offside.
59'
Chelsea win a corner here! Christensen's in beats everybody though.
57'
The game has quietened down in the last few minutes.
54'
Firmino passes to Salah and he nearly gets the ball back.
52'
Mane passes to Henderson now!!! Henderson's shot is deflected off Emerson and almost wrong foots Kepa.
51'
Chelsea attack, a Liverpool player is close to conceding a pen, but Emerson stays on his foot and the ball goes out of play after his cross hits Giroud.
50'
Fabinho fires it just wide after Firmino laid it off to him! What an impact Firmino has had.
48'
Mane scores for Liverpool!!! It was scrappy, but they won't care!!! Fabinho scoops the ball up from outside the box for Firmino, he sees Kepa right on top fof him, so he squares to Mane whose first shot is saved before he taps home the rebound.
47'
Henderson receives a bad challenge from Emerson and the Brazilian is penalised.
46'
Chelsea get us going again!
45'
Welcome back everyone for the second half. Liverpool have made a change. Firmino is on for the Ox. Surprising he didn't start really.
45'
HT: Liverpool 0-1 Chelsea!!! Half-time in Istanbul!! Chelsea leads through Giroud's goal ten minutes before half-time. Liverpool started the half well then Chelsea were marginally better, but Chelsea clearly had the upper hand after the goal and actually saw one disallowed for offside. Join us in a bit for the second half.
44'
Liverpool put a ball across the box which beats everyone.
42'
Liverpool shaken by the first goal.
40'
Pulisic scores, but his goal is disallowed!!!! Emerson passes for Pulisic on this near side and he runs before finishing in the corner!! VAR checks it, but he is just off. The assistant was spot on.
40'
Liverpool started the game well, but Chelsea on top since.
38'
Giroud has taken a blow to his back from Van Dijk, but he looks ok to continue.
36'
Giroud scores for Chelsea after Pulisic plays in him perfectly!!! Kante had started the move in midfield and Pulisic passes to his left to Giroud. He hits across the goal into Adrian's bottom left corner. A goal was coming!
34'
This game looks very even although Chelsea look a bit better.
32'
Pedro puts in a tremendous pass for Kovacic and Adrian puts his hands their to deny the Croat!!! Had he mistimed it, it was a penalty!! Super keeping.
31'
Liverpool having a good spell now.
30'
Now Mane's header from Milner's corner takes a deflection off someone and goes to the goalie.
29'
Van Dijk heads over the crossbar from a corner!
27'
Kante gets the ball after a defensive error, Pedro and Pulisic also touch it, but Pulisic's cross goes well wide.
25'
Giroud looks offside, the flag stays down and he's one on one with Adrian and it's saved! The flag actually went up, but the whistle didn't sound.
23'
Giroud scoops the ball up with his back to goal before doing an overhead kick which is off target! That was a nice idea though.
22'
Pedro hits the crossbar!!! The Spaniard plays a one-two with Kante on the edge of the box and then Pedro strikes the bar with his shot from the left hand side of the penalty area!! Chelsea are getting close.
21'
Chelsea are starting to look better now.
20'
Pedro is in the box and favourite to have a shot on goal after a beautiful pass by Kovacic. Robertson tracks back brilliantly though to force him out wide.
19'
Jorginho sends a long ball forward to Giroud and although the Frenchman gets an outstretched foot to it, the ball is overhit.
18'
Jorginho has Jorghino on his shirt!
17'
And Chelsea respond!! Jorginho clears from inside his own box to Pedro who finds a pinpoint ball to Giroud. Unfortunately for Chelsea, his shot across goal goes well wide.
16'
What a save by Kepa to deny Salah!!! He is played in and from inside the box he trys to beat Kepa to his left, but is denied.
13'
Mane heads the resulting corner down into the grounf and over the goal.
13'
Henderson sends in a brilliant cross and Christensen heads away with Mane waiting to pounce at the far stick. Corner.
11'
Pedro fires wide of Adrian's left hand post 30 secs after Kante made a lovely run down the middle. Giroud passes to his right to Pedor and the Spaniard hit it from outside the box with his left foot.
10'
Mistake from Chelsea at the back, the ball goes to Milner, he passes to Salah whose shot is blocked by Zouma.
9'
Fabinho shoots at Kepa from inside the box, but Kepa holds on easily.
5'
Mane tries an overhead kick from Henderson's cross which hits Christensen on the arm and it goes for a corner. Not deliberate.
4'
Van Dijk is penalised for handball, Chelsea take quickly and Pulisic finds himself in the area with the ball, but can't do anything with it as Matip gets ahead of him.
2'
Emerson passes to Pulisic on this near side and as the American is about to run onto it, Matip slides in to clear for a throw in.
1'
Giroud is penalised for handball in midfield.
1'
Liverpool get us going in their red kits shooting from left to right!
Prev.
Henderson and Azpilicueta shake hands in the middle
Prev.
The anthem has been played and we are close to starting!
Prev.
The players are out on the pitch!!!
Prev.
The temperature is 25 degrees in Istanbul for this one.
Prev.
By the way, this the first time that this match will be played between two English teams.
Prev.
The assistant referees are also women while the fourth official is Cuneyt Cakir of Turkey. The VAR team is made up of four men and the leader is Clement Turpin of France.
Prev.
History is also being made in Turkey as Stephanie Frappart of France becomes the first woman to take charge of this match. She is French, referees in the French men's league and went to the Women's World Cup where she officiated the final between USA and Holland. Good luck to her!
Prev.
Just a reminder that despite it being a Super Cup, there is extra-time if it's level after 90 mins followed by pens if needed. Teams can only make three subs plus a fourth if it goes to extra time.
Prev.
Chelsea's team sees three switches from the side which lost 4-0 at Old Trafford, but the defence remains unchanged. Kante, Giroud and Pulisic replace Barkley and youngsters Mount and Abraham.
Prev.
Liverpool make four changes to the team which beat Norwich 4-1 last Friday. Matip in for Alexander-Arnold in defence, Milner replaces Wijnaldum in midfielder and the Ox and Mane take over from Firmino and Origi. Mane was not ready to play last Friday.
Prev.
Chelsea XI: Kepa (GK); Christensen, Zouma, Emerson, Azpilicueta; Kante, Kovacic, Jorginho; Pedro, Giroud and Pulisic.
Prev.
The teams are in!! Liverpool XI: Adrian (GK); Van Dijk, Matip, Robertson, Gomez; Fabinho, Henderson, Milner; Mane, Salah and the Ox.
Prev.
This is the traditional European curtain-raiser although arguably it was actually last night. Porto, Celtic and Basel were all knocked out and there was a 22 penalty shootout in Copenhagen. If we get anything like what we saw in those games, it should be worth watching!
Prev.
Good evening and welcome to live coverage of the UEFA Super Cup encounter between Liverpool and Chelsea from Istanbul. Who will claim the first European trophy of the season?