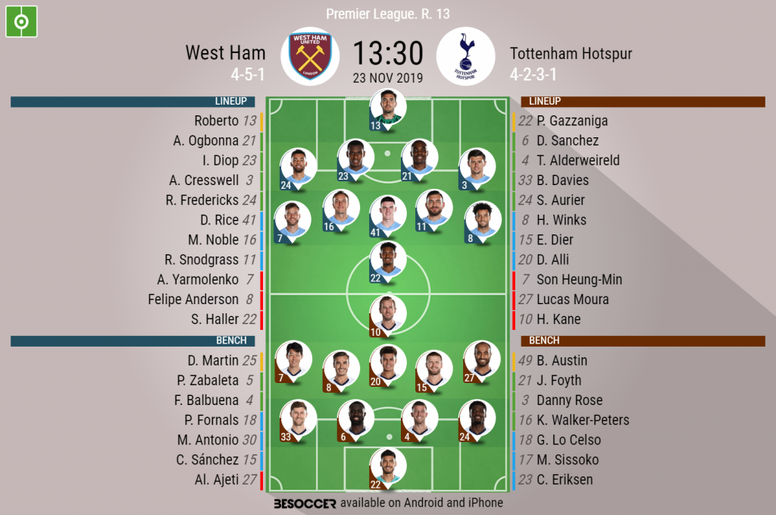 West Ham V Tottenham Hotspur - As it happened.
West Ham United

Tottenham Hotspur FC

Post.
As always, thank you for joining us this afternoon! More Premier League action coming your way soon!
96'
FT: West Ham 2 - 3 Tottenham. Mourinho claims a debut win as Spurs boss despite a late West Ham fightback, as goals from Son, Lucas and Kane put Tottenham 3-0 up, before late strikes from Antonio and Ogbonna hauled them to within touching distance of a point, but to no avail. The international break felt endless, but boy was it worth it.
96'
Snodgrass put the corner on a plate for Ogbonna, who had the simple task of diverting it on target!
95'
GOAAAAAAAAAAALLLLLLL!!!!! WEST HAM WERE FIGHTING FOR IT AND THEY FINALLY DELIVER!
93'
West Ham's heads have dropped now as Noble puts in a frustrated tackle on Kane. He's perhaps lucky to avoid a booking there.
91'
CHANCE! Haller gets another chance to head the ball as Snodgrass whips a cross in, but he can't generate enough power on it to test Gazzaniga, who saves comfortably. That was a good position and the striker may feel he should have done better.
90'
Six minutes of added time and West Ham are having their best spell of the entire match now.
89'
A VAR check confirms it... No goal!
88'
GOAL FOR DECLAN RICE!!!!! But it looks offside....
87'
Double yellow for Harry Kane and Robert Snodgrass after an unnecessary tackle from both players. Kane tackles the Scottish man first, who reacts angrily and grabs him from behind, pushing him to the ground.
85'
West Ham are huffing and puffing, but they can't get another goal to make for a tense final few minutes. Their window of opportunity may have already closed.
82'
Final change for Spurs and it's a defensive one! Goalscorer Moura is replaced by Sissoko.
78'
Dele Alli comes off for Christian Eriksen!
76'
A clear spring on their step for West Ham players, who are back in this after a confidence boost through that goal and now look considerably more lively.
75'
Davies stayed down in the aftermath of that goal and has been forced off for Rose at left-back.
74'
No one deserves that goal more than Antonio, who's been working harder than anyone on that pitch. A blocked effort is recycled by Noble on the edge of the box and he feeds Antonio, who fenits cleverly to deceive Alderweireld before lashing a ferocious effort across Gazzaniga and into the bottom-left corner! It's 3-1!
73'
GOAAAAAAAAAAAAALLLLL!!!! ANTONIO!!!!
71'
Kane is down again as he jumps and blocks Cresswell's firm free-kick flush in the face. That looked very painful.
70'
Davies lunges in on Antonio and picks up a yellow card after an excellent run from the West Ham substitute. The free-kick is in a promising position.
64'
Pellegrini takes centre-back Diop off for a defensive midfielder in Carlos Sanchez. There appears to be no sign of injury to the Frenchman, but Rice has slotted in alongside Ogbonna in his stead.
61'
TACKLE! Kane is played clean through on goal but Diop sprints back and makes an outstanding sliding challenge to prevent what would surely have been a fourth Spurs goal! Still, very last minute defending... Pellegrini's got some work to do.
60'
Gazzaniga is forced into a rare save as Antonio takes on his man down the right and strikes weakly towards the top corner, but the keeper holds on.
58'
West Ham have shown very little fight today. Fornals is a welcomed boost of energy, but will it be enough to rescue at least a goal?
55'
Pablo Fornals replaces an unhappy Yarmolenko.
51'
Kane was down after his goal, but he is now back on his feet now and seems to have shaken off his issue.
50'
GOAL! IT'S 3-0 TO SPURS! Kane makes up for Lucas' error, heading emphatically home from Aurier's right-wing cross. That should be that
48'
WHAT A MISS!!! Moura exchanges passes with Son, and he's clear in the box. He should score, but drags a miserable effort across the face of goal and out to the left. He might have been trying to play in Alli, tearing down the inside left, caught in two minds.
45'
HT: West Ham 0-2 Spurs. Mourinho's men have started brightly despite a sometimes disorganized team, and they now have the 2-0 lead in the break after two impressive goals. Lucas Moura, making his first start in a while, gives Mourinho reasons to keep him around. Meanwhile, Pellegrini's men have had some chances and Declan Rice has been very sharp in the defence, but there's a lack of confidence and drive. See you in 15!
45'
Snodgrass has a speculative dig from distance. It forces Gazzaniga to scramble in a panic towards his left-hand post, but he makes the save in the end.
43'
What an impressive goal. Alli, falling backwards on the left touchline, keeps the ball in play by hooking it towards Son from a prone position. Son tears off down the wing, his ankle seemingly fine, and curls a low cross towards the far post, where Lucas races in to slam home. West Ham are a shambles, but Spurs have been great to watch.
42'
GOAAAAAAAAAALLLLLL!!! THAT DELE ALLI FLICK!!! THAT FINISH!!!!
39'
Fredericks slides in very rashly on the goalscorer, Son, and picks up a deserved yellow card. The winger is down and looks to be in some pain.
38'
CLOSE! Alli now goes for goal himself from outside the box, sending a low, fizzing drive narrowly wide of the left post!
37'
SON GIVES SPURS THE LEAD! It's fine work from the South Korean as he dances down the left and works a yard, but it's awful goalkeeping from Roberto, who should have saved it comfortably. Tottenham lead 1-0 and Mourinho goes wild on the sidelines!
36'
GOOAAAAAAAALLLLLLLL!!!!!!!! SON OPENS THE SCORE!
34'
WIDE! Dier gets his head on this delivery, but can only steer it wide of the post! Spurs are starting to threaten from set-pieces.
33'
Excellent defensive vision by Rice as he manages to deflect what would have been a goal. Kane and Alli combine in limited space down the inside-left channel, releasing Son into the box. Son is shaping to thread the ball into the bottom right when Rice slides in. A magnificent saving tackle, and nothing comes of the resulting corner. Spurs are knocking at the door.
28'
West Ham have had the upper hand in the past few minutes. It's an important game for both teams today, and a London Derby no less, but we do get the slight feeling the game is lacking intensity.
26'
Noble plays a fantastic first-time ball in behind to set Anderson away down the left and he drives into the box before cutting back for Haller on the edge, but the striker hadn't held his run, and it's comfortably taken away by the Spurs defense.
23'
The London Derby has brought the tension today. A lot of booing for Kane and generally any Spurs player whenever fans get the chance.
20'
CHANCE! Lovely shot from Son, who creates a chance from thin air, but it's comfortably saved by West Ham's Roberto. Mourinho will have to wait a little longer for his first goal on the Spurs bench.
18'
A strong tackle from Snodgrass to Son slows down the game. Spurs look9ing to open the score still....
14'
The game is getting a little bit disorganised now. On the bench, the new and imporved Mourinho makes notes. He looks calm... Too calm?
12'
CHANCE! Winks curls the free-kick to the back post and Jimenez comes to claim but misses the ball, allowing Sanchez to nod just wide of the target! The flag went up aganst the centre-back, although he looked to be onside.
11'
Poor decision from the referee as he hands Diop a yellow for seemingly pulling on Harry Kane. However, the replay clearluy shows it was the other way around.
8'
West Ham finally get their game faces on. Fredericks gets a bit of space down the right and crosses. Haller battles with Aurier and Sanchez for a header, six yards out. The defenders combine to win, and Gazzaniga claims. But that's much better from the home side.
7'
Spurs are favouring their left-hand side in attack, with both Alli and Kane drifting across to link up with Son on that side and they are causing former Tottenham academy product Fredericks problems.
5'
Spurs have started brightly so far, attacking with verve and Alli plays Kane through again but, in almost identical fashion, the striker is caught offside once more.
Prev.
Teams have arrived... Kick-off is only a few minutes away! thoughts on the line-ups?
Prev.
Sissoko and Lo Celso drop to the bench, while Tanguy Ndombele and Jan Vertonghen are not deemed ready for action and remain on the sidelines with Hugo Lloris, Erik Lamela and Michel Vorm.
Prev.
Mourinho makes three alterations from Mauricio Pochettino's last starting lineup in Spurs' 1-1 draw with Sheffield United, handing starts to Lucas, Winks and Alderweireld.
Prev.
West Ham manager Manuel Pellegrini makes two changes following his side's humiliating 3-0 defeat at Burnley last time out. Balbuena and Fornals drop to the bench in favour of Ogbonna and Yarmolenko. Can this be enough to beat The Special One?
Prev.
Spurs starting XI: Gazzaniga, Aurier, Alderweireld, Sanchez, Davies, Dier, Winks, Lucas Moura, Alli, Son, Kane.
Prev.
West Ham starting XI: Roberto, Fredericks, Diop, Ogbonna, Cresswell, Rice, Yarmolenko, Noble, Snodgrass, Felipe Anderson, Haller.
Prev.
Line ups are out! Let's take a look shall we?
Prev.
Big one today! Jose Mourinho returns to the Premier League hoping he can turn it around for Spurs, currently 14th in the table. Similarly, Pellegrini will be looking to deliver a win after at home after a very poor run of four losses and one draw.
Prev.
Hello and welcome to our minute to minute coverage of this afternoon's Premier League action!