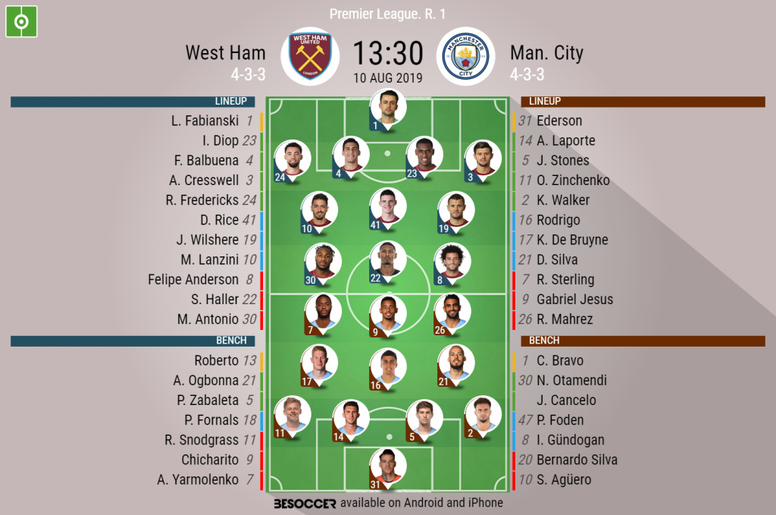 West Ham V Man. City - As it happened.
95'
FT: West Ham 0-5 Man City. A hat-trick by Raheem Sterling sees Guardiola's men crush Pelligrini's with a whopping five goals. West Ham had a really decent first half but City's dominance was too much to handle. Manchester City have shown they are here to stay with this performance.
93'
The foul leads to a free-kick, and Chicharito is given the honours. Way too high and wide, though.
92'
And with the goal comes the foul... Yellow card for Sterling after an awful tackle.
91'
GOAAAAAAALLLL! AND ANOTHER ONE FOR STERLING!!!
90'
5 min of added time to this second half!
87'
Walker is booked for a poor challenge on Fornals.
83'
In an incredible three minutes, the save is ruled out because West Ham players were offside. Aguero has to score again, and this time, Fabianski cannot stop it. Man City lead with four now!
83'
FABIANSKI SAVES AGUERO'S PENALTY!!!
82'
Fabianski's poor clearance puts his side in danger. Mahrez is brought down by Diop inside the box before he can think about shooting and Mike Dean points to the penalty spot. Penalty for Man City!
80'
With the points now in the bag, Guardiola brings off key man De Bruyne and brings on Gundogan in his place. Phil Phoden also comes in to replace captain David Silva.
75'
VAR checks it once again as it seems it could be offside... A little over a minute after that double save from Ederson, City score a third goal to kill off the contest - and this one will stand! Sterling makes a good run through the middle, controls Mahrez' pass and lifts it over Fabianski - brilliant finish!
72'
WHAT A CHANCE FOR CHICHARITO!!! Tremendous double save from Ederson! He's barely had a touch all game and he produces a masterclass there! First he denies Javier Hernandez before reacting brilliantly to keep out Lanzini. Fantastic goalkeeping.
70'
West Ham are back in the game and looking for that goal now. City's domination is wearing them out, but Chicharito and Haller could surprise us...
68'
Goalscorer Gabirel Jesus comes off for Aguero! This is about to get really good now.
65'
Anderson now goes down and it loks like he might have to be replaced. The great Chicharito Hernandez replaces him.
61'
It is now Anderson's turn to get booked for a foul.
60'
Balbuena is booked for a foul on Gabriel Jesus.
59'
First real chance for West Ham here! Diop heads over the bar, with the goal unguarded. West Ham so close to getting back into the game!
58'
The goal being ruled offside is a huge confidence boost for West Ham, who are now pressuring more. Could it lead to a goal?
55'
Pellegrini takes the opportunity to make a change... Wilshere out for Snodgrass.
55'
And the goal is ruled OFFSIDE! This will prove controversial for the Premier League, as there were worries it would slow down the game and indeed, it seems like it does...
54'
VAR checks the goal as it could be offside... And the crowd boos loudly.
53'
This is a brilliant goal from City, who have looked a lot better in this second half. A flowing move culminates in Silva slotting it through for Sterling, who squares it for Jesus to tap it into an empty net.
53'
And another one!!!!! City leading 3-0!!!!!
50'
This was incredibly simple, but such a good goal. Mahrez wriggles free from a tight spot on the right and slips a pass inside for De Bruyne, who powers down the middle into space. Sterling is clear on the left. De Bruyne finds him with a perfectly weighted pass. Sterling takes a touch and slips the ball past a helpless Fabianski. As the old song goes, that's why they're champions.
50'
GOAAAALLLLL RAHEEM STERLING!!
48'
Zinchenko plays in a dangerous cross from the left but Diop cuts it out in front of goal. City have started the second half pretty well.
45'
Second half underway! West Ham bring in new signing Pablo Fornals, who comes in for Antonio.
45'
Here's a look at that first goal by Gabriel Jesus!
45'
HT: West Ham 0-1 Man City. A very good start from West Ham saw Pellegrini's teams put the pressure early on, but a sometimes weak defence has allowed Gabriel Jesus and Kyle Walker to break through too easily, with the Brazilian scoring the goal. Still, not at all the same kind of game as Liverpool's thrashing yesterday. Exciting Premier League football all around; the game is far from over! See you in 15 min.
45'
Another chance for Man City! Terrible clearance from Diop as the ball lands right on Gabriel Jesus' feet, but Fabianski jumps right in and manages to make the save.
40'
Walker and Mahrez are not having quite so much joy out wide now compared to 10 minutes ago. City are bossing possession, which has not always been the case today, with the onus on their opponents to win it back.
35'
Attempt on target! West Ham have rediscovered their early mojo and are pressing foward again. Antonio flicks into the City box from the right. Haller, with his back to goal, tries to guide a shot over his shoulder and into the top left. There's no whip on his effort, though, and Ederson saves it comfortably.
33'
Rodri goes down after Antonio accidentally hits him in the face. The West Ham player's imposing physique might have had something to do with how painful it looks, but it shouldn't stop him from playing. He goes to the sideline to get treatment.
28'
Well it was a good 25 minutes for West Ham, but the Citizens have gained confidence after the goal and are now reaching the box again and again. Still, maybe it's something to build on for Pellegrini. Captain Rice is leading the way beautifully.
25'
It looked like an own goal, but the repetition shows that's it is actually Gabriel Jesus' precise touch that leads the ball to the net. The goal came about following an explosive overlap down the right flank from Kyle Walker, with the England star drilling a cross which, at first glance, appeared to have gone in off of Diop, but it was in fact steered goalwards by Jesus. A very deft finish indeed!
24'
GOAAAAALLLLLL!!!! CITY OPEN THE SCORE!!!
23'
The Hammers are definitely putting the pressure on now. Encouraging to see for Pellegrini.
21'
WHAT A CHANCE FROM MAHREZ! That should have been the opener! Sterling robs a dawdling Rice on the edge of the West Ham box. He slips the ball to De Bruyne, who dinks a pass down the inside right for Mahrez. The winger drops a shoulder and sends Cresswell off to the wrong fire. He's one on one with Fabianski, but drags his shot into the side netting. Amazing action and link up!
19'
West Ham turn over possession and hit their opponents on the break, but Haller opts against running at his man and tries to tee up Antonio. Laporte is well-positioned to stop what was a promising move.
16'
Foul on Sterling by Fredericks!. A dangerous position to be giving up a free kick. But Silva wastes it, attempting to play Sterling into the box with a quickly slipped pass down the inside left. Sterling doesn't read it, and Fabianski gathers, much to the crowd's amusement.
14'
David Silva goes for a very similar shot as Mahrez a few minutes earlier! The new City captain shoots it with his left leg but it is too wide on the right.
13'
The pace has settled now, but Guardiola's men are still struggling to control this game. Strange to watch.
9'
Fabianski with the save! Great shot from City Mahrez's, who finds himself near the goalkeeper's box and tries to go for goal. Not the best defending from West Ham here.
7'
We are now 7 minutes in and Manchester City have definitely woken up now. West Ham still dominating possession but Guardiola's men have picked up the pace and will no doubt start to pressure.
6'
And we have our first use of VAR at the London Stadium, as Mike Dean checks whether the Hammers should be awarded a penalty after a coming together between Rodri and Lanzini.
3'
Amazing start and pace from West Ham United! The home team has started off strong and is actually providing some danger against the Almighty City!
Prev.
As always, we thank you for joining us this afternoon! See you soon for some more Premier League football!
Prev.
Players have jumped onto the pitch! We are moments away from kick-off!
Prev.
The teams last met competitively in February, where Sergio Aguero's penalty gave City a 1-0 win at the Etihad. They also met during the pre-season Premier League Asia Trophy back in July, when the Citizens ran out 4-1 winners. We're in for a treat today!
Prev.
Manchester City have won more than half of the previous 109 meetings, coming out victorious 55 times in comparison to West Ham's 37 wins. There have been 17 draws between the two sides, though there has only been one draw in the last 16 meetings.
Prev.
Now for some head to head records!
Prev.
Meanwhile, after kicking off their campaign with victory in the Community Shield, City now begin their chase for a third consecutive league title. They will need to show their quality in their first test of the season, as they prepare to fight for the trophy they defended successfully last season. Never mind matching Liverpool's goalscoring capacity after last night...
Prev.
The Hammers will be aiming to get their season off to a strong start, despite the tough opposition. West Ham finished tenth last season and Manuel Pellegrini will be targeting a higher finish in the top half of the league table.
Prev.
As for the Premier League champions, Sergio Aguero and Bernardo Silva start it off on the bench, while Copa America winner Gabriel Jesus and new boy Rodri go at it from kick-off.
Prev.
Perhaps as surprising... Jack Wilshere starts his first game in 11 months.
Prev.
Some surprises in the line-ups! Sebastien Haller, West Ham's £45m record signing makes his debut!
Prev.
Man City starting XI: Ederson, Walker, Stones, Laporte, Zinchenko, De Bruyne, Rodri, Silva, Mahrez, Gabriel Jesus, Sterling.
Prev.
West Ham starting XI: Fabianski, Fredericks, Diop, Balbuena, Cresswell, Wilshere, Rice, Antonio, Lanzini, Felipe Anderson, Haller.
Prev.
Let's look at the line-ups, shall we?
Prev.
Hello and welcome to our live, minute to minute coverage of this early afternoon's Premier League clash between West Ham and Manchester United, where Guardiola will no doubt be looking to match Jurgen Klopp's goalscoring capacity at the Premier League opener in Anfield yesterday!