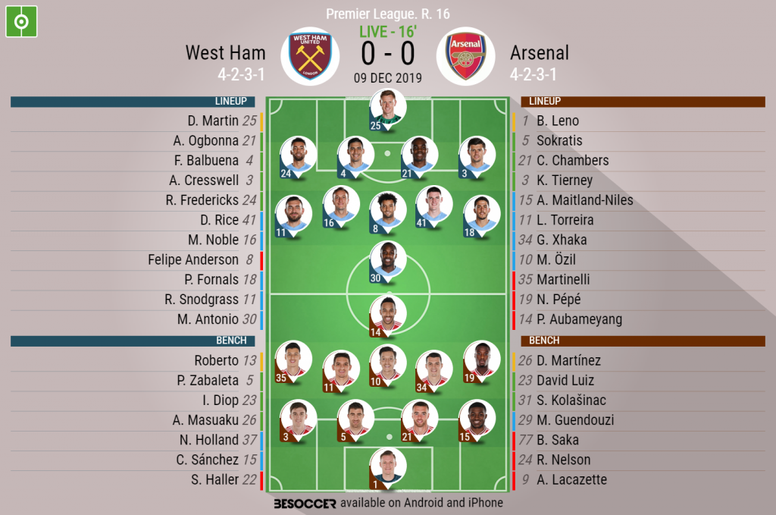 West Ham V Arsenal - As it happened.
West Ham United

Arsenal

97'
FT: West Ham 1-3 Arsenal.
93'
Aubameyang almost gets one last goal and it leads to a corner!
89'
There were lots of white empty seats when this game kicked off and there are many more now as West Ham fans bin off the idea of their team getting back into this. Pellegrini's job is very much at stake here.
87'
Pepe goes off after scoring Arsenal's second and assisting their third. Nelson comes on.
86'
Xhaka is off after appearing to pick up an injury - he had previously gone off after taking a ball to the side of the head, but it wasn't obvious what happened this time. Guendouzi comes on for the last few minutes.
83'
Pepe gets in behind as Arsenal turn over possession in midfield. He outpaces Ogbonna but is caught by Masuaku as he looks to cut back inside onto his left foot, which he might be a little reliant on.
80'
Mike Dean restarts play with a drop ball to Arsenal as a dazed-looking Xhaka finally stumbles off.
78'
Snodgrass goes off, replaced by 21-year-old midfielder Holland.
73'
West Ham can't get the ball. Arsenal were barely capable of stringing two passes together for the first hour.
70'
Second change for a shellshocked West Ham who can hardly get a kick now as Sebastian Haller replaces Felipe Anderson.
69'
The scoring's not over!!!! Aubameyang backheels a pass down the right, releasing Pepe into a little bit of grass. Pepe checks and chips a delicate cross back towards the striker, who had kept moving. Aubameyang bicycle kicks into the bottom right. Martin got a hand on the shot, but couldn't keep it out.
68'
GOAAAAAAAAALLLLLL!!!! AUBAMEYANG!!!!!!!!
66'
GOAL! 2-1 Arsenal, brilliant from Pepe! The Gunners have remembered how to play! Pepe gets the ball from Aubameyang at the right side of the penalty area, shifts it onto his left and curls a beautiful shot into the far top corner.
63'
That's really rattled West Ham, who are struggling to clear their lines all of a sudden. Ozil plays a cute right-to-left chip for Martinelli, who can't quite sort his feet out just inside the area. Had he managed it, he'd have been one on one with Martin.
60'
So having said Arsenal were doing nothing, they suddenly spring into life! Torreira slips a pass down the left for Kolasinac to stride onto. Kolasinac enters the box and pulls back for Martinelli, the young man slamming a glorious first-time shot into the bottom right!
55'
Indeed that is Cresswell's evening done as Masuaku comes on to replace the full--back.
53'
The corner is headed away by the first defender to Torreira, at an angle to the right at the edge of the area. He swipes his right foot at it, and sends a shot flying high and wide.
50'
Indeed that is Cresswell's evening done as Masuaku comes on to replace the full-back.
48'
Cresswell is booked and it looks like he might be injured. Not a good day for left-backs.
45'
HT: West Ham 1-0 Arsenal. This has been bad, bad stuff. West Ham lead through Ogbonna's powerful header after Fornals knocked a cross back in from a corner that wasn't cleared. Arsenal's only chance came when Aubameyang crossed for Ozil to head over from the edge of the six-yard box, and the Hammers haven't looked like scoring another. Tierney had already gone off with what looked like a dislocated shoulder after Bellerin was injured in the warm-up. Bad game, to say the least.
45'
Five minutes of added time because of the amount of injuries and accidents. What a scrappy game, this is.
45'
Snodgrass is blocked off by Kolasinac as he dribbles down the right. He wants a penalty, but he's not getting it.
44'
It's all looking a bit desorganised at the moment. Not the level expected from a London derby.
41'
Torreira attempts a back-heel a couple of yards from his own box. He nearly lets Antonio in on goal, but gets away with it.
39'
GOAL! Snodgrass delivers left-footed from the left. Its cleared as far as Noble who shoots from the edge of the area, but it's blocked. Rice keeps the attack alive by diverting the ball to Fornals on the right, he crosses and Ogbonna heads in from about eight yards out. There's a lengthy VAR check for no readily apparent reason, but the goal stands!!
38'
GOAAAAAAAAAALLLLLLL!!!! OGBONNA!!!!
37'
Pepe looks as if he's going to be alright to carry on, but there's a lot of whistling and jeering from the home fans. They paid to watch some football and it's not really happening.
35'
Pepe is down now. He took a heavy challenge from Cresswell.
32'
Good chance for Ozil. Pepe employs some trickery down the right but the chance looks to have gone as he looks for Aubameyang. The forward keeps hold of the ball and crosses from the other side, finding the German in space six yards out, but he jumps late and heads well over.
29'
Tierney goes off with what looks like a dislocated right shoulder. Kolasinac replaces him.
27'
Tierney is down receiving treatment, and he's going to have to go off. He got his arm twisted round the back of a West Ham player during the jostling for that free-kick, and it looks like his right shoulder has dislocated.
26'
A shot at goal! The free-kick is delivered from the right in towards the far post. It's headed away but only as far as Fornals on the other side of the penalty area. He takes a touch before curling a right-footed effort straight down Leno's throat.
24'
Snodgrass sees the first yellow card of the evening for a late sliding tackle on Martinelli.
22'
Both teams are lacking intensity. Definitely does not feel like a London derby.
19'
Arsenal knock it around a bit. Aubameyang thinks he's been blocked off illegally while pelting down the right, but the referee's not having any of it, much to the home support's amusement.
15'
Pepe tries to flick his way out of a tight spot out on the West Ham left. Cresswell's not having it, blocks him, and wins a throw. From that, Anderson jigs into the box looking dangerous, but there's one too many yellow shirt to beat, and eventually he dribbles into trouble.
14'
West Ham string together a few passes for the first time. It's very easy on the eye, and the move ends with Cresswell nearly releasing Fornals down the left.
10'
First corner of the game for Arsenal now. They went from right to left, from Pepe to Ozil to Martinelli, with the Brazilian winning the corner off Fredericks.
6'
West Ham spring to life, Noble and Anderson driving down the middle and setting up Antonio, who lashes high over the bar. Good early chance for the hosts!
2'
There was a last minute change to the line-up as Bellerin appears to have sustained a last minute injury. He is replaced by Maitland-Niles.
Prev.
Match is about to start! We're blowing bubbles!
Prev.
West Ham make one change to the team named for the defeat at Wolverhampton Wanderers. Sebastien Haller drops to the bench, having scored just four times so far this season, and only one in his last 12. Michail Antonio returns to take his place.
Prev.
The 18-year-old striker Gabriel Martinelli starts his first Premier League game for Arsenal, replacing Lacazette. That's one of four changes to the side that went down at home to Brighton & Hove Albion. Calum Chambers and Kieran Tierney replace David Luiz and Sead Kolasinac at the back, while Nicolas Pepe takes Joe Willock's spot.
Prev.
Some interesting changes in the line-up tonight!
Prev.
It's a momentous clash tonight! Freddie Ljungberg hopes to land first Gunners league win in two months and West Ham aim to pile more misery on rivals with win to take them level on points.
Prev.
Leno, Bellerin, Chambers, Papastathopoulos, Tierney, Torreira, Xhaka, Pepe, Ozil, Martinelli, Aubameyang.
Prev.
West Ham starting XI: Martin, Fredericks, Balbuena, Ogbonna, Cresswell, Snodgrass, Noble, Rice, Fornals, Felipe Anderson, Antonio.
Prev.
Hello and welcome to our minute to minute coverage of this Premier League clash between West Ham and Arsenal!