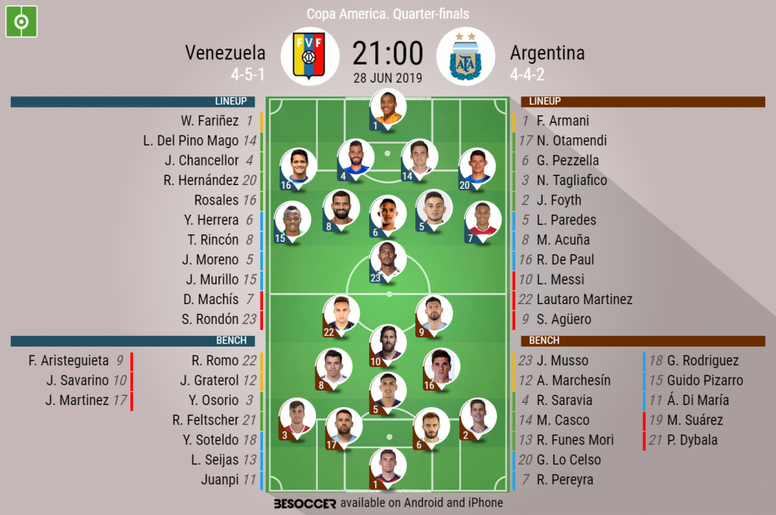 Venezuela V Argentina - As it happened.
Post.
As always, thank you for joining us, see you for the next one, folks!
95'
FT: Venezuela 0-2 Argentina. Although this was not their best performance, and Venezuela were clearly providing the best football in the second half, Argentina are now through to the Copa America semi finals against Brazil.
92'
Messi has been disappointing this evening, but in a way that is a positive for Argentina. They haven't had to rely on their best player and they have won this game when they needed to.
91'
Di Maria on the counter attack! Venezuela had committed players forward in an attempt to give themselves a late lifeline, but Di Maria played pass when he should have taken on the shot himself.
90'
5 min of added time in the Maracana!
89'
An action for Venezuela leads to a handball... But the referee does not see it and awards a corner instead.
86'
Di Maria goes down and stays down for a while... Real injury or just waste of time?
84'
Double change! Rosales out, Seijas in for Venezuela, Aguero out, Dybala in for Argentina.
82'
SHOT! Rondon does indeed take on the free kick, but it drops wide of the post. Replays show it took a deflection off Pezzella, though - that was a good spot from the officials, as a corner kick has been awarded.
80'
Right when Venezuela was enjoying possession, a goal has ended their Copa America dreams. They were enjoying close to 70 percent possession before that. Football is cruel sometimes.
76'
A terrible action by wonder boy Fariñez, who gifts Lo Celso the goal that will probably see Argentina through.
75'
GOAALLLLLLLL!!!!! Argentina with the 2-0!
73'
The expected change finally happens. Martinez in, Machis out.
70'
MISSED CHANCE FOR VENEZUELA! Armani saves it, but that was very close! A great shot by Hernandez.
69'
And now Lo Celso comes in for Acuña. He was expected to be one of Argentina's brightest players of the tournament.
68'
And yet another VAR check for seemingly no apparent reason...
65'
First change for Argentina! Di Maria in, Lautano Martinez out.
60'
Venezuela appear to be growing in confidence, with the possession slowly being regained.
58'
Soteldo in, Del Pino out! The first change of the match is made by Venezuela, and it's an attacking switch as Soteldo comes into midfield, taking the place of Del Pino.
50'
OFF THE BAR! Paredes plays in Martinez, who clips the frame of the goal with his shot - he should have done better. Argentina could do with a second goal to kill off Venezuela...
47'
Fariñez makes a good save, but a blow to his thigh looks pretty painful. The Venezuelan goalkeeper cannot afford to be injured right now.
45'
Second half underway! No changes in either side.
45'
A pigeon made a clear tackle in the first half... Yes, you read that right!
45'
HT: Venezuela 0-1 Argentina. Martinez's goal is the difference between the two teams. This has been an improvement from La Albiceleste, but Venezuela aren't dead and buried by any measure.
45'
4 min of added time in this first half!
44'
And another yellow right before half-time... Salomon Rondon is booked. That's five in this first half.
42'
YELLOW CARD! An incredibly disjointed first half in Rio is coming towards a close. Messi sends the ball in from wide and Pezzella should be doing better. Acuna is then cautioned for wiping out Murillo, who was looking to break clear.
41'
Gentle reminder for anyone watching that the team who wins will be facing Brazil in the semi finals after their win on penalties last night.
39'
Header over the bar! Pezzella jumped the highest to get on the end of a Messi freekick delivery into the penalty area, but he couldn't get over it and guided his header well over the target.
38'
De Paul does well to get a cross into the box from the right, catching a few players by surprise, but the move comes to little. Venezuela struggling to defend today.
37'
A lot of breaks in play in this game, which is making it hard for both teams to create any real chances.
35'
Venezuela are slowly becoming better as the minutes go by... No clear chances as yet though.
32'
Miscontrol by Messi! It's not often that you see that from the great man. He has started this match rather slowly while the rest of his Argentina teammates are playing reasonably well.
28'
Too many VAR checks going on tonight... The referee is looking very uncertrain about his job.
26'
Foyth against Machis is shaping up to be a great battle. For the second time in about five minutes the pair are engaged in another foot race, which Foyth gets the better off by winning the ball with a sliding challenge in the box, confirmed after a VAR check.
25'
Play is considerably slower now... Argentina's lead and strong performance in the first few minutes has not continued on.
22'
Messi wants a penalty kick for what he perceived to be a handball inside the Venezuela penalty area. The officials are now checking the incident using the VAR. Play continues, though...
19'
And now the goalscorer Martinez has been booked. The referee has got a bit card happy all of a sudden.
17'
Yellow card for Herrera... Second yellow for the Vintointo in the last few min...
14'
The first yellow card of the match is shown to Rincon for... I'm not really sure, to be honest. Dissent towards the referee?
14'
Yellow card for Tomas Rincon for a tackle... But it seems a bit unfair?
10'
It is Martinez who has scored the opener thanks to a sublime flick. Aguero shot goalwards and Martinez flicked it past Farinez.
10'
GOOOOOOAAAALLLLLLLLL!!!!!
7'
Argentina have actually started this match well. They are on top and are looking dangerous in and around the Venezuelan penalty area.
3'
Aguero with the first chance! But Venezuela's prodigy goalkeeper Fariñez saves it comfortably.
2'
So what sort of performance will we get from Argentina this evening? Will things finally click into place for them? Or will we get another sluggish and disjointed display from them?
Prev.
Gentle reminder for anyone watching that the team who wins will be facing Brazil in the semi finals after their win on penalties last night.
Prev.
The first yellow card of the match is shown to Rincon for... I'm not really sure, to be honest. Dissent towards the referee?
Prev.
National hyms are kicking off! Not long to start now!
Prev.
The stage is set at the Maracana stadium! 10 min to kick off!
Prev.
Some surprises in the line-up that will no doubt annoy fans... Dybala is not starting for Argentina, nor is Martinez for Venezuela. Both players have been known to make a difference in their respective clubs, but factors such as youth for the Venezuelan and a surplus of strikers for the Juventus player has meant there is no place for them in the line-ups.
Prev.
Lionel Messi has had a hand in 10 Argentina goals against Venezuela in all competitions (four goals and six assists); the joint most he has been involved in against any national team (also 10 v Paraguay).
Prev.
Venezuela are unbeaten in their past three games against Argentina in all competitions (W1 D2), having lost 20 of the previous 21 clashes (W1).
Prev.
Of the teams to make it to the quarter-finals, Venezuela allowed the most opposition shots (46) and attempt the fewest (32) during the group stage.
Prev.
Argentina have beaten Venezuela the five times they have faced them at the Copa America, scoring 28 goals and conceding only three.
Prev.
Argentina starting XI: Armani; Foyth, Pezzella, Otamendi, Tagliafico; De Paul, Paredes, Acuna ; Messi, Aguero, Martinez.
Prev.
Venezuela starting XI: Farinez; Hernandez, Chancellor, Mago, Rosales; Moreno, Herrera, Rincon; Machis, Murillo, Rondon.
Prev.
Team news and line-ups to come!
Prev.
This is the first time Messi comes back to the Maracana stadium since the 2014 World Cup loss, and he will no doubt be looking to make amends after that painful blow.
Prev.
Hello and welcome to our live, minute to minute coverage of tonight's Copa America clash!