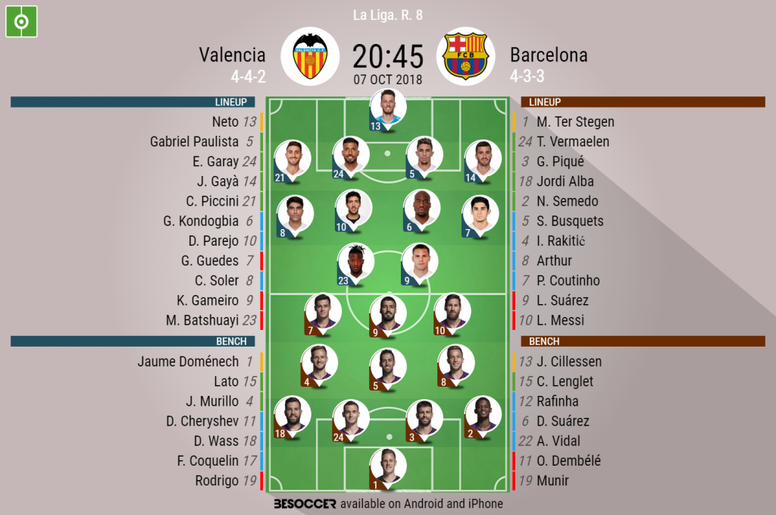 Valencia V Barcelona - As it happened.
Post.
That's all from us, goodnight!
90'
That's all from La Mestalla! Valencia 1-1 Barcelona! Messi and co were frustrated by Valencia in the second half, as they couldn't create a single clear opportunity.
88'
Arthur is taken off, and Rafinha is brought on.
87'
A superb tackle by Garay as Lionel Messi was breaking at speed towards the Valencia goal.
84'
Ousmane Dembele comes on for Coutinho as Barcelona seek out a winner.
83'
Denis Cheryshev has a very speculative shot towards Ter Stegen's near post, which the German collects easily.
80'
CLOSE! Messi is played in with a chipped through ball, but his shot from a tight angle flies the wrong side of the post.
79'
Kondogbia is removed for Francois Coquelin.
78'
Luis Suarez goes down in the box, and VAR will review this... but they're not interested.
78'
Ivan Rakitic pelts the ball into the referee's head, who is forced to apologise to the Serb.
75'
WHAT A TACKLE! Messi and Suarez combine to open up some space, before playing in Philippe Coutinho - but the Brazilian is tackled by Gaya when he surely would have scored!
72'
It could, but he fires the ball about a foot over the bar. Neto wasn't too worried there.
71'
Busquets is dragged down 35 yards from goal - could this be a chance for Messi?
69'
It's so impressive to see Valencia pressing agressively at this stage, particularly after such an intense game behind them.
67'
Kevin Gameiro has been lively, but he is replaced by Rodrigo Moreno.
66'
It's gotten a little bit scrappy, as Barcelona continue to dominate possession to no real outcome.
61'
It's Kevin Gameiro again, as he lashes a speculative shot well wide of Ter Stegen's near post from a tight angle.
58'
A yellow card apiece for Dani Parejo and Philippe Coutinho, as the Valencia player pulls the Brazilian back, and he swings a wild arm in response.
57'
Kevin Gameiro breaks at speed, but his shot is well blocked.
56'
Valencia are under the cosh here, but they are working so hard in defense. Unless they get tired, or Barcelona produce something as special as their first goal, it's hard to see thir result changing.
55'
Messi drives forward, trying to force a chance, but in the end he shoots from a very tight angle and Neto gathers easily.
50'
Coutinho curls one straight into the gloves of Neto from 20 metres out.
48'
CLOSE! Cheryshev tries a trivela from outside the box, and it flies less than a foot wide with Ter Stegen motionless!
46'
We're back here, as Barcelona kick us off!
45'
Half-time, and it's Valencia 1-1 Barcelona! After stunning Barcelona in the second minute, Lionel Messi's superb goal means that there is nothing to separate these two yet.
45'
Two more minutes until half-time.
43'
Carlos Soler is the latest player to go in the book after a high boot on Jordi Alba.
41'
In a shocking turn of events, Luis Suarez is booked for dissent, chatting just a little too much to the referee.
39'
CLOSE! Valencia are very close to a second! Cheryshev's shot is blocked in the box, and when the ball comes out to Gaya, he fires it just wide!
34'
Luis Suarez makes a mazy run into the box, but at the last moment he misses the ball as he tries to cross.
31'
The Blaugrana are really on top now, as Nelson Semedo wins a corner.
28'
That goal was reflective of Barcelona's problems - they couldn't really get behind Valencia's back line, but it doesn't matter when you have Lionel Messi on your team.
23'
GOAL! MESSI! 1-1! A superb finish by the Argentine! He plays a one-two with Luis Suarez on the edge of the area, before driving a rasping shot just inside the post of Neto!
22'
Barcelona have a penalty appeal - Luis Suarez goes down just inside the box, but after VAR reviews the call, it's not given.
21'
Barcelona play the ball around threateningly on the edge of the box, but in the end Lionel Messi can only shoot straight at Neto.
17'
Coutinho is offside as he collects the ball in the penalty area. Barcelona haven't been able to penetrate yet.
12'
Valencia forced into an early change, as Guedes is replaced by Denis Cheryshev.
11'
Guedes is down for Valencia, and he's shaking his head - he may have to leave the field here.
9'
Another angle of that corner shows that it was Gerard Pique who headed the ball back for Garay to poke in - a horror start for the defender.
7'
SO CLOSE! Kondogbia curls a 25-yard shot just wide, it's ALL Valencia!
6'
INCHES WIDE! Michy Batshuayi fires a shot about six inches wide from a tight angle!
2'
GOAL! GARAY! 1-0 VALENCIA! Valencia have an early corner, Barcelona completely fail to deal with it and Ezequiel Garay is in the right place at the back post to stab the ball in!
Prev.
The teams are on the pitch!
Prev.
Opta confirming that this is a rare patch of duff form for the Blaugrana...
Prev.
Only half an hour until we get going, get excited!
Prev.
Speaking of form, here's how the two teams have fared in their last five matches. Far fewer wins than we might expect from a fixture of this quality...
Prev.
A surprise start for Thomas Vermaelen in defense for Barcelona, as manager Ernesto Valverde attempts to overturn his sides recent poor run of form.
Prev.
Barcelona will start with this team: Ter Stegen; Semedo, Pique, Vermaelen, Alba; Rakitic, Busquets, Coutinho; Messi, Suarez, Arthur
Prev.
The lineups are in! Valencia will start with the following side: Neto; Piccini, Garay, Gabriel, Gaya; Soler, Parejo, Kondogbia, Guedes; Gameiro, Batshuayi
Prev.
Hello, and welcome to live updates from Valencia v Barcelona at La Mestalla!