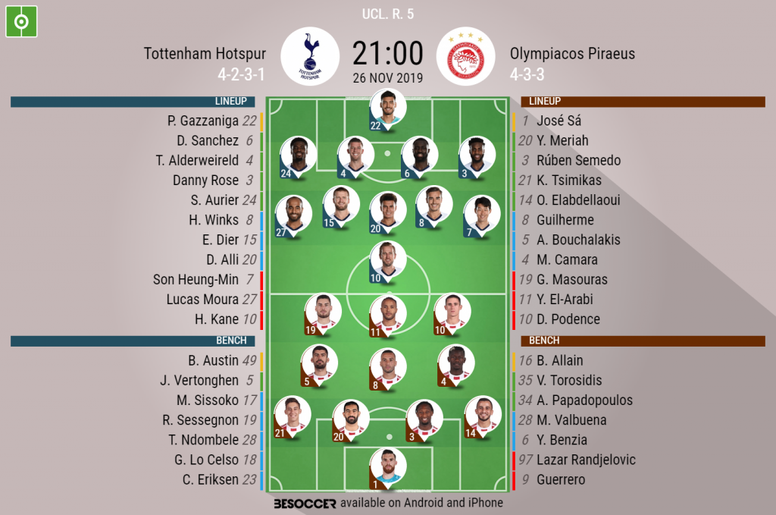 Tottenham Hotspur V Olympiacos Piraeus - As it happened.
Tottenham Hotspur

Olympiacos Piraeus

90'
FT: Tottenham 4 - 2 Olympiacos. What a game! Tottenham claim all three points and secure their place in the Champions League knockout stages. The away side took the lead after 6 minutes through El-Arabi's long-range effort, and Semedo doubled the advantage for Olympiacos 13 minutes later, but Spurs' second half saw them pull three goals from out of nowhere and deliver Mourinho his first UCL victory.
90'
Three minutes of added time!
87'
Bayern Munich are going to win the group at a canter tonight, but the good news for Spurs is that they are going to head to Germany on the final day with their place in the last 16 secured.
85'
Olympiakos substitution: Miguel Guerrero on for Youssef El Arabi, who scored the first goal of the game.
83'
The hosts make their final change of the match as Ndombele replaces Alli in the closing stages. It remains 4-2 with seven minutes of normal time left to play.
79'
Martins decides to make his second substitution of the match following that fourth Tottenham goal as Randjelovic comes onto the field in place of Podence.
78'
Harry Kane record-breaker! Spurs win a free-kick wide on the left for a Podence foul on Dele Alli that left the Spurs man in a lot of pain. Christian Eriksen sends in the cross and it's a beauty. Kane heads home to become the quickest player in history to score 20 Champions League goals.
77'
HARRY KANE MAKES IT FOUR WITH A WONDERFUL HEADER!!!!!!!!
75'
Bookings are flowing for Olympiakos. A harsh tackled to Dele Alli sees him fall to the floor, and Castelo Podence is booked.
74'
Olympiacos respond to going behind by making their first change of the game as Bouchalakis is replaced by Valbuena.
74'
Tottenham lead! Serge Aurier scores with a wonderful strike on the half-volley from one corner of the six-yard box after excellent work by Dele Alli. What a strike from the Ivorian.
73'
GOAAAAAAAAAALLLLLLLLL AURIER!!!! WHAT A SHOT!!!!
71'
Tsimikas catches Aurier from behind as the full-back looked to spin away from him, and the Olympiacos defender is shown a yellow card for that foul.
70'
WIDE! Eriksen takes the free -kick, leathering the ball as hard as he can towards the top corner. The Danish player misses by very little. Spurs could still win this...
68'
Yellow card for Olympiakos' Bouchalakis. It leads to a free-kick, which Eriksen will throw...
65'
Lovely feet from Son after a terrific ball from Eriksen to find him. His full-back is beaten, but this time Meriah does get something on his clearance, with Kane waiting.
63'
Harry Winks is penalised for climbing all over Mohamed Camara while leaping to contest a header. It seems another harsh decision - the Olympiakos midfielder was backing into him.
61'
Yellow card for Alderweireld, which he protests. He's booked for a very innocent foul.
60'
Sissoko replaces Lucas Moura for Spurs. Bit of an odd change there from The Special one.
55'
El-Arabi attempts to send Masouras free down the left with a well-weighted throughball, but the referee's assistant has his flag up for offside against the winger.
52'
But it's not smooth sailing for Spurs yet... Moments before Tottenham scored, Olympiakos almost went 3-1 up, Masouras unable to get a toe to an excellent delivery into their penalty area.
51'
Harry Kane has brought some hope back for the hosts! Tottenham take a thrown in and Lucas Moura runs into space down the right flank after a quick-witted ball-boy ensures the ball goes back into play as quickly as possible. He sends in a cross for Harry Kane, who makes no mistake.
50'
GOAAAAAAAAAAAALLLLLLL! HARRY KANE!!!!!!
47'
Eriksen whips a cross into the area from deep and, with Kane lurking in the centre of the box, Sa rushes out to claim the delivery.
45'
HT: Spurs 1 - 2 Olympiacos. Tottenham go in for the break trailing by the odd goal of three. They've been poor tonight, going two behind to goals from Youssef El Arabi and Ruben Semedo. A giant stroke of luck just before half-time has enabled them to halve that deficit, but Mourinho will have to find a way to correct the frequent mistakes if he wants his first UCL win for Spurs to happen tonight.
45'
Dele Alli brings some hope! An Aurier cross comes into their penalty area from the right and Yassine Meriah takes a big swing at it and misses completely. Standing behind the defender, Dele Alli is in the right place at the right time and taps in from a couple of yards out.
45'
GOAAAAAAAALLLLLLLLL!!!! DELE ALLI!!!
44'
The hosts look to quicken their play with Eriksen sliding the ball into the path of Son on the edge of the away side's box, before the South Korean fires well wide of Sa's goal.
40'
Despite the dangerous, central position, Harry Kane is JUST over. His look shows immediate disappointment.
39'
Yellow card for goalscorer Ruben Semedo. A free-kick insues... Harry Kane will be taking it.
34'
Eriksen looks to send the ball through for the overlapping Aurier, but the Danish midfielder's attempted pass is intercepted by Tsimikas on the edge of the Olympiacos box.
32'
WIDE! Meriah tries his luck from over 35-yards out and his right-footed drive just bounces a few yards wide of Gazzaniga's near post.
30'
The hosts are seeing a lot of the ball at present as they look to force the issue. Winks sends it long but his overhit pass is easily claimed by Sa.
26'
Dier is ruthlessly taken off in favour of Eriksen, who he's will be able to create some chances and score some vital goals. Spurs really struggling here.
25'
There is going to be a brief stoppage in play as Semedo is down and in need of treatment after colliding with Gazzaniga during that earlier free-kick.
24'
Masouras steps up the take the free-kick and, despite being under pressure from Semedo, Gazzaniga manages to do just enough to clear the danger.
21'
Lucas sends a wonderful throughball in behind the away side's defence for Kane to chase, but the Englishman just went a fraction too early and is flagged for offside.
18'
Olympiacos double their lead!!!! Guilherme gets across the first close with no one near him, and his little flick travels past three Spurs players, all on their heels, and into the middle of the six-yard box. Semedo is sharp though, and taps home. Spurs need to wake up to avoid further embarrassment.
18'
GOAAAAAAAAAAALLLLLLLLL!!!!!!!
15'
Better news for Tottenham - Bayern Munich have taken an early 1-0 lead against Red Star in Belgrade through Leon Goretzka. If it stays like that, a point here would send Spurs through.
14'
CHANCE! Rose is brought down by Podence and the hosts win a free-kick in a dangerous area down the left flank. Winks whips it and Son's near-post header is tipped behind by Sa when it looked destined for the bottom right corner.
12'
Son easily skips beyond Elabdellaoui down the left-hand side before his follow-up touch is too heavy and runs into the arms of Sa.
11'
Tottenham are beginning to find their feet after a slow start to the match. Lucas cuts in-field from the right looking to make something happen, but the Brazilian is easily dispossessed by Guilherme.
7'
This means trouble for Mourinho... Tottenham were looking far from comfortable before that and El Arabi has compounded an awful start.
6'
There it is... Olympiacos had been threathening since the very first minute and they've now got the goal to prove it. Very strong offensive side from the Greeks tonight. They take the lead courtesy of a dipping drive from Youssef El Arabi from the edge of the penalty area into the bottom left-hand corner.
5'
GOAAAAAAAALLLLLLLLLLL!!!!!!!
3'
OLYMPIACOS DID NOT COME TO PLAY! The visitors have been pushing hard since the very first second, and have managed to threaten Gazzaniga not once, but twice already. Spurs struggling in the first few minutes as the visitors keep the possession.
Prev.
Meanwhile, Olympiacos will be seeking to bounce back and keep their hopes alive following their 2-0 defeat to Bayern Munich. Will Mourinho's confidence-boosting performance over the weekend prove enough to ruin the Greeks' hopes?
Prev.
So too is Tanguy Ndombele, who like Jan Vertonghen is back from injury, but only fit enough to be among the substitutes.
Prev.
Ben Davies' ankle injury means Danny Rose comes in at left back, but beyond that it's the same side that began the 3-2 win over West Ham on Saturday. Summer signings Giovanni Lo Celso and Ryan Sessegnon are only on the bench and will have to wait for their chance to try and impress the new boss.
Prev.
A few things to mention in this line-up... It's an interesting one for Mourinho, who once again has chosen to leave Eriksen on the bench, but only makes one change from the team that beat West Ham 3-2 over the weekend.
Prev.
Olympiacos starting XI: Sa, Elabdellaoui, Semedo, Meriah, Tsimikas, Camara, Guilherme, Bouchalakis, Podence, El Arabi, Masouras.
Prev.
Tottenham starting XI: Gazzaniga, Aurier, Sanchez, Alderweireld, Rose, Dier, Winks, Lucas, Alli, Son, Kane
Prev.
Hello and welcome to our minute to minute coverage of this Champions League clash, marking Jose Mourinho's first UCL clash on the bench for Spurs!