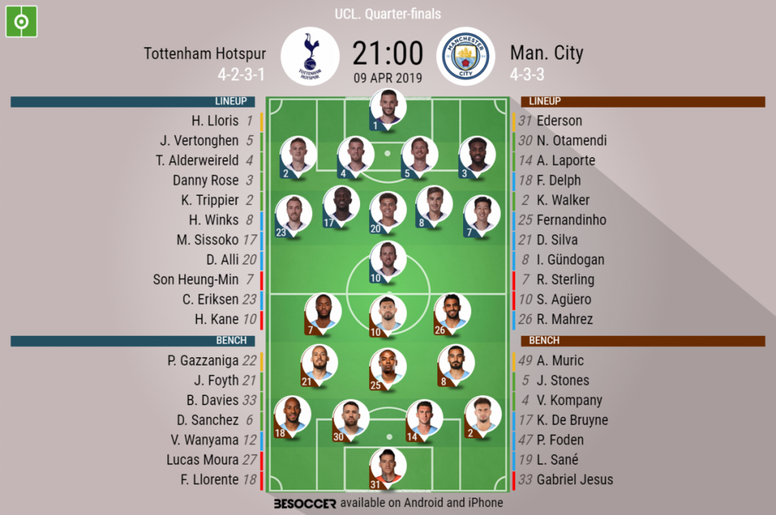 Tottenham Hotspur V Man. City - As it happened.
Tottenham Hotspur

Man. City

96'
FT: Tottenham 1-0 Man City!! It's all over in Tottenham. That was a great game. Very, very even and both teams had their opportunities to score. Aguero had a pen saved by Lloris and when it looked like it would end 0-0, Son recovered a ball that looked to be going out to beat Ederson. They then withheld some City pressure towards the end and Spurs defence was solid all night. Spurs have the advantage, but lost Kane to injury. Thanks for your company and hope to see you again soon!
96'
De Bruyne launches it in, Lloris punches it into the air and then Fernandinho heads it over the crossbar! And that is the end!
95'
Free kick to City! Sane is fouled by Wanyama. Last chance? This is going into the box.
93'
Son looks again for a second! He receives the ball into the box and then tries to beat Ederson. Llorente has his arms because he wanted it squaring.
91'
SIX minutes of injury time! Plenty of time to go
90'
Game stopped here because an unwelcome spectator has come on! He is in the centre-circle and wants a touch of the ball! What are you doing? The crowd have booed him as he leaves and the managers didn't seem too happy.
89'
Man City sub: Sane thrown on for Mahrez. City have not been as dangerous going forward tonight.
87'
Son wants to add to his goalscoring tally! Eriksen plays a cross field ball for Son and the Korean smacks it over. Eriksen and Son have been amazing today.
86'
Tottenham sub: Fernando Llorente is being introduced and Dele Alli, who has picked up a knock has been replaced. Looks like he has hurt his wrist.
84'
Just shown the offside and only Son's arm is offside. You can't legally score with your arm so the goal was given.
83'
The home crowd are in full voice now. 1-0 would be a fantastic result for Pochettino's team. A goal at the Etihad would mean City would need 3.
82'
I think it's a bit cruel on City, but in these even games, one moment usually decides it. Aguero missed the pen and Son netted when it looked like the chance had gone.
81'
Tottenham sub: Wanyama on for Winks.
79'
Man City wanted offside and they thought the ball had gone out after his miscontrol, but it certainly hadn't. He was also in line so no offside. The VAR confirms it.
78'
Son scores!!!! Against the run of play!! Moura wins the 50:50 ball to start with, the move develops, Eriksen sends in a ball for Son, he miscontrols it before cutting inside and striking it under Ederson's body.
76'
Man City again and Walker wants a penalty for handball by Rose. It hits him on the arm, but it's by his side. Never a penalty. Son down injured.
75'
Mahrez's ball in either touches Jesus or Aldeweireld last. The Brazilian asks for a corner, but the referee doesn't grant him it.
74'
The last 15 minutes have calmed down a lot after the frenetic start to the second period. Man City look to be trying more. However, 0-0 looks the most likely result.
73'
Delph has a pop from long range but it ends up turning into a cross which no one can reach. Silva tried his best, but in vain.
71'
Man City substitution: Aguero is subbed and Jesus comes on. Aguero is disappointed. He was a doubt for the game and his penalty got saved.
70'
This looks like this will finish 0-0. Alli saw a shot on goal blocked after a defensive error.
68'
Alli fouls Gundogan with his knee. Erikssen not happy with the referee, but it was obvious.
66'
Vertonghen clearly fouls Walker, but nothing given inexplicably.
64'
Sterling again with another run before being tackled. He is trying to find space in the Spurs defence.
63'
Danger for Spurs, but the flag is up! Silva strayed offside when he controlled Sterling's pass. Raheem took the wrong option there.
61'
Both teams are showing attacking intent, but the defences look very strong. The goalies have maybe had to make one or two saves each. Of course, Lloris had to save a penalty.
60'
Trippier's ball into the area is headed for a corner. Ederson still not 100%. No success from the resulting set-piece.
59'
Moura is fouled from behind by Mahrez when the Brazilian was heading for the area.
57'
Tottenham sub: Harry Kane off and Lucas Moura on. Kane's ankle is absolutely crushed by Delph's boot.
56'
Harry Kane is in major trouble. Delph kicks the ball and steps on Kane's ankle in the follow through. That was horrible and the Spurs striker has gone straight down the tunnel. He could not even plant his left foot on the ground. Not intentional I must add.
55'
Sterling is fouled by Sissoko in the centre-circle.
52'
Ederson is down here now. A ball goes into the box looking for Alli, Ederson comes out and claims it as well as bumping into Otamendi. He fell awkwardly on his side and he is receiving treatment.
51'
Both teams could score here. The tempo seems to have picked up since the break.
49'
Son forces Ederson into a save after Gundogan was dispossessed by Kane. What a start to the 2nd half
49'
Mahrez scuffs his effort and they got another one
48'
Son replies at the other end! He tries his luck from 25 yards out and it goes just wide of the upright.
47'
Sterling has the first opportunity of the second period! Gundogan spotted Aguero on the far side, the Argentine then sent it to Sterling at the far pot, who took a touch before firing at Lloris.
46'
Welcome back everybody! No changes and Spurs have got us back underway.
45'
HT: Tottenham 0-0 Man City! Half time in London. Man City controlled the first 15 minutes and missed a golden opportunity from the penalty spot after Rose handled in the area. After the penalty save, Tottenham looked the more dangerous although City continued to attack. Even first half and 0-0 is a very fair score. Join us shortly for the second half.
45'
Controversy over the penalty. Vertonghen had encroached in the area before Aguero took the spot kick and he was the first to clear. Wasn't far in, but he gained an extra yard.
45'
Aguero wide! The Argentine picked up possession on the edge of the box and shoots wide.
45'
Aguero wide! The Argentine picked up possession on the edge of the box and shoots wide.
45'
2 minutes of stoppage time.
43'
Rose forces another corner! Rose is causing problems down City's right! He is playing very well bar the handball. Alli gave him the ball.
42'
Rose goes for goal, but the ball is comfortable for Ederson
41'
Free kick to Spurs! Sterling pulls Son and almost carried on into the box. Took a chance there!
40'
Bit of handbags here! Fernandinho fouls Kane, the City man fell on him and Kane wasn't too happy with it. Nothing major though.
39'
Spurs have had the upper hand in the last 10 minutes. Aguero just fires wide. Lloris hasn't had much to do since the penalty.
38'
What are City doing?? They are playing games in their own box while Spurs close them down. The goalie was passing with his defenders inside his own area. Madness. Laporte's heart skipped a beat playing that game.
37'
The free kick hits the wall, the second shot is also blocked and after a bit of pinball, Alderweireld strikes it towards goal, but a sliding Walker blocks it with his back.
36'
Harry Kane is felled by Otamendi. Dangerous position here.
35'
Nice run by Sterling now before he is dispossessed by a defender. Just before that, Kane could not direct a Trippier cross on target.
34'
Looks quite an even game this one!
33'
Fernandinho fouls Erikssen. Just a free kick given.
31'
Gundogan's free kick was headed at the far post by Otamendi straight to Lloris.
30'
Rose now gets a corner after a good run down the near side.
29'
Tottenham on top now! Erikssen hit Sterling in the wall, the ball finally broke for Winks who couldn't find the target.
28'
Booking for Laporte after bringing down Dele Alli. He was frustrated he lost the ball. Clear.
27'
Nice build up play by the away side! Aguero feeds Mahrez, but Rose fends him off.
24'
What a save by Ederson to deny Harry Kane! Dele Alli starts it with a run to the by-line, Alli is fouled, the ref plays advantage and Erikssen flicks for Kane. The Englishman then shot from inside the penalty area and Ederson dived to make a tremendous stop.
23'
Kane passed for Son in the box, the Korean looked to be in a dangerous position, but it came to nothing.
21'
Man City still have more possession and territory here, but the game looks to have calmed down a bit.
19'
Don't forget City have missed out on a potential away goal. That could be costly later on.
18'
Looking at it again, Rose does have his arm a bit higher than he needs to have it really.
17'
Tottenham attacking now and the City defence are forced to clear. Man City have definitely started the game better, but the penalty save has lifted Spurs.
15'
Now Alli goes down wanting a penalty, but nothing given. Doesn't look anything to be honest. Kane went down and he felt he was fouled. Don't agree.
13'
Rose was booked by the way. His arm was up, but could have been deemed accidental. Not a very obvious penalty.
13'
Aguero steps up and Lloris saves it!!!! The goalie dives to his left and keeps it at 0-0! The penalty wasn't great to be honest.
12'
He's given it!!! Penalty to Man City!
11'
His arm is up as he dives and he could be in trouble.
10'
Man City threaten again! Sterling makes a superb run into the box, he shoots, but Rose blocks it for a corner. We have VAR!!!! For a handball by Rose!
8'
Spurs have their first shot now! Dele Alli attempts to volley Sissoko's cross, but he hits it too hard and Ederson just watches it go over.
6'
Mahrez's cross was deflected by Rose for a corner. The Algerian's corner was then cleared.
4'
Trippier fouls Sterling. City with more possession so far.
1'
First chance for City! Sterling passed for Silva from a Delph throw-in and he hit wide. I think he was just off.
1'
Otamendi smacked the ball straight against Kane, it looped up and Ederson had to claim inside 10 seconds.
1'
Man City get us underway in their purple kits with orange shorts!
Prev.
The players are out on the pitch! The anthem has sounded and the teams are shaking hands.
Prev.
It's 10 degrees in London, there is an amazing atmosphere in the sparkling new stadium and this is the first time these two are meeting in European competition.
Prev.
Not long until kick off here now.
Prev.
Bernardo Silva complained of a thigh injury in training and so he has not been risked.
Prev.
Mahrez also starts in place of Gabriel Jesus, Kevin de Bruyne drops to the bench and Bernardo Silva is not in the 18.
Prev.
Tottenham's only change from last time out is Harry Winks replacing Ben Davies.
Prev.
This is the first Champions League night at the much awaited new stadium. Tottenham opened the stadium last week with a 2-0 victory over Crystal Palace
Prev.
Sergio Aguero is back for the away side. He went off injured at Fulham 10 days, but he returned to training yesterday. He only missed two matches.
Prev.
We have a Dutch refereeing team for tonight's game. Bjorn Kuipers is the man in the middle and Pol Van Boekel is in the VAR van.
Prev.
Pep Guardiola fields the following side: Ederson (GK); Delph, Otamendi, Laporte, Walker; D Silva, Fernandinho, Gundogan; Sterling, Aguero and Mahrez
Prev.
The line-ups are now in! The home XI: Lloris (GK); Rose, Vertonghen, Alderweireld, Trippier; Son, Winks, Alli, Sissoko, Eriksen; Kane
Prev.
Good evening and welcome to live coverage of the Champions League quarter-final 1st leg tie between Tottenham and Manchester City from the new Tottenham stadium. It should be a cracker! Stick around for all the pre-game info.