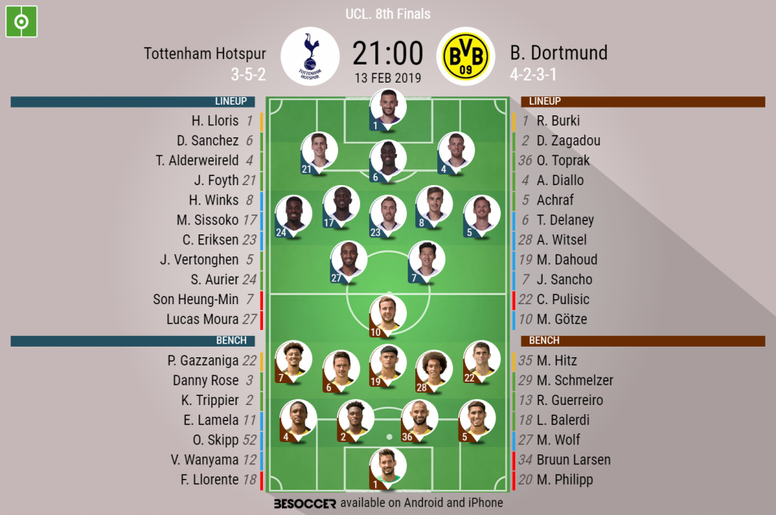 Tottenham v Borussia Dortmund - As it happened
Tottenham Hotspur

B. Dortmund

92'
Thanks for following our live coverage, we hope to see you again soon!
92'
FT: Tottenham 3-0 Borussia Dortmund - A game of two halves, it's fair to say. After a close opening 45 minutes, in which Dortmund had been slightly the better side, Tottenham turned the switch in the second half. Son opened the scoring after less than two minutes, and suddenly Spurs completely dominated proceedings. A quick-fire double late on made it three, with Vertonghen and Llorente both finding the target. Dortmund have a mountain to climb in the second leg.
92'
And the referee blows the final whistle!
91'
Victor Wanyama is on for Sissoko as Pochettino looks to see this one out.
89'
Son comes off to a standing ovation - he's deserved that. On comes Erik Lamela.
87'
Dortmund make a double switch, with Raphael Guerriero and Jacob Bruun Larsen coming on for Sancho and Pulisic.
87'
GOOOOAAALL FOR TOTTENHAM!! It's raining goals in London! This time it's Fernando Llorente - he heads in an Eriksen corner, getting there ahead of Schmelzer, who can't jump quite high enough.
84'
Fernando Llorente is on for Lucas Moura, who has been fairly quiet today.
83'
GOOOOAAAALLL FOR TOTTENHAM!! Vertonghen doubles the lead - what a game this man has had! Sissoko whips a ball in from the right and the Belgian evades the Dortmund defence to side-foot home. So similar to Son's goal! Dortmund need to do something, 2-0 is not a good scoreline to be taking back to Germany.
80'
Fernando Llorente seems to be getting ready for Spurs.
76'
Dortmund make the first change of the game, with Marcel Schmelzer coming on for Zagadou.
75'
Lucas goes close for the home side! He lets fly with a volley inside the area but it's blocked for a corner. Suspicions of handball? It seemed to come off Delaney's elbow, but nothing's given.
70'
Still all Spurs. They haven't had a chance for a few minutes though.
66'
And to think they still have Kane and Alli to return for the second leg! Things can all change in a moment though...
65'
Spurs have looked so much better in this second half. What did Pochettino say to them at half-time?
63'
Vertonghen sends in another tasty cross for Son, this one is just cut out. Maybe the Belgian should just become a winger full-time?
61'
What a chance! Eriksen evades the offside trap with a well-timed run and finds himself through on goal. He tries to send a cross in to Son in the middle but Zagadou dives in to clear with his head. Maybe Eriksen should have shot there!
59'
Vertonghen, who is certainly enjoying his role as wing-back, slaloms through the Inter defence before swinging in a right-footed shot on goal. It flies high and wide. Full marks for effort though.
53'
Thomas Delaney hacks Son down and receives a booking. Free-kick in a very promising position for the hosts. Eriksen stands over it...
49'
Got to admire that ball in from Vertonghen. He's supposed to be a centre-back!
47'
GOOOOOAAALL FOR TOTTENHAM! That didn't take long! Eriksen robs Achraf Hakimi of possession, and Jan Vertonghen whips in an inch-perfect cross for Son, who volleys home with aplomb.
45'
HT: Tottenham 0-0 Borussia Dortmund - An intriguing first half, and one the visitors have edged. Chances have been limited for both sides, but Dortmund had a huge chance to lead just before the break, with Zagadou heading too close to Lloris from six yards. All to play for in the second period!
45'
Chance of the game so far! Sancho dinks the ball in and Dan-Axel Zagadou rises above Foyth to head towards goal, but Lloris produces a fine reflex save to keep it out.
42'
A goalless draw may not be the worst thing for Spurs. They're missing two of their best players in Harry Kane and Dele Alli, and the result would mean Dortmund don't take any away goals back to Germany.
39'
Replays are showing there was the faintest of touches by Sissoko on the young Englishman. Not sure if it was enough to send him flying to the ground like that though...
38'
Jadon Sancho surges forward and is tripped just outside the area. Or is he? The referee gives nothing. Cue widespread complaints from the Dortmund players.
36'
And now Dortmund have a chance! Thomas Delaney's low shot is parried straight back into the area by Lloris. Luckily for him, it falls to a Spurs defender.
35'
Foyth of all people goes on a gallop down the right flank before squaring for Eriksen, who flicks a first-time effort over the bar.
33'
Son takes aim from the edge of the box, but his side-footed effort is blocked. Better from the hosts.
30'
Just as I say that, Eriksen does get a touch. And it's a woeful one, as he balloons a cross over everyone's heads.
29'
They need to get Christian Eriksen into the game though. The Dane has barely touched the ball so far.
27'
Bit of possession for Spurs now. They need that after a ropey few minutes.
23'
Dortmund looking the more likely to open the scoring so far. Again Pulisic finds himself in a promising position but this time his shot is blocked.
22'
Jadon Sancho is looking lively down that right flank for Dortmund.
21'
Axel Witsel has a go from the edge of the area - his low strike evades the crowd of players in front of him but not Lloris, who saves.
20'
Free-kick for Pulisic near the corner flag...
18'
And yet we haven't seen much goalmouth action so far.
16'
For you neutrals out there, Dortmund have never failed to score against Tottenham in European competition (4 games). And given the way Spurs like to play, we should see goals today.
12'
Serge Aurier with a cheeky pull of Christian Pulisic's shorts there. Definitely deserved a yellow. And maybe a couple of nights in jail too...
11'
Tottenham enjoying most of the ball in the last five minutes, but it's all rather slow. Corner for Eriksen now though...
6'
Lucas goes close with a half-volley! He hits it while it's high in the air, and the ball flies just high and wide of the upright.
5'
Both teams enjoying decent spells of possession.
Prev.
Everyone's in their positions, here we go...
Prev.
The players are out and warming up. Kick-off isn't far away!
Prev.
Wembley looking ready for the occasion!
Prev.
With Marco Reus and Paco Alcacer absent from Dortmund's travelling squad, Mario Gotze fills the void up front. He will be playing as a lone striker, but should receive support in attack from Jadon Sancho and Christian Pulisic, who occupy the visitors' wings.
Prev.
So Mauricio Pochettino opting for an unusual 5-3-2 formation, with Son Heung-min parterning Lucas Moura up front. Jan Vertonghen is deployed in a left wing-back role due to fitness concerns over Danny Rose, who only makes the bench.
Prev.
And this evening's visitors, Borussia Dortmund: Bürki; Hakimi, Toprak, Diallo, Zagadou; Delaney, Witsel; Sancho, Dahoud, Pulisic; Götze.
Prev.
Time for some team news, starting with our hosts, Tottenham: Lloris; Aurier, Alderweireld, Sánchez, Foyth, Vertonghen; Winks, Sissoko, Eriksen; Lucas, Son.
Prev.
Hello and welcome to our live coverage of tonight's Champions League clash between Tottenham and Borussia Dortmund!