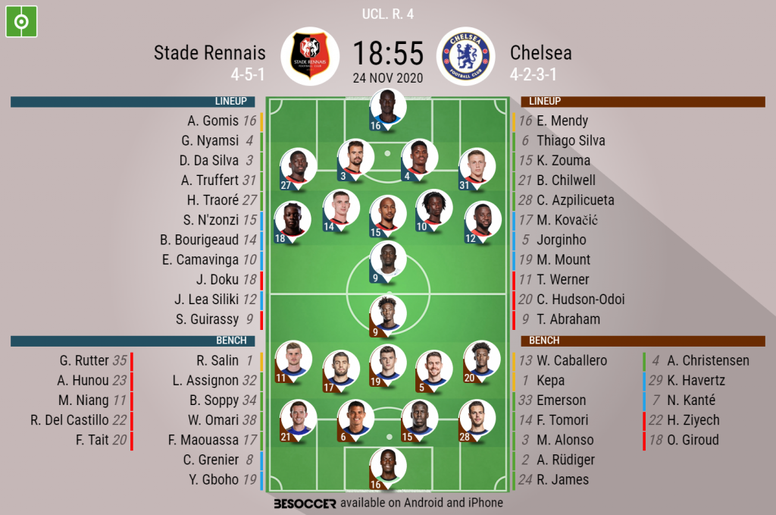 Stade Rennais V Chelsea - As it happened.
Stade Rennais

Chelsea

Post.
So, Olivier Giroud to the rescue again for Chelsea - no wonder he wants more minutes! The Blues dominated the first half and should've been three up at the break. Stade Rennais grew into the game to their credit and were good value for their equaliser in the end but a cruel Giroud equaliser condemns them to defeat and sends Chelsea through to the knockout stages again.
95'
FT: Stade Rennais 1-2 Chelsea
92'
Reece James is on for Werner.
91'
GOAL CHELSEA!!! Werner was played in and missed another sitter after a superb Gomis safe but Giroud leaps above everyone else in stunning fashion to head the rebound beyond the defenders and Gomis in the Rennes net. Chelsea will qualify if it stays like this!
90'
Ziyech clears it long and Giroud can't get onto the loose ball.
89'
Ziyech blocks the Del Castillo cross and Mendy scrambles to prevent the corner.
88'
Superb ball in from Ziyech find Chilwell unmarked six yards out but the England Defender takes a bizarre decision to head it down into the ground and Gomis saves with ease. Awful from Chilwell.
87'
Greunier is booked for his tackle on Kante.
86'
That was Guirassy's last touch as Niang comes on to replace him.
85'
GOAL RENNES!!! Guirassy heads home from the corner unmarked with a huge amount of power that leaves Mendy hopeless! A stunning jump and a stunning header to direct the perfect cross home.
85'
Silva knocks it behind for a corner.
84'
Cross comes in from Traoré and is cleared by Silva - Rennes have it back.
83'
Ziyech tries to beat Trouffert but the Frenchman tackles with ease.
81'
Jorginho steals it off Rennes but Havertz slows down the counter to try and control the play.
80'
Kante puts it down the channel but there is too much on it and it goes behind for a goal-kick.
79'
Giroud lays it off the Ziyech inside the Rennes box but he can't control it and Rennes recover.
79'
Chelsea are in a better area and looking more likely now.
78'
Duardo Camavinga is off for Clément Grenier in the Rennes midfield.
77'
Camavinga's cross is beyond Del Castillo and out for a goal-kick after Rennes won it back.
76'
Ziyech wins it off Del Castillo down in the left corner.
75'
Ziyech on for goalscorer Hudson-Odoi and Kai Havertz replaces Kovacic in midfield.
74'
Mendy makes a great save to stop the Nyamssi header on the line and hold it too!
74'
Mendy makes the save down at his near shot to turn Gyassi's toe punt of a pot shot behind - corner.
73'
Rennes win the free-kick.
73'
Camavinga has his shot blocked.
72'
Gyassi is nearly in but Zouma just about manages to get it away for now at least.
71'
Comfortable stuff from Chelsea before Mendy sends it long for some strange reason and gives it away.
70'
Mendy comes well out of his box to clear it long under a lot of pressure.
69'
Giroud instantly wins the free-kick before even touching the ball.
68'
Kante and Giroud on for Mount and Abraham.
68'
Doku really should've done better as it rolls off his foot and out for a Chelsea throw.
67'
Del Castillo misscontrolls it and Chelsea have the goal-kick.
66'
Del Castillo puts it through the legs of Zouma with his cross but the Blues get it away in the end - still with Rennes.
65'
Rennes win the throw inside the Chelsea half.
64'
Abraham goes down inside the box but the free-kick goes the other way for a shirt pull.
63'
Del Castillo is on for Lea-Saliki on the left-hand side.
63'
Mount's delivery is flicked away but Chelsea retain possession.
62'
Nyamsi clears an awkward Chilwell cross out for a Chelsea corner.
61'
Azpilicueta lost it just inside the edge of the Rennes box.
60'
Abraham is tackled right on the edge of the area mid-turn by Nyamsi.
60'
DaSilva heads away a Chilwell cross.
60'
It breaks down after Rennes commit the foul.
59'
Chelsea win it back and look to counter after Doku's slipped ball through goes astray.
58'
Superb Lea-Siliki press earns them a throw right in the Chelsea corner.
57'
Chelsea have it back and are putting together some nice build-up play now inside the Rennes half.
56'
Guirassy flicks it over his shoulder and behind for a goal-kick in the end.
55'
Diving Chilwell header away and another corner for the French side...
55'
Silva heads away and Abraham puts it behind for another corner.
54'
The shot from Doku is deflected behind by Thiago Silva for a corner.
53'
A good passage of play from Rennes but Chelsea have now managed to press them back out of their half.
52'
Poor Hudson-Odoi touch after a great ball forward from Chilwell.
51'
Mount tries to slip it into Werner but N'Zonzi pinches it back off them.
51'
And another one for the Blues...
50'
Guirassy barely catches Azpilicueta and gives away the foul.
49'
Sloppy again from Chelsea too though as they hand it back to Rennes and have to volley away a Lea-Siliki cross.
48'
Truffert passes it down the line straight to Azpilicueta.
47'
The ball is in the net but it won't count! Werner headed in a clipped Jorginho cross but he was a good yard offside.
47'
Zouma breaks it up but can only heave clear - Rennes have it back.
46'
We are back underway at the Stade Rohazon!!!
45'
HT: Stade Rennais 0-1 Chelsea.
45'
The cross is scuffed and headed away by Chilwell.
45'
The free-kick from Bourigeaud is deflected just wide for another late Rennes corner.
45'
Guirassy wins a free-kick right on the edge of the box in a good position.
44'
Mendy's goal-kick goes straight back to Rennes in midfield as they look to build another chance from this good period they've been having.
43'
Mendy gets a palm on it before the second ball-in goes behind for a goal-kick.
42'
Another Rennes corner as Doku's cross is blocked behind by Chilwell.
42'
This time the ball to the far post is headed goalwards for Mendy to punch away with apparent ease.
41'
Headed away but then Rennes come and Chelsea put it out for another corner.
40'
MASSIVE RENNES CHANCE!!! Chilwell plays Guirassy in on goal but he can't capitalise and tries to play it across before Silva gets in to recover it for Chelsea.
39'
Mendy comes out to claim it again.
39'
Guirassy turns and takes the snapshot - Mendy saves with ease down to his right. Better from Rennes.
39'
Chelsea throw it straight back to their opponents on the far side - poor again from Werner.
38'
Chelsea pinch it and play out well.
36'
Camavinga shanks it high and wide from miles out.
36'
Doku gets to a speculative through ball over the top but his cross is blocked by Silva.
35'
Guirassy tries to beat Jorginho but instead hands Chelsea a chance to counter...
33'
Traoré high foot catches Abraham.
32'
Great work down the right from Doku before his cross bounces off Zouma and falls to Lea-Siliki from 10 yards out who fires his snapshot over.
31'
Rennes have it back and are looking to work something around the Chelsea box now.
30'
Kovacic shoots over by a mile.
30'
Unbelievable stop from Gomis after Chilwell's first cross was blocked and the Frenchman gets back across to clear away the rebound in an instant! He got back from six-yards out to claw it away!
29'
Mendy claims the Doku cross.
28'
Abraham gets it clear for a Rennes throw.
28'
Hudson-Odoi slides in as Rennes look to get around the back of the Chelsea defence and earn a corner.
27'
Abraham can't catch the chipped through ball and it goes behind for a goal-kick.
26'
Chelsea smother Lea-Siliki on the far side - every time Rennes build anything Chelsea press in an instant.
25'
Chelsea are back in possession mode despite a fairly high Rennes press.
24'
Another Chelsea free-kick inside their own half as Azpilicueta goes down again.
22'
GOAL CHELSEA!!! The Blues catch Rennes on the counter- a brilliant tackle and ball forward from Mount plays in Hudson-Odoi to run in and slide it underneath the keeper. All too easy for Chelsea...
21'
N'Zonzi tried to send it long but it is flicked on and out of play. Rennes retain possession though.
20'
Out of play for a Chelsea throw on the far side - the English side keeping it all very simple here for now.
19'
Chilwell wins the free-kick that Chelsea take quickly just inside the Rennes half.
19'
Chelsea are trying to slow things down, stringing the passes together and making Rennes run.
18'
Werner pressure Gomis into a long clearance to win the ball back for Chelsea.
17'
Gomis comes out of his goal to head the through ball clear under pressure.
16'
Not that much ease... Another poor touch from Werner as the Blues lose it again.
15'
Mendy claims in the end and Chelsea come forward with ease.
15'
Zouma heaves a cross out for a corner.
14'
Rennes look to counter but Chelsea recover. The French side are holding it in a good area inside the opposition's half.
13'
Silva wins a smart free-kick off Camavinga just inside the Rennes half.
13'
Mount and Abraham exchange passes on the counter but the striker flicks straight into a Rennes defender.
12'
Great counter-press from Rennes earns them a throw-in an attacking area.
11'
Guirassy wins the free-kick.
10'
Chelsea win it back in a flash but Werner misscontrols it to hand possession back.
10'
Rennes are enjoying some possession here but a good Chelsea press has forced them back inside their own half.
9'
Chilwell stretches to keep in in play but can't get there and Rennes have a throw on halfway.
8'
Lea-Saliki is caught late and wins the free-kick.
8'
Hudson-Odoi beats a couple of men well but his pass goes astray.
7'
Chilwell's cross is headed away by Da Silva.
6'
Mount's ball in is headed across the face by Zouma and cleared away.
5'
Good Chelsea move around the edge of the Rennes box ends in Hudson-Odoi winning a corner on the far side.
4'
Somehow Timo Werner misses from six yards out! A superb ball across from Hudson-Odoi and the German shoots over first time.
3'
Azpilicueta breaks up a Rennes attack and Chelsea have it back.
3'
Chilwell got in and tried to put it across to Abraham but Rennes get it clear.
2'
Chilwell volleys it out for a throw.
1'
Brilliant touch from Camavinga early on as he scoops it back to his keeper with his heal.
1'
We are underway at Rohazon Park!!!
Prev.
Not long to go now in France, the players are out and we are nearly underway!
Prev.
Important to remember that Chelsea can wrap up qualification tonight if Krasnodar fail to stun Sevilla and Lampard's side get the job done here.
Prev.
Rennes also name their normal team apart from a first start of the season being handed to Gerzino Nyamsi in defence. He is brought in to bolster the back-line in face of an injury crisis for the French club.
Prev.
So, Frank Lampard has named a strong squad here in France. Ziyech, Havertz, and Giroud are notably on the bench, but the rest is pretty strightforward.
Prev.
Rennes: Gomis; Traoré, Da Silva, Nyamsi, Truffert; Bourigeaud, Nzonzi, Camavinga; Doku, Gurassy, Lea Siliki Subs: Salin, Omari, Grenier, Niang, Maoussa, Gboho, Tait, Del Castillo, Hunou, Soppy, Rutter
Prev.
Chelsea: Mendy; Azpilicueta, Zouma, Silva, Chilwell; Kovacic, Jorginho, Mount; Hudson-Odoi, Abraham, Werner Subs: Kepa, Emerson, Rüdiger, Alonso, Christensen, Kanté, Caballero, Tomori, Giroud, Ziyech, James, Havertz
Prev.
Thanks for joining me at Rozahon Park as Stade Rennais take on Chelsea in the Champions League group stages, team-news is on the way!