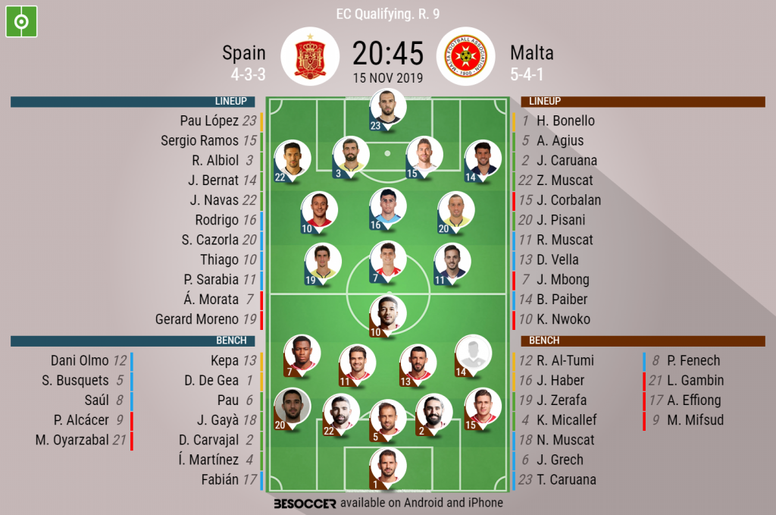 Spain V Malta - As it happened.
Post.
As always, thank you for joining us tonight! See you soon for some more football!
90'
FT: Spain 7-0 Malta. Spain dominated throughout the game and thrashed Malta 7-0. They led 2-0 at half-time through goals from Morata and Cazorla but really started to pile on the pressure after the break. Torres and Olmo both came off the bench to score on their debuts, with Torres' happening just seconds after coming onto the pitch. Sarabia and Moreno, who also got three assists this games, also added to the tally before Navas finished the scoring.
90'
Two minutes of added time. Seven different goalscorers for Spain tonight!
87'
GREAT CHANCE! Malta give the ball away on the restart once again and it falls to Alcacer in the box. He pulls away from his defender and tries to chip his shot over the keeper, but there isn't enough dip on it as it lands on the roof of the net.
85'
GOAAAAAAAAAAALLLLLLL!!!!! Once again, Thiago catches out the Malta defence as plays his corner short to Navas who was waiting on the edge of the box.
82'
OFFSIDE! Spain take a quick free-kick and Sarabia chips the ball over the defender to Alcacer. The keeper comes out to close him down but he squares it to Moreno who taps it into the empty net, but the flag had already gone up for offside
78'
Spain finally settle down a little bit after an intense scoring period. Impressive display from the youngsters, who have practically gotten one goal each.
72'
MORENO HAS HIS GOAL! He's already got three assists and now he's on the scoresheet! The goalkeeper is drawn towards the ball which leaves Moreno with an open goal to aim for as he taps it into the back of the net. 6-0 Spain!
71'
GERARD MORENO GETS THE 6TH!!! Spain are crushing Malta now!
68'
DANI OLMO SCORES THE FIFTH!!!!
65'
Alvaro Morata comes off for Dani Olmo, and he also gets another standing ovation!
64'
THEY HAVE FOUR! Sarabia drifts into the box from the left and it's a great finish from him. He curls his effort over the goalkeeper and into the top left corner of the net. 4-0 Spain!
64'
Rowen Muscat has been replaced by Triston Caruana.
63'
AND SARABIA ADDS ANOTHER ONE!
62'
GOAAAAAAAAALLLLL FOR PAU TORRES WHO JUST MADE HIS DEBUT! He's been on the pitch for seconds and he's already got a debut goal! The flicked pass onto him took out the keeper and he simply had to chest it into the goal from just in front of the line. 3-0 Spain!
61'
Captain Sergio Ramos comes off for Pau Torres.
57'
OFF THE LINE! Bonello was quickly off his line to get a hand to Moreno's header in the middle of the box but it only went as far as Sarabia. He had an open goal to aim for but Caruana made a brilliant block on the line.
55'
Spain are keeping the ball really well at the moment but Zach Muscat gets across well to win it from Thiago. It bounces up and hits his hand though and Malta don't have the chance to counter.
50'
Santi Cazorla gets a standing ovation as he is replaced by Paco Alcacer.
45'
HT: Spain 2-0 Malta. The Spaniards' possession is allowing them to create a lot more chances, despite their lack of chemistry at the moment. Robert Moreno does not have his work cut out for next year... But for now, Spain has nothing to worry about after goals from Morata and Santi Cazorla. See you in 15!
43'
WHAT A MISS! It's yet another great cross into the box from Sarabia as he drills it low towards the far post. Moreno is running onto it and somehow manages to push it just wide of the near post from very close range.
41'
CAZORLA MAKES IT TWO! He pulls away from his defender on the edge of the box and takes a touch before hitting his shot past the keeper and off the inside of the post to get his goal.
40'
GOAAAAALLLLL SANTI CAZORLA!
39'
Malta's efforts are not enough at the moment. Their passing are letting them down when they have the opportunity to move out of their own half.
35'
Corner for Spain and Sarabia tries to take the shot. It's poorly taken as he scuffs the ball and swings it towards the flag.
32'
Micallef comes on for injured Juan Carlos Corbalan.
28'
OFFSIDE! Moreno latches onto the loose ball at the far post after Bonello's save and fires his shot over the keeper, with a touch off Morata, and into the far side netting. He's already started celebrating but the linesman's flag has gone up for offside and it's disallowed.
27'
GREAT SAVE! Ramos rises highest to get on the end of Cazorla's cross and heads his effort down into the ground. Bonello gets down quickly and palms the ball off the line to deny him.
23'
A corner leads to the first goal of the match after a bit of a messy action by the Spanish offensive. It's not the prettiest of goals, but it's enough for the local crowd to go crazy after Malta defends poorly. Spain lead the way.
22'
GOAAAAAALLLL ALVARO MORATA!
20'
Spain have a free-kick at the byline on the left and it's Sarabia that whips a cross into the box. He picks out Cazorla who's unmarked on the right, but he's closed down quickly and his effort is deflected and cleared by Caruana.
16'
GREAT CHANCE! Sarabia's cross finds Thiago who cuts it back to Bernat in the middle of the box. He gets an effort on target, but there's no power on his header and it's a comfortable save for Bonello.
15'
Robert Moreno is on the sidelines looking agitated. Spain are getting close but it's not happening for them yet.
12'
Malta struggling to make an impact tonight. Spain have kept the possession and are looking to open the score.
7'
Malta have barely had a touch of the ball in the game so far as Spain dominate in possession. Spain are pushing high up the field and getting into some dangerous positions in the final third.
5'
Malta don't clear their lines from a corner and Ramos rises highest in the middle of the box to get on the end of Rodri's cross. His header is close to going in but is just wide of the right post. Strong start from Spain!
2'
Sarabia has already made a couple of good runs down the left wing that haven't been picked up by Malta. His crosses have been poor though and he hasn't picked out a team-mate in the box yet.
Prev.
National anthems are being sung! Match is about to start!
Prev.
Malta sit at the bottom of the group, having only won their first qualifier (2-1 v Faroe Islands) and losing the seven games since.
Prev.
Six wins, two draws and zero defeats - that is how Spain have performed in Group F. In truth, they have not needed to break a sweat to book their spot in the finals of Euro 2020, although Robert Moreno's side will enter this match off the back of successive draws, which means they will be looking to deliver a convincing win.
Prev.
Malta starting XI: Bonello; Corbalan, Caruana, Agius, Z. Muscat, Pisani; Paiber, Vella, R. Muscat, Mbong; Nwoko.
Prev.
Spain starting XI: Pau López; Jesús Navas, Albiol, Sergio Ramos, Bernat; Thiago, Rodrigo, Cazorla; Gerard Moreno, Morata y Sarabia.
Prev.
Let's take a look at those line-ups, shall we?
Prev.
Hello and welcome to our minute to minute coverage of this evening's EURO 2020 qualifier between Spain and Malta!