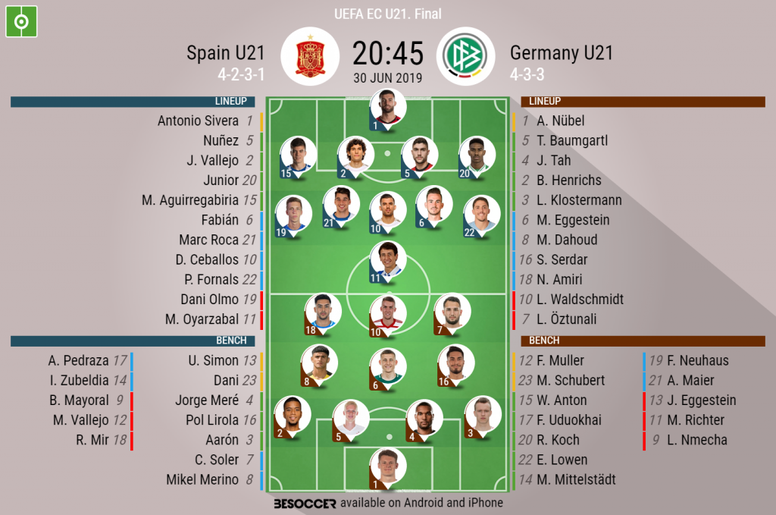 Spain v Germany - As it happened
Post.
As always, thank you for joining us for this live commentary. See you soon!
93'
FT: Spain 2-1 Germany. Spain is crowned U21 European Champion after an intense game that proved the future is bright, both for Spain and for Germany.
89'
Amiri's amazing shot is deviated by Vallejo, and it becomes unstoppable for the goalkeeper to deflect. a really good effort, and an even better consolation goal.
87'
GOAAAAAAALLLLLL FROM GERMANY!
86'
Dani Olmo holds the ball down in the corner, until Klostermann manages to force a goal kick.
84'
Spain's Sivera is booked for time wasting.
80'
What a chance for Spain! A great volley from Soler hit the post!
77'
Goalscorer Fabian out, Merino in for Spain.
76'
Germany had a chance just now, but Spain's counter also could have ended in another goal! Both teams pushing for it now, with Germany looking more likely to lose this.
72'
Fornals out, Mayoral in for Spain.
71'
Nuñez is shown a yellow card after a tackle.
69'
Spain double their lead after Nübel spills a Fabián Ruiz drive!
66'
Spain get's their first chance at creating danger in this second half, with Ceballos linked with his teammate and getting close to goal. The shot is, however, not strong enough, and Germany's keeper blocks it comfortably.
65'
Germany is providing chances... But no goals as of yet.
63'
Spain have – like Germany in the first half – found themselves unable to cope with their opponents' intensity at the start of the second half. This final is very far from over.
61'
Neuhausin - Serdar out for Germany.
55'
Oyarzabal out, Soler in for Spain.
53'
A Waldschmidt shot come in at last, and from the inside right position, but it doesn't lead to much.
51'
Free kick for Germany, but Amiri lobs it aimessly into the back post.
47'
Corner kick for Germany, delivered by Amiri.
45'
HT: Spain 1-0 Germany. Spain's performance has been better overrall, but the Spaniards will need to keep the pressure on for the next 45 minutes, and possibly score another goal, if they plan on winning the tournament. Germany have been caught in the cold, and the shock of the first goal is not fading. But Spain is just one goal up...
45'
Spain are strangling their opponents, but their attacking is not as good as it was in the first 20 min. Germany is waking up.
43'
And another corner for Germany... Spain need to get those players out of there. Getting dangerous.
41'
Corner for Germany after a close call, but Spain's defense got in the way of the goal.
34'
Vallejo is cleared, the yellow card is maintained, even if it's debatable... That kind of tackle is a clear example of a justified send off.
34'
A VAR check is currently going on, as the tackle could potentially become a red card.
33'
Yellow card for Vallejo, the Spanish captain, after a nasty tackle to Waldschmidt that send the German rising star flying.
31'
Fabian tries to go for goal again! His confidence is clearly boosted by that early goal, which can only be a good thing.
24'
In a messy action, Germany get's as close as they've been to scoring, but the Spanish goalkeeper clears in comfortably.
23'
Penalty claim for a foul on Oyarzabal? Waved away, and computer says no for VAR. There have been 14 penalties in this tournament... A bit much, no?
22'
Olmo and Fornals are providing some of the game's best actions.
17'
The pass accuracy stats says Spain are making 91% and Germany 78% of their passes. Germany not bad considering, but it's 78% of very few passes. Stefan Kuntz has swapped full-backs Klostermann for Henrichs and back again.
15'
Occasion after occasion for Spain at the moment. The German denfeders are hacving to do lots of work, but the lack of shots on target is also making their jobs easier.
10'
Aside from the goal, Spain is truly dominating play in every aspect of the game.
8'
Spain's Fabian has opened the score with a superb volley from outside the box. Nothing the goalkeeper could do about that one!
7'
GOOOOOOAAAAAAAAAALLLLL!!!! Spain opens the score!!!!
4'
Spain is currently dominating possession, as per usual for a team that's known for their tiki-taka... Even with the younger ones!
Prev.
The hymns are being sung, and the players have jumped onto the pitch. The U21 European final is about to start!
Prev.
The players have arrived and they're warming up in Udine. Kick off in 30 min!
Prev.
Conversely, Germany will be looking to win the tournament for a third time, after successes in 2009 and 2017, precisely against Spain.
Prev.
Spain is looking for their fifth U21 European title. They've won it in 1986, 1998, 2011 and for the last time in 2013. Could this year be it for them?
Prev.
And we could be in for a record breaking performance... After a scoring a brace in the semi-final against Romania, Luca Waldschmidt took his total for the tournament up to seven and the number of shots at goal up to eleven, the highest ever tally since tournament records began in 2007.
Prev.
Spain have reached four of the last five U21 European Championship finals. The Spaniards didn't qualify for the 2015 tournament so have reached the final in each of the last four tournaments they have participated in.
Prev.
Germany and Spain have met on twelve previous occasions and the Spaniards have enjoyed more success, winning six of those matches.
Prev.
Exactly two years ago today, Germany U21s defeated Spain 1-0 in Kraków to become European champions. The two teams will meet again tonight in Udine in the 2019 U21 European Championship final.
Prev.
Germany U21 starting XI: Nübel; Klostermann, Tah, Baumgartl, Henrichs; Serdar, Eggestein, Dahoud; Öztunali, Waldschmidt y Amiri.
Prev.
Spain U21 starting XI: Sivera; Martín, Vallejo, Unai Núñez, Junior; Marc Roca, Fabián, Ceballos, Fornals, Dani Olmo; Oyarzabal.
Prev.
Hello and welcome to our live, minute to minute coverage of tonight's European Under-21 Championship final at the Stadio Friuli in Udine, where Spain will meet Germany in a repeat of this tournament's last final!