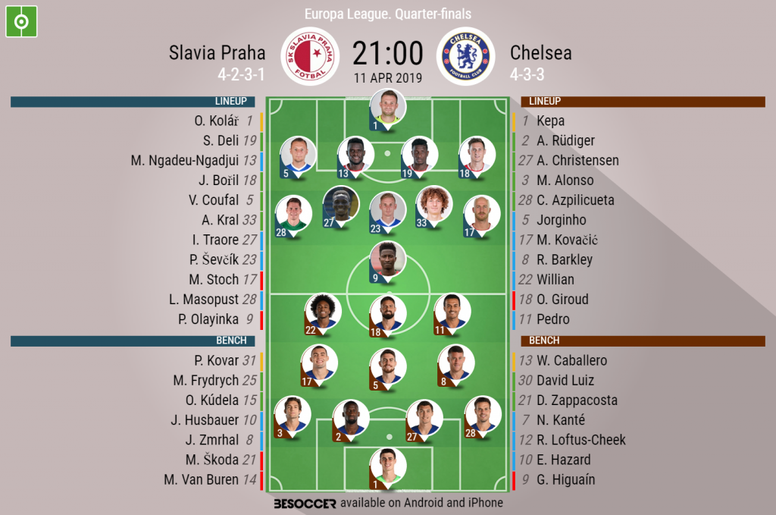 Slavia Praha V Chelsea - As it happened.
Slavia Praha
Chelsea

Post.
Thank you for joining us this evening, that's the end of our live coverage, hopefully we will see you again soon!
94'
FT: Slavia Prague 0-1 Chelsea. Maurizio Sarri looks releaved, as he well might, a draw was probably a fair result, but a Marcos Alonso header has given Chelsea a massive upper hand going into the second leg next week at Stamford Bridge. Willian was simply superb tonight and maybe Chelsea deserve the win for his efforts alone, either way, Chelsea have one foot in the Semi-Finals.
90'
We're into stoppage time here,with 4 minutes to play, I'm sure Chelsea are happy to take this, but one more goal really would put them in the driving seat for this tie.
88'
Prague have a corner, but Chelsea deal with it and Hazard is almost away on the counter attack, is there another goal in this?
86'
GOOOOOOOOOOOOOOOOOOOOOOOAAAAAAAAAAALLLL! Marcos Alonso gives Chelsea a vital goal in Prague! An excellent ball by today's man of the match, Willian and Alonso heads home! That's a big goal in this tie as it looked to be heading to a stalemate, can Prague hit back?
83'
Yellow card for Coufal for man handling Hazard on the counter attack.
82'
Van Buren is on for Olayinka for Prague.
78'
Offside for Chelsea... Hazard puts it in the back of the net but unfortunately Giroud was offside in the build up, as you were.
75'
Ruben Loftus-Cheek is on for Ross Barkley.
73'
Masopust is replaced by Husbauer for Prague.
71'
The noise intensifies as a second corner is won, this one is dealt with though and it's still goalless...
70'
Prague have a corner here and the supporters look incredibly up for the last 20 minutes here.
69'
CLOSE! Out of nowhere Traore has a good effort saved by Kepa, that could have been interesting...
68'
Chelsea change, Ngolo Kante comes on for Mateo Kovacic.
66'
I thought Ross Bakley was in there but it was deemed a foul by the Englishman on Boril, looks a bit harsh to me that.
64'
Prague substitution: Zmrhal comes on for Stoch.
63'
Willian puts in a good corner but Antonio Rudiger heads wide, we're still goalless here....
63'
Another Chelsea corner... Is this the moment?!
60'
CLOSE! Chelsea come close on 2 occasions! Firstly with Antonio Rudiger which was saved well, and then Willian almost strokes home, Chelsea are well on top now!
58'
Chelsea have a good passage of play and have a corner is this the moment.....? No, no it is not...
58'
Speak of the devil... Hazard strips off and comes on for Pedro, who's looked off the pace today.
54'
Chelsea really appear to be struggling going forward today, with Willian desperate for some support, Pedro has tried as always but it may be time for Eden Hazard to take to the field...
51'
No is the answer to that question...
50'
It's a Chelsea corner, can they do anything with it though....
48'
Chelsea start the second half brightly and force a save from Kolan, it's a tame one but it's a start from the 2013 champions.
47'
We're back in the second half, let's hope it's better than the first....
46'
HT: Slavia Prague 0-0 Chelsea. Willian came closest with his effort that hit the bar, but in truth this has been a dull match. Prague have had a few chances going forward but have not been able to convert any, whilst Chelsea are lacking something going forward, his name might be Eden Hazard...
44'
Prague have a corner here after a period of good play from the home side.
40'
As expected this has been a game in which Chelsea have had large amounts of possession but haven't been able to convert that possession into a lead, Prague are looking very dangerous on the counter attack but are not looking hugely confident defensively.
36'
Chelsea with a brilliant passage of play there but in the end the score remains at 0-0, Giroud and Willian combining fantastically and Chelsea starting to show some class now.
33'
OFFSIDE! Olivier Giroud was clean through then after Deli slipped, but in the end the pass was played too late and Giroud was offside!, You would've put your money on him making that 10 goals in this competition too.
31'
Chelsea starting to dominate now with 56% possession, but Maurizio Sarri is clearly unhappy with his team's work in the final third.
28'
Willian is certainly the star performer in this tie so far, the Prague defence really struggling to keep him at bay, that effort was very close to breaking the deadlock, but other than that nobody has come particularly close to scoring.
25'
CLOSE! Willian strikes the crossbar! An incredible curling effort from the Brazilian and Chelsea almost take the lead! In the end kit comes harmlessly of the bar for Prague, but that was close!
23'
However in the end it ends up in the hands of Kepa, with a tame shot that's saved
22'
Antonio Rudiger brings down Olayinka and Prague are in a dangerous position here...
21'
Best effort of the game so far, and it's hit straight into the chest of Kepa, Prague are looking very strong though.
20'
Prague get forward again and in the end it is a tame effort from Coufal that goes wide of Kepa's goal.
18'
Willian then gets up the left hand side again, he's causing problems so far for the Czech side, with Kovacic fouling when Chelsea were in a dangerous position.
17'
Prague are almost in then as Marcos Alonso can't deal with the ball over the top, but in the end, Masopust brings down Alonso and Chelsea have a free kick.
15'
Prague get back on the front foot, but once again they don't quite get past the defence, with Antonio Rudiger stopping this attack.
12'
Chelsea now looking much stronger and more relaxed, keeping the ball for large spells now, unfortunately this has been a constant throughout the season with goals often being hard to come by.
9'
This looks like a game that is going to be largely fought in the midfield, which is an area that Prague certainly seem very strong in, Chelsea are looking to try and keep more of the ball in the opening stages, as Willian has another engaging run down the left hand side for Chelsea.
7'
Ross Barkley has a long range attempt go a long way over the bar, but that was a nice passage of play by Chelsea.
5'
Prague looking very solid on the front foot with the ball at the moment, looking to take this Chelsea midfield apart from the off.
1'
Jorginho makes a foul which leads to a dangerous free kick being whipped in that Olayinka can't quite get on target.
1'
And we have kicked off at the Sinobo stadium!
Prev.
Two large sections of the ground today have been shut due to some missiles being thrown at the round of 32 stage against Genk, with the seats being covered by two former legends.
Prev.
The two teams are out onto the pitch and we're almost live at the Sinobo stadium
Prev.
Chelsea defeated Dynamo Kiev 8-0 on aggregate to get to this stage of the competition, whilst Prague reached the last 8 with an epic 4-3 victory over Spanish side Sevilla.
Prev.
Chelsea currently sit in 3rd place in the Premier league following victory over West Ham, whilst Prague sit atop the Czech Liga after a thumping 5-1 against rivals Dukla prague.
Prev.
The two teams have arrived at the Eden Arena!
Prev.
Chelsea have made several changes from the side that defeated West Ham at Stamford Bridge three days ago, with Maurizio Sarri keeping one eye firmly on Chelsea's trip to Anfield on Sunday afternoon. Willian and Pedro have replaced the deadly Chelsea duo of Eden Hazard and Callum Hudson-Odoi, with top scorer in the Europa League, Olivier Giroud, replacing Gonzalo Higuain. Mateo Kovacic has also come in to replace the impressive Ruben Loftus-Cheek, with Andreas Christensen replacing David Luiz.
Prev.
Chelsea lineup: Arrizabalaga; Alonso, Christensen, Rudiger, Azpilicueta; Barkley, Jorginho, Kovacic; Willian, Giroud, Pedro.
Prev.
Slavia Prague lineup: Kolar; Boril, Deli, Ngadeu, Coufal; Kral, Traore; Stoch, Sevcik, Masopust; Olayinka.
Prev.
Let's have a look at tonight's teams then.
Prev.
Good evening and welcome to our live coverage of the Europa League Quarter-FInal clash between Slavia Prague and Chelsea!