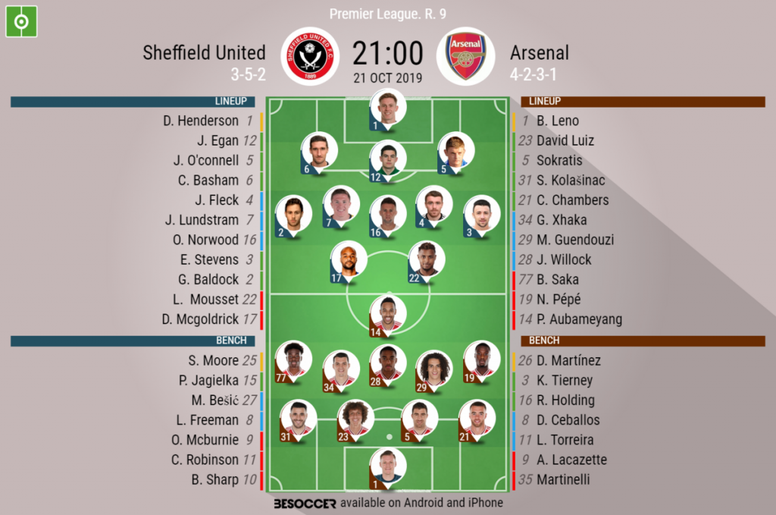 Sheffield United v Arsenal - as it happened
Sheffield United

Arsenal

Post.
Thank you for joining me here tonight. I hope you enjoyed it as much as I did. See you tomorrow for some Champions League action. Good night!!
90'
FT: Sheffield United 1-0 Arsenal. A huge roar is heard throughout Sheffield. A historic win for the Blades. Arsenal barely offered anything.
90'
Sheffield United goal kick. That must be it. The Blades have done it!!!
90'
Chambers is booked. Most probably for his protests.
90'
93rd minute and Martinelli gives away a cheap foul. What is he doing?
90'
These 5 minutes will feel like an eternity for the Sheffield United players. Likewise, it'll go by in no time for Arsenal.
89'
Really exciting end to this match. Arsenal trying really hard to find a goal.
89'
Chamber's shot is blocked. Corner Arsenal.
86'
Sokratis is booked for a foul on McBurnie.
85'
Sheffield United sub: Norwood off for McBurnie.
83'
This would be an incredible win for Sheffield United. But remember that the last league meeting between the sides, Sheffield United won 1-0 at Bramall Lane. Hmmm
80'
Kolasinac's back-post header goes miles over the bar. They will need to do better than that.
78'
Sheffield United sub: Freeman comes on for McGoldrick.
78'
Arsenal sub: Martinelli comes on for Pépé.
76'
Norwood's drilled effort from outside the box goes wide.
75'
Can Arsenal find a way back into this match?
75'
Henderson is booked for time-wasting when taking the goal kick.
74'
Pépé's shot from outside the box goes wide.
73'
Pépé's free-kick from outside the box is saved by Henderson.
68'
Arsenal sub: Xhaka off for Lacazette.
67'
Fleck has another shot from just outside the box. His shot is spilled by Leno, who collects it just in time before McGoldrick got to the ball.
66'
McGoldrick is booked for diving.
61'
Fleck's rifled shot from the edge of the box hits the side netting. I genuinely thought that was in. Terrific shot from the Scot.
59'
Saka does well to cross, and Ceballos' volley is side footed at Henderson. Was like a passback.
59'
Waldock has a shot from just inside the box that goes far wide.
58'
Wondering if Martinelli will come on. He has been excellent in every match he has played for Arsenal. Thoughts
57'
Arsenal knocking the ball out at the back and they eventually lose it. They are 1-0 down, that's the last place the ball should be.
55'
Sheffield United sub: Mousset off for Sharp.
46'
Arsenal sub: Willock off for Ceballos.
45'
HT: Sheffield United 1-0 Arsenal. The home side deserve to be in front here, they have worked their socks off. Arsenal need to do something to get back into this match. Join us after the break!
45'
Xhaka has a half volley from about 30 yards, and Henderson does well to dive and parry the ball out for a corner.
39'
O'Connell is booked for a cynical foul on Pépé as he was breaking.
36'
The chant "Same old Arsenal, always cheating" rings around the stadium.
36'
The Arsenal assistant, Freddie Ljungberg , is booked for protesting,
35'
Saka is booked for a dive. He went down trying to win a penalty.
34'
Aubameyang has a shot from just outside the box blocked.
31'
Norwood takes the corner and finds O'Connell at the back post. He heads it back across goal and Mousset taps in. Absolute scenes here!!!
30'
GOOOOOOOOOOOOOOOOOOAAAAAAAAL SHEFFFFFFIIIIEEEEELLLLDDD UNITEEEDDDDDDDD
21'
Kolasinac crosses and Pépé just has to tap it in, but he somehow manages to put it wide. Should be 1-0 Arsenal.
20'
We have a chance, well half chance. Stevens shoots and his shot his blocked by his own player, Mousset.
15'
John Fleck is booked for a challenge on Aubameyang.
12'
Still no chances. I hope I didn't speak too soon when I said there hasn't been an 0-0 league draw since 1910.
6'
Both teams have started this game brightly.
Prev.
Moments away from kick-off!!!
Prev.
Arsenal are in the building!!
Prev.
There hasn't actually been a 0-0 between the sides in the League since 1910 (when Arsenal were called Woolwich Arsenal). That can only be good news, right?
Prev.
This is the first competitive meeting between the sides in 11 years, and the first league meeting since 2006. Arsenal won the game in 2008 6-0, while Sheffield United won the last league match 1-0. History to repeat itself tonight?
Prev.
Arsenal make just the 1 change from the side that won 1-0 at home to Bournemouth. Willock replaces Ceballos.
Prev.
The hosts make 2 changes from the side that drew 0-0 away to Watford. Robinson and McBurnie are replaced by McGoldrick and Mousset.
Prev.
Arsenal XI: Leno, Chambers, Papastathopoulos, Luiz, Kolasinac, Guendouzi, Xhaka, Pepe, Willock, Saka, Aubameyang.
Prev.
Sheffield United XI: Henderson, Basham, Egan, O'Connell, Baldock, Lundstram, Norwood, Fleck, Stevens, McGoldrick, Mousset
Prev.
Hello and welcome to Bramall Lane for the match between Sheffield United and Arsenal. Will the 'Blades' spring an upset? Team news to come.