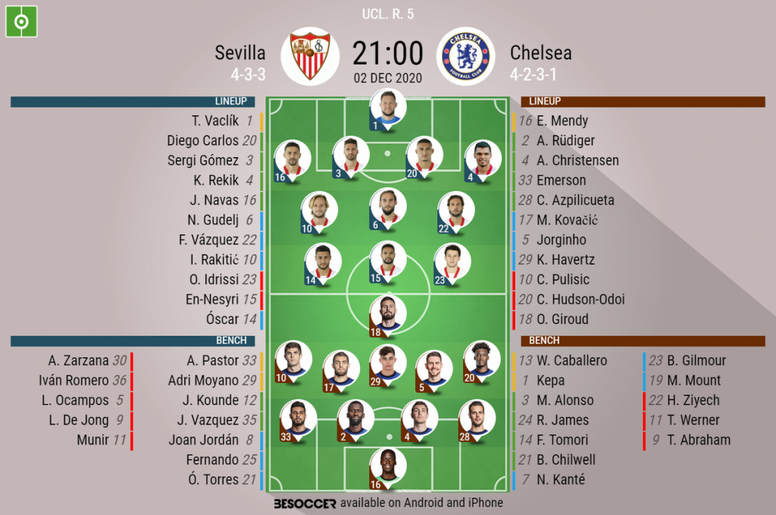 Sevilla V Chelsea - As it happened.
Post.
FT: Sevilla showed promise at times but it just was not meant to be tonight for the Spanish side as Chelsea, lead by a phenomenal performance from Giroud, utterly crushed the home team tonight. Sevilla 0 - 4 Chelsea.
90'
+3 minutes to be played. Can Sevilla get a consolation?
89'
Chelsea continue to press the attack against an utterly defeated Sevilla... Lopetegui will be counting down the seconds for the final whistle.
86'
VAR check for another penalty overturned as there was absolutely nothing in it. Chelsea would have been happy for a chance to make it 5 but what is the ref thinking letting that go to VAR...
84'
Werner comes on to retire Giroud. He's put in the work and will be going home with a smile on his face tonight. 4 goals for Olivier Giroud.
80'
Penalty given for Chelsea. Clear foul as Giroud is dragged to the floor.
78'
Well Chelsea have put this to bed now and remain on top. Sevilla have found no answer to Lampards high pressing style and with the attacking talent on the pitch tonight Chelsea have made the most of their chances.
74'
HAT TRICK Giroud! A great near post flick on the head. Kante made a good run but it was a clinical finish.
72'
Emerson commits a foul in an attacking position for Sevilla.
70'
Not a bad showing at all from Pastor tonight for Sevilla. Despite the goalline. He's had his work cut out for him that's for sure.
67'
Mason Mount tests the goalkeeper on his first contribution to the game. He was left alone in space by Sevilla who were caught lacking once again at the back. Great delivery from Kante to create the chance in the centre of the box.
66'
Pulisic off for Mount. Havertz off for Kante.
63'
Sevilla really struggling up front tonight. They are really finding it difficult to trouble the Chelsea back line tonight. Especially obvious when compared with Chelsea's great performance up front tonight.
60'
Lovely little 1-2 from Giroud and Pulisic creates the chance for a corner as Sevilla clear the danger from the area.
58'
Sevilla make 3 changes hoping to change the dynamic. Kounde on for Navas, Ocampos on for Idrissi. Jordan on for Oscar.
57'
Hudson-Odoi goes for goal from the corner of the area. He could have crossed that in as his shot got away from him and ended up in the stands...
54'
Olivier Giroud! What a classy goal. Dummies the keeper and the defender, takes a touch inside the box and chips the keeper to put it into the far corner. He had everybody fooled!
52'
Chelsea looking strong on the ball still. They may have eased off the press somewhat but are still getting the better of the possession and chances.
48'
Gudelj looks up and can't see any options so goes for goal himself... He wasn't far off as Mendy had to work for it. Sevilla continue to improve.
47'
It's almost as if the two teams have picked up where we left off previously as there is lots of back and forth between the two sides with an ascendent Sevilla.
46'
Second half is away, will Sevilla mount a comeback?
45'
HT: A fairly balanced half towards the end but Chelsea have definitely had the better chances and performance tonight. Sevilla were way too passive to start off with and Giroud punished them.
42'
Pulisic lunges in after losing the ball and completely misses the ball. He complained but the replay tells all, clear foul.
41'
Idrissi body checks Havertz to stop a counter-attack and is booked rightly for the offence.
40'
Another Sevilla FK after a silly fould from Chelsea on the edge of the area once again.
38'
Check for a pen for after a potential handball. No penalty given after a minute of stoppage. It was clear to the referee so no idea why the play had to be rechecked. VAR worries continue...
36'
Yellow for Kovacic has he pulls down Oscar. Right on the edge of the area, Dangerous FK for Chelsea...
33'
Front 3 might be lacking some harmony for Chelsea but the overall performance of the team has been great so far.
33'
Hudson-Odoi clearly frustrated with the lack of balls coming his way from his fellow forwards tonights.
30'
Chelsea have got to use the men they have up. That's 3 times now that Pulisic has chosen to go it alone when he had clear better option, they're only 1 goal up!
27'
Pulisic once again goes for glory with a 4 v 2 situation. Curious decision from the american who loses the ball.
26'
Pulisic goes himself after a quick counter from Chelsea, he had Giroud in the middle but it was a tough call. Chelsea corner.
24'
Sevilla have increased the pressure and look much more threatening to Chelsea. There's a long road ahead tonight for Chelsea yet!
21'
Mendy deals with a weak header from a Sevilla player as a wide FK is delivered into the box.
19'
Chaos after the FK as Sevilla has several shots on targets but there were way too many bodies in the box and the deflections didn't go Sevilla's way!
18'
Sevilla have a set piece on the edge of the area after some shirt pulling lead Rekik to go down.
15'
Gudelj drags Havertz to the ground as is booked for his trouble.
13'
First bit of attacking danger shown by Sevilla as Rekik crosses in a powerful ball that is cleared by the defence. It was a long build up but it almost caught Chelsea out.
10'
Sevilla almost look scared on the ball so far. The majority of their possession has been around their back 4 and GK. They seem to be really struggling to counter against Chelsea's high press.
7'
GIROUD GOAL! Great pass from Havertz and nice touch from Giroud sees him walk right through Sevilla's defence! Great stuff from Chelsea.
6'
Pulisic pivots on a low ball into a central position but hits it just wide. Maybe should have done better.
4'
Sevilla try to play it cool and take their time playing out from the back but Chelsea's high press forces an error and Chelsea win a throw-in. Sevilla will have to try harder than that tonight!
2'
Great start for Chelsea, too early to make any calls but Chelsea have come into the game full of energy and attacking fervour.
1'
Pastor is tested early and palms out the ball after a brilliant attacking move down the right wing leaves Sevilla's defence floundering.
1'
And we are off! Who will strike first?
Prev.
Alfonso Pastor comes in at GK for Sevilla after an injury.
Prev.
Not long till kick-off now! Make sure to put predictions down below.
Prev.
Sevilla are "a bit Premier League in the way that they play" according to Frank Lampard before the match.
Prev.
Lampard knows he is likely through to the next round is using that as a way to give game time to some of his less utilised members tonight.
Prev.
Notable that Giroud, who has made his unhappiness around his lack of game time public knowledge, starts tonight with both Abraham and Werner on the bench. Lampard is using the game as a rest for his A-team.
Prev.
The Ramón Sánchez-Pizjuán looks amazing in blue tonight!
Prev.
SEVILLA XI: Vaclík - Navas, Sergi Gómez, Diego Carlos, Rekik - Gudelj, Rakitic, Óscar - Franco Vázquez, Idrissi, En-Nesyri.