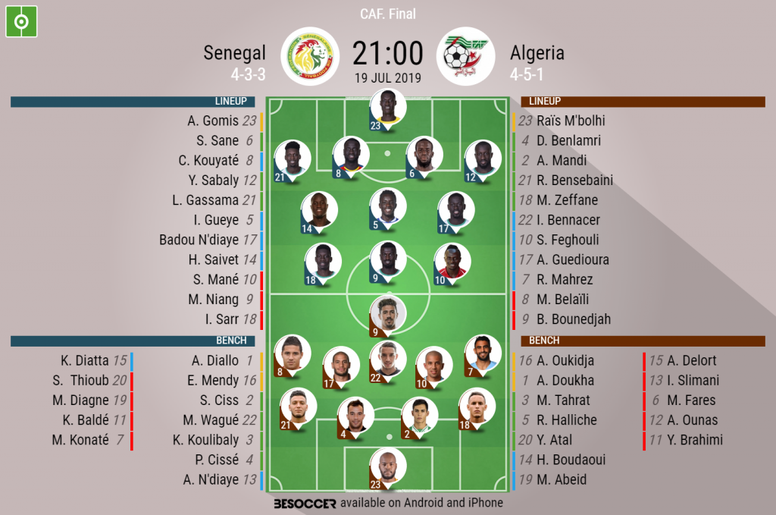 Senegal v Algeria - As it happened
Post.
As always, thank you for joining us for today's game. See you soon!
94'
FT: Senegal 0-1 Algeria. And that's it, folks. Argelia wins the Africa Cup of Nations for the second time in history. Players run to the stands to celebrate with the thousands of Algerian fans, while Cisse's men fall to the ground with tears in their eyes.
94'
Free kick for Senegal, and it looks like this is the last action.
93'
And another one... Guedioura is booked for a hand ball.
90'
4 min of added time to this final.
88'
Slimani in, goalscorer Bounedjah out for Algeria.
87'
Only three minutes left of this AFCON final, and unless Senegal finally manage the score, it looks like Algeria will win this.
84'
A couple of subs for both teams. Belaïli out, Brahimi in, Feghouli out, Tahrat in for Algeria.Niang out, Balde in for Senegal.
82'
Sarr HAD IT!!! Just wide off the right hand post!
80'
10 min left of this Africa Cup of Nations final!
79'
Double yellows for Senegal in under a minute. Gueye and Gassama both booked. Not a particularly consistent referee here...
76'
Mane is proving as essential as initially thought for Senegal, but this should not diminish other player's performance and speed. He almost got another chance for his country. It's looking like a loss for Cisse's side, but they sure have tried it.
75'
Diagne in, Saivet out for Senegal.
73'
First chance for Algeria in a very long time! Great shot by Belaili, who almost makes it 0-2!
71'
Senegal are demonstrating what they have been showing throughout the tournament: they've got the players, they've got the energy, they've got the drive... They are just lacking a bit of team chemistry and organisation.
68'
And another one! GREAT shot from out the box by Sabaly, but the Algerian goalkeeper makes a great save and prevents Senegal from equalising.
67'
None other than Frank Ribery is seen in the stadium. Good company.
66'
HUGE MISS for Senegal! A really good run by Diatta could have lead to their deserved goal, but it is far too wide. Goalkeeping could have cost Algeria there.
62'
Disappointment for Senegal, but that's what VAR is for. It was a harsh penalty award and on second viewing, the referee admits the defender's hands were not raised.
61'
And the penalty is not awarded... Senegal players are fuming.
61'
POSSIBLE PENALTY! The referee goes for a VAR check for a possible hand job for Algeria...
59'
First substitution of the game for Senegal: N'Diaye out, Diatta in!
56'
It says a lot about the way the match has gone when Mahrez's biggest contributions have come via his defensive work...
54'
Belaili's fouling is really getting out of hand now. He knocks Gassama down pretty recklessly.
48'
Ndiaye takes out Bounedjah, giving Algeria a freekick in dangerous crossing territory, to the left of Senegal's box. Bennacer flights it in, Gassama nuts it away. Two free kicks in less than a minute...
46'
As soon as the second half starts, so does the continued fouling...
45'
HT: Senegal 0-1 Algeria. An early goal by the Desert Foxes' Bounedjah threw Senegal off from the start, but Cisse's men have picked up the pace, and a few free kicks courtesy of Algeria's frequent fouling have gotten them closer to the equaliser. Tensions are running high and the players are clearly nervous, which has considerably slowed down the game. Algeria will have to better their defending if they want to keep the score as it is.
45'
Corner for Senegal after a nasty dive from Algeria's man. Two minutes of added time in this first half.
42'
The pressure from Senegal mounts. Ndiaye nicks the ball off Mahrez deep in Algeria territory and is then shoved over, giving Senegal a freekick near the byline, to the left of the box...
38'
What a powerful shot from Niang!! That was VERY close! M'bolhi is lucky to have been paying attention. The Algerian stopped a beautiful volley by Senegal's Niang, who was a good 20 yards out!
36'
Kouyaté is back in, but Senegal will have to be really careful. They can't afford to lose more players from their defensive unit.
34'
Between potential injuries, fouling and stress, the game is becoming really slow...
31'
Bensebaini is given the match's first booking after a nasty looking foul. Tensions are running high.
30'
Kouyaté goes down and Cissé looks very worried. He could be left without the left-back, which could be disastrous, as he's already had to rule out Koulibaly. Not sure there's a player who could effectively replace him...
27'
A first save to make for M'bolhi, who shows safe hands to take in Saivet's dipping long-range strike from the free-kick. It could have been difficult to handle, with the ball having skipped up off the turf, but Algeria's goalkeeper did well.
26'
Senegal are definitely pushing more now, but it unfortunately still lacks organisation, which means they have really struggled to get real chances. Algeria looking a bit scruffy too.
23'
Here's a look at that goal... In Senegal's defense, what a weird goal that was. Really did not look like it was going in.
20'
Yet ANOTHER free-kick for Senegal, which says a lot about the amount of fouling at the moment. The Teranga Lions try to square it into the box with headers, but it doesn't lead to anything interesting. Great ball from Saivet though!
17'
Both teams are having serious trouble creating palpable chances. Is it the final's nerves?
14'
Second Senegal free-kick, and this time Saivet's cross is a good one. Kouyate, captaining his side, meets it, but the Crystal Palace man sends his header well wide.
13'
In case you missed it, here's the legendary Samuel Eto'o carrying the coveted prize...
11'
Senegal struggling to keep possession at the moment, as Niang shows.
9'
Some stats! Bounedjah becomes only the third player to score in the 2nd minute of play in an African Cup of Nations final after Ad-Diba against Ethiopia on February 16, 1957 and Segun Odegbami against Algeria on March 22, 1980.
4'
Bounedjah's goal was a stroke of luck for Algeria, but it looks like Senegal will have a hard time coming from behind as it stands. That early goal has definitely made them look shaky.
2'
Bennacer gets the assist, having played it into Bounedjah, whose effort was nothing more than a snapshot from the edge of the area. Sane looked to have done enough, but Gomis did his defender no favours by staying put far out from goal, not reacting to the flight of the ball at all.
1'
GOAAAAAAAALLLLL!!! Algeria score a minute in!!
Prev.
National anthems are being sung at the Cairo International Stadium! The game is about to start!
Prev.
And it looks like the politics-related tensions have started early tonight... There are reportedly hundreds, if not thousands, trying to enter the Algeria section and are not being let in
Prev.
Algeria, meanwhile, have plumped for Mehdi Zeffane at right-back, where he tends to be defensively sound but not as enterprising going forward as the suspended Atal.
Prev.
As line-up news go, Salis Sané is expectedly chosen as the replacement for Koulibaly in the heart of Senegal's defense, albeit not on his preferred side of the central defensive duo.
Prev.
The teams already faced each other earlier in the group stage, with Algeria taking the victory, but Senegal's coach has said that "defeat in the group allowed us to remotivate ourselves and become stronger"
Prev.
This is equally momentous for both teams, but perhaps Algerian fans will be the more nervous side tonight, as this final will mark the climax not only of the Desert Foxes' campaign on the field, but of their fans' recent political campaign in the stands.
Prev.
Meanwhile, Mane and Mahrez will also be receiving their fair share of attention as their team's respective stars, with Mane even gaining some strength for a Ballon D'Or bid, which would only get stronger if he wins this tournament after an amazing year in the Premier League and a Champions League title.
Prev.
Speaking at a pre-match conference, Algeria's coach Belmadi said that "It's extraordinarily ironic that the two kids who grew up together in Champigny-Sur-Marne are now facing each other in the final. We should check if anything like that ever happened in the past. We used to play together as young boys in Paris. We grew up in the same city."
Prev.
But a lot of tonight's focus will be centered on the two coaches, Cisse and Belmadi, as they grew up in the same Paris suburb, Champigny-sur-Marne, while Senegal-born Cisse is just a day older than his counterpart.
Prev.
With the stakes so high passions are mounting across the continent and elsewhere, notably in France where celebrations have overflowed into violence earlier in the tournament and arrests have been made. For tonight's game, about 2500 extra officers will be deployed in Paris alone.
Prev.
Senegal, the 2002 runners-up, are desperate to end a long wait for a first continental title, while Algeria are looking to add to the trophy they lifted as hosts 29 years ago.
Prev.
Algeria starting XI: M'Bolhi; Zeffane, Mandi, Benlamri, Bensebaini; Guedioura, Bennacer; Feghouli, Mahrez, Belaili; Bounedjah
Prev.
Senegal starting XI: Gomis; Gassama, Kouyaté, Sané, Sabaly; B N'Diaye, Gueye, Saivet; Sarr, Niang, Mané
Prev.
Team news and line-ups to follow!
Prev.
Hello and welcome to our live, minute to minute coverage of tonight's Africa Cup of Nations final, where Senegal and Algeria battle it out in Egypt for the coveted title!