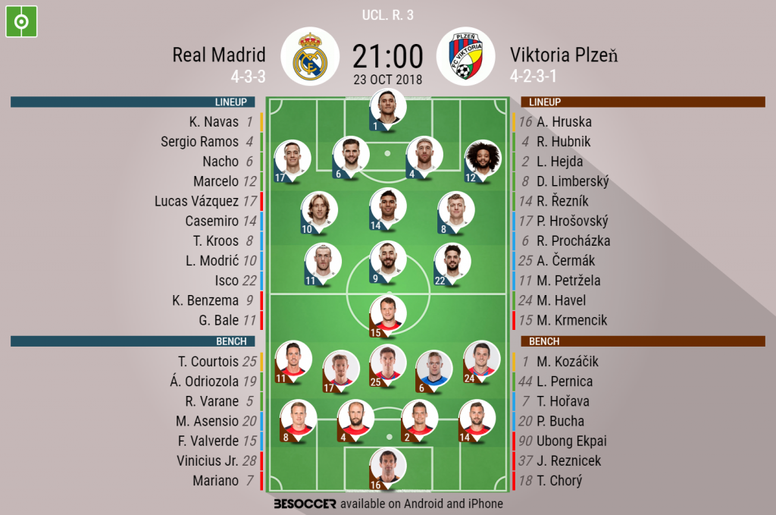 Real Madrid V Viktoria Plzeň - As it happened.
Real Madrid

Viktoria Plzeň

90'
Thank you to all who joined us tonight, match report to follow imminently.
90'
FULL TIME: REAL MADRID 2 - 1 VIKTORIA PLZEN: Very good game for the neutral, however this would have been difficult viewing if you're a real Madrid fan. The jiry is out for Lopetegui, jeers are currently ringing around the Santiago Bernabéu - the fans are not happy.
90'
Ramos fouls and gets booked, Plzen are going to throw the kitchen sink at the Madrid goal...everyone is back for the hosts.
90'
GREAT TACKLE FROM NACHO! Surely not!? Plzen were through on goal...one minute left to play here.
90'
Asensio is fouled. Real Madrid use this as a chance to run down the clock.
90'
4 minutes added time! Reznik blazes well over for Viktoria Plzen, more whistles in Madrid - the fans aren't happy.
87'
Final change for Madrid: Benzema OFF, Mariano ON.
86'
Marcelo is down injured after a forceful challenge from Ekpai. He's back up and hobbling around, sure that he will be fine.
84'
Corner for Plzen...Ramos heads away, nervous finish here in Madrid.
80'
Whistles are flying around the Bernabeu, it's hardly been overly convincing from the hosts - the reigning champions!
78'
GOAL: HROSOVSKY: REAL MADRID 2 - 1 VIKTORIA PLZEN: Oh dear oh dear! To be fair they've had ample chances to draw level, Plzen's number 17 beats Navas from long (ish) range, should have perhaps done better, however it was an impressive finish. Comeback on the cards?
77'
Vazquez should have scored. He headed wide after a brilliant Asensio cross, poor to miss from that far out.
75'
Ramos heads over from a Kroos corner.
74'
Second change for Madrid: Bale OFF, Asensio ON.
71'
Marcelo celebrates his goal, it was a brilliant finish from the Brazilian!
70'
Benzema has the ball in the back of the net, however it has been ruled out for offside.
68'
GOOD EFFORT: Close from Bale, he tries curling an effort in however it just goes wide of the goal.
64'
Following corner is headed over by Bale.
63'
CLOSE: Bale's cross is header over by a Plzen defender. Was very nearly an own goal.
61'
Penalty appeal from Madrid as Benzema is tackled in the box. Nothing given.
55'
Lopetegui hopes that this will raise the pressure off him. Some reports are that he will be sacked regardless of the result, perhaps harsh considering that he has only managed 16 Real Madrid games. Saying that, they are probably the largest club in the world, definately the most successful over the past 5 seasons.
55'
GOAL: MARCELO: REAL MADRID 2 - 0 VIKTORIA PLZEN: Marcelo with a great finish! Assist from Bale with a cheeky flick after good build-up play for Valverde. This is better from Madrid.
54'
Valverde is making his debut for Madrid, bold move here.
53'
First change for Real Madrid. OFF Isco, ON Valverde.
50'
ANOTHER CHANCE: Plzen should be equal (again)! Krmencick did well to stretch and get on the end of a cross, however he can only shoot wide of Navas' goal.
45'
SECOND HALF: REAL MADRID 1 - 0 VIKTORIA PLZEN: We're back underway!
45'
A very entertaining half.
45'
HALF TIME: REAL MADRID 1 - 0 VIKTORIA PLZEN: What a great first half of football! Perhaps, Real Madrid are lucky to be ahead as the visitors have fluffed two brilliant chances. Saying that, Plzen look shaky at the back. Expect goals in the second half here in Madrid.
43'
WHAT A MISS: HOW!? Viktoria Plzen should be equal. The ball was crossed to Petrzela who only had to poke the ball home from 3 yards out. He SOMEHOW misses and the ball goes over. Wow.
40'
Vazquez wants a penalty after poor defending from Limbersky. Referee is not interested, think that they've made a mistake there. Replays show that it was a clear penalty.
37'
GOOD SAVE: Hruska does well to deny Isco from a quickly taken Real Madrid corner. The Plzen defenders were fast asleep there.
35'
WHAT A MISS! The Plzen goalkeeper was trying his best to gift a goal there. He passed the ball straight to Isco, however he chips his effort wide to Toni Kroos' disbelief - he could have easily squared the ball for his team-mate.
34'
Free-kick from 35 yards out from Plzen, they waste the chance with a poor cross.
33'
Bale has the ball in the back of the net, however he is correctly flagged offside.
33'
Worth noting that both Viktoria Plzen chances have come down the left-hand side for Madrid.
32'
Benzema very nearly scored his second of the game.
32'
Isco is booked for a bad tackle on Petrzela.
30'
END TO END: Now it's Madrid's turn to attack. A straight counter-attack from Plzen's chance nearly doubled the host's lead, as Benzema's effort is well blocked by Hruska at his near post. The goalkeeper did well to narrow the angle and block with his feet.
29'
CLOSE: WOW! The visitors were nearly level. Limbersky's chipped effort just goes wide and clips Navas' goal.
26'
Lucas Vazquez is hacked down and the referee awards a free-kick 40 yards out. Real Madrid are very happy keeping the ball and tiring out their oppositoin.
20'
Marcelo strays offside as he receives a diagonal ball from Bale, who is making his 200th Real Madrid appearance tonight.
18'
Vazquez has picked up a knock here, not too sure how serious it is at the moment.
16'
'Los Blancos' are really starting to dominate here. They're very happy keeping possession and look like they will be hard to break down.
12'
Could be a long night ahead for Viktoria Plzen...
11'
GOAL: BENEMA: REAL MADRID 1 - 0 VIKTORIA PLZEN: What a header! The French striker rises well to power home a header past Hruska in the Plzen goal. Great floated cross from Lucas Vazquez.
10'
NAVAS SAVE: Big save from Navas! Petrzela does well to get in behind the Real Madrid defence, however Navas does well at his near post.
9'
Strong start to the game here from the Czech guests. They've defended well early on after countless Real Madrid attacks.
4'
OFF THE POST: It's Ramos again, his header bounces off the right-hand side of the Plzen goal with the goalkeeper beaten.
3'
Ramos can't keep his header down as it goes over the Plzen bar for a goal kick. Strong starts from the hosts.
1'
Early free kick for the hosts.
1'
KICK OFF: REAL MADRID 0 - 0 VIKTORIA PLZEN! We're underway here in Madrid, the hosts are kicking from left to right.
Prev.
Both teams are out warming up here in Madrid, kick off is only 5 minutes away!
Prev.
A look inside the visitor's dressing room.
Prev.
A look inside Real Madrid's dressing room.
Prev.
VIKTORIA PLZEN STARTING XI: Hruska, Reznik, Hejda, Hubnik, Limbersky, Hrosovsky, Prochazka, Havel, Cermak, Petrzela, Kremcik.
Prev.
REAL MADRID STARTING XI: Navas, Ramos, Nacho, Kroos, Benzema, Modric, Bale, Marcelo, Casemiro, Lucas V, Isco.
Prev.
Real Madrid players have arrived.
Prev.
Good evening and welcome to today's live coverage from the Santiago Bernabéu. It's Real Madrid v Viktoria Plzen, a monumental game for Julen Lopetegui. Teams to follow shortly.